"For both personal and professional reasons, I have decided that I will not be on the ballot in the mayoralty race this fall."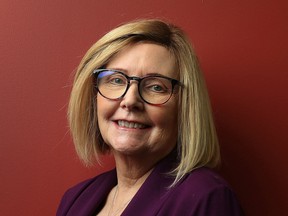 Article content
Diane Deans announced on Thursday that she won't run for mayor in the fall municipal election despite previously indicating she wanted the corner office at Ottawa City Hall.
Article content
The longtime councillor also said she wouldn't run for re-election in Gloucester-Southgate ward, ending her political career in Ottawa's municipal government.
"For both personal and professional reasons, I have decided that I will not be on the ballot in the mayoralty race this fall," Deans said in a written statement.
Deans said she believed the next mayor needed two terms to adequately address the city's most pressing issues and she couldn't make that pledge at this time.
"After careful consideration, I have concluded that the next mayor will need to make an eight-year (two-term) commitment to the job. Four years will not be sufficient to get this city on a better path," Deans said. "Regrettably, I do not feel that I can make a commitment of that length to the people of Ottawa."
After Mayor Jim Watson announced in December that he wouldn't seek re-election, Deans was one of two councillors who quickly signalled interest in succeeding him.
Article content
The other councillor is Somerset ward's Catherine McKenney, who has registered to run for mayor and launched a campaign.
The nomination period for the municipal election has been open since early May. Candidates can't fundraise or spend money on their campaigns until they have registered to run in the election.
Deans's career in Ottawa's municipal government spans almost 28 years. She was first elected in 1994 to pre-amalgamation Ottawa city council and has represented the south-end ward of Gloucester-Southgate since amalgamation in 2001.
In recent years, Deans has established herself as a vocal critic of Watson's administration, especially in reference to the future of LRT and Lansdowne Park.
The current term has been politically explosive for Deans as she rallied against secrecy surrounding the Stage 2 O-Train procurement process in early 2019.
Article content
She initially had the job of chairing the police services board as the Ottawa Police Service faced increased public scrutiny over its budget and policies. Then, the "Freedom Convoy" took over downtown streets in early 2022 and the police response entered the national spotlight. Peter Sloly resigned as police chief and council removed Deans as chair of the police services board.
Deans has also faced personal challenges in recent years.
In September 2019, she announced she was stepping away from council to receive treatment for ovarian cancer. She returned to city hall in September 2020.
On Thursday, Deans said the city was at a "crossroads."
"Ottawa residents need their council to come together and put the needs of community first," Deans said. "The next mayor must bridge all of Ottawa's unique communities — rural, suburban, and urban — and find a balance that can end the divisions we see today."
Deans is one of a few pre-amalgamation councillors still on council. Watson was councillor and mayor before amalgamation and returned to city hall as mayor in 2010. Barrhaven Coun. Jan Harder is also not seeking re-election. College Coun. Rick Chiarelli has said he expects to seek re-election.
As of Thursday afternoon, there were seven candidates for mayor, including former Ottawa mayor and MPP Bob Chiarelli.
Candidates for mayor, councillor and school board trustee have until Aug. 19 to file election papers or drop out of the race.
The municipal election is Oct. 24.