Check-in on council's communications allowances and discussion of lease of building adjacent to farmer's market on the agenda.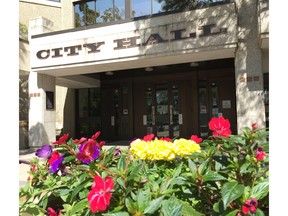 Article content
Saskatoon city council's governance and priorities committee meets on Monday. Made up of all city councillors and the mayor, the committee is meant to serve as a forum for sorting out questions related to council processes and issues of municipal governance. This month, it will review a report on council's communications budgets, a River Landing lease and a donation for Ukraine.
Article content
COMMUNICATIONS ALLOWANCES
A report details where the mayor and councillors' annual constituency communications allowances.
Mayor Charlie Clark has spent just over $50,000 of the $132,000 allocated to him in 2022; almost all of those funds were used to pay a policy and communications advisor and a contracted social media manager.
Each councillor gets $10,000 a year. So far in 2022, Ward 10 Coun. Zach Jeffries has used the least, spending $59 on a subscription for office software. Ward 4 Coun. Troy Davies has used the most of his budget among city councillors, spending $8,264. Slightly more than $4,000 was for an outdoor recreation sponsorship in partnership with Canadian Tire and various community associations in his ward; slightly more than $3,000 was spent on a pair of outdoor advertisements. The rest of the fund Jeffries used went to community association newsletter ads, attendance at the Chamber of Commerce State of the City event and sponsorship of the North Saskatoon Business Association's annual Golf Classic tournament.
RIVER LANDING LEASE
The committee will hear from Depesh Parmar, executive director of Ideas Inc., part of a discussion on renewing the business incubator's lease of a city-owned building at 420 Avenue B South, in the River Landing area. While Ideas has been in the news as the prospective operator of the nearby Farmer's Market building, it has leased the space being discussed since 2007; the agreement was previously renewed in 2012 and 2017.
Article content
Under proposed terms, Ideas would continue paying all operating and utility costs associated with the building. It would also be on the hook for about $60,000 a year in contributions to a maintenance reserve for city buildings and about $44,000 a year in property tax.
Ideas also manages the outdoor Street Stall Saturdays and will continue to manage the seasonal outdoor farmers' market in Market Square.
UKRAINE DONATION
The committee will hear from a representative of the union representing Saskatoon's firefighters for an update on a donation made to the campaign on behalf of Chernivtsi, Ukraine.
Chernivtsi has had a "sister city" agreement with Saskatoon since the early '90s. Its leaders sent messages to Saskatoon after the Russian invasion of Ukraine, pleading for any help available. Although located in western Ukraine, away from the most intense fighting, the city's population has become swollen with refugees from the conflict, and its services and first responders are struggling to cope.
The City of Saskatoon gave $10,000 to the firefighters' fundraising drive, earmarked to provide needed communications equipment to Chernivtsi's firefighters. Another $250,000 was raised for Chernivtsi at a fundraiser held earlier this year at TCU Place.  Saskatoon-based charity Streams of Hope Aid for Ukraine Inc. is also involved in ongoing efforts to raise money and gather supplies.
Fundraiser held for Saskatoon sister city in Ukraine

Ideas Inc. in negotiations to manage Saskatoon farmers' market building
The news seems to be flying at us faster all the time. From COVID-19 updates to politics and crime and everything in between, it can be hard to keep up. With that in mind, the Saskatoon StarPhoenix has created an Afternoon Headlines newsletter that can be delivered daily to your inbox to help make sure you are up to date with the most vital news of the day. Click here to subscribe.