McLean is not visible in the two videos. A voice that sounds like McLean's can be heard mocking an Indigenous person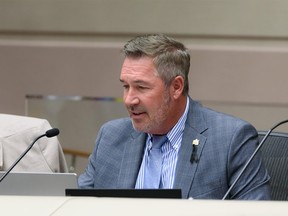 Article content
Video that appears to show Ward 13 Coun. Dan McLean taking part in the racist mocking of Indigenous people has prompted calls for an apology from one of his fellow councillors, but McLean says he doesn't remember the incident.
Article content
The videos were posted by an anonymous Twitter user on Wednesday afternoon.
Article content
A related photo shows McLean sitting at a table with former justice minister Jonathan Denis and political operative Craig Chandler.
Two other videos that appeared to be taken later that day showed Denis and Chandler sitting at the same table, speaking to an unknown person on speakerphone.
McLean is not visible in those two videos. However, a voice that sounds like his can be heard mocking an Indigenous person, and vulgarly making fun of the distinct last names used by some Indigenous groups. Chandler and Denis laugh at the comments made by the unseen third person.
The video clips are 14 and eight seconds long.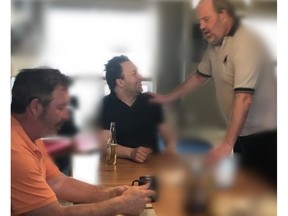 Postmedia first reached out to McLean's office late Wednesday afternoon. On Thursday afternoon, McLean responded in a text message.
Article content
"All I can tell you is I saw the video and can honestly say I have zero recollection of that event," he wrote.
McLean declined an interview and said he would have no further statement on the matter.
Previous videos of Chandler and Denis in similar circumstances circulated online last month. After those videos surfaced, then-UCP leadership candidate and now Premier Danielle Smith fired Chandler, who had been operating the Smith campaign's phone bank. She also distanced her campaign and herself from the former justice minister.
At that time, Denis said he had no recollection of the events in the videos.
"If these are real events, I apologize unreservedly to anyone that I offended," said Denis.
Chandler said the videos were taken out of context, and showed the two making jokes about a comedy audiotape from the 1980s depicting a fictional Indigenous radio station called Brocket 99 that many consider racist.
Article content
Politicians under fire for 'egregious' tweets about drugs on transit

Danielle Smith fires campaign's phone operators after 'racist' remarks

Judge denies Jonathan Denis's attempted stay on contempt conviction
Coun. Kourtney Penner reacted to the videos in a Twitter post Thursday morning.
"I have seen the deeply offensive videos of my colleague circulating," wrote Penner. "When the video was taken or released is of no consequence to the steps he must take. In a time where reconciliation is at the forefront of our work, I would encourage my colleague to apologize widely."
Speaking to reporters after an event in her ward, Penner said imitating anyone of another culture is not acceptable behaviour. She said she was feeling dismay and discouragement after seeing the videos.
Article content
"We are trying to work as a collective toward truth and reconciliation, and we know that what one person does affects all of us," said Penner.
Penner said all councillors have received Indigenous training, and there is an Indigenous-relations officer who can work with councillors at any time.
She said it would be up to McLean to offer an apology.
"I would encourage individuals, if they're concerned about it, to make a complaint to the integrity commissioner," said Penner. She also noted that if the video was shot before McLean was elected to council, the integrity commissioner would not be able to address it.
— With files from Bill Kaufmann, Postmedia
[email protected]
Twitter: @brodie_thomas