Two Innu communities say they will highlight Quebec's lack of action on the world stage by taking their demands to COP15, a UN biodiversity conference being held in Montreal.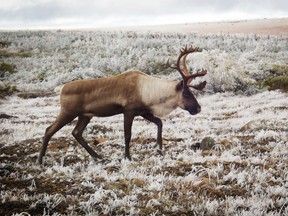 Article content
Two Innu communities on Quebec's North Shore say they are "exasperated" by the province's "inaction" when it comes to protecting the woodland caribou, a species threatened by logging.
Article content
They say the Quebec government is not taking seriously "the irreversible damage the loss of biodiversity" has on the Innu.
Article content
Councils representing the Pessamit and Essipit communities on Tuesday accused the province of dragging its feet on a proposal to create a 2,700-square-kilometre biodiversity reserve, about 150 kilometres north of Saguenay.
The aim is to protect the Pipmuacan caribou, so named because their habitat is close to the Pipmuacan reservoir
Next month, the communities plan to highlight Quebec's lack of action — by taking their demands to COP15, a major United Nations conference on biodiversity being held in Montreal.
"If Quebec wishes to do well at COP 15 in terms of respect for Indigenous rights, it should announce the immediate inclusion of our Pipmuacan protected area in the registry of protected areas," said Marielle Vachon, head of the Innu Council of Pessamit.
Article content
The loss of biodiversity, "caused in large part by logging on Innu ancestral lands — without regard to our needs, our values, our rights and interests — generates inestimable cultural losses for our communities. It alters our way of life, upsets our way of being, threatens our food security and our cultural identity."
Quebec is home to about 6,000 woodland caribou, with some populations more threatened than others.
Two types are on Quebec's endangered list.
The Atlantic-Gaspésie mountain ecotype caribou are considered "threatened," the highest level before a species becomes extinct.
The Pipmuacan forest-dwelling ecotype caribou are one level below, listed as "vulnerable."
In 2020, a Quebec government inventory estimated the Pipmuacan caribou population at 225. The inventory found a drop in the number of caribou, compared to 2012, though it could not quantify the loss.
Article content
"If no new measure is applied, it is not only unlikely to see the (Pipmuacan) population recover, but it is expected the situation will continue to deteriorate until, eventually, it will completely decline," a coalition of environmental groups said in May.
Martin Dufour, chief of the Innu Essipit First Nation Council, said: "Our communities have chosen to suspend caribou harvesting in order to preserve the species, sacrificing a traditional activity that is central to our culture."
"Meanwhile, the government of Quebec sits idly by."'
Dufour said he's "exasperated" by "Quebec City's inaction."
In 2020, the Pessamit council proposed creating a conservation zone that would protect the last large blocks of intact habitats in the Pipmuacan caribou range.
Article content
But the area "is still not excluded from logging or any other industrial activities," the councils said.
They said the province is putting obstacles in the way of their attempts to "exercise our leadership in conservation."
Among the stumbling blocks are "an inadequate and rigid consultation process that leaves no room for Aboriginal leadership" and "an inflexible forest regime where the primary vocation of the territory is economic in nature."
This spring, federal Environment Minister Steven Guilbeault threatened to unilaterally protect 35,000 square kilometres of Quebec woodland caribou habitat, saying the province wasn't doing enough.
At the time, Premier François Legault said he wanted a balance between preserving wildlife habitat and forestry jobs.
Article content
In August, the federal and provincial governments announced an agreement to protect caribou. Quebec said it's working to ensure 65 per cent of their habitat in two parts of the province is "undisturbed," up from about 30 per cent.
An aerial view shows the First Nations reserve and Innu community of Pessamit, in Quebec on August 26, 2022.
Saving nature is the goal at COP15 in Montreal. Will Quebec step up?

COP15 in Montreal: Brace for protests, civil disobedience and student strikes

Guilbeault says he's still ready to step in if Quebec doesn't present a plan to protect caribou

Quebec forestry minister compares caribou protection to cod industry devastation