Jean-Guy Lambert, 76, is serving a life sentence for his role in a 1997 shooting that left one man dead and another wounded.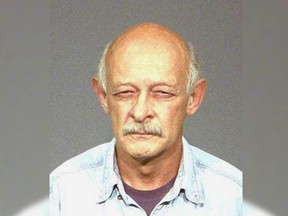 Article content
Jean-Guy Lambert, who was convicted in 2006 of carrying out a murder for hire in St-Laurent, will be able to apply for parole earlier than expected after a jury at the Montreal courthouse agreed with his request on Wednesday.
Article content
The 76-year-old man is serving a life sentence for the first-degree murder of Robert Fattouch, 27,  and the attempted murder of Fattouch's older brother Elias. On May 5, 1997, the victims were shot inside the indoor parking lot of an apartment building. Lambert was arrested and charged with the crimes six years later.
During his trial in 2006, Lambert was alleged to have been the gunman in the shooting. When he was found guilty of first-degree murder, he automatically received a life sentence with a period of parole ineligibility set at 25 years.
Last week, Lambert testified and told the jury in his faint-hope clause hearing he was not the gunman, but said he drove the shooter to the building with full knowledge of what was going to happen. He also said he suffered four heart attacks since he began serving his sentence, contracted COVID-19 and has been diagnosed with cancer.
Article content
His request to have his period of parole ineligibility reduced was based on a section of the Criminal Code that was repealed in 2011. Offenders who were convicted before it was repealed can still request a hearing.
On Wednesday, the jury determined Lambert should be allowed to ask for parole immediately, after having served 18 years behind bars.
"We can never know what a jury was thinking, but I believe that overall they were convinced that Mr. Lambert does not pose a threat to society," said Sandra Brouillette, the attorney who represented Lambert, referring to how jury deliberations in Canada are secret. "I don't know if Mr. Lambert's health was a factor in their decision, but he will be able to get better access to treatment (for cancer) on the outside."
Article content
Brouillette said the jury was unanimous in its decision that Lambert be allowed to ask for early parole, and 11 of the 12 jurors agreed he should be able to request a parole hearing immediately. She also said Lambert will ask the Parole Board of Canada for permission to take escorted leaves before he asks for day parole.
Escorted leaves are considered the first step toward release for offenders serving a life sentence in Canada.
Convicted murderer Jean-Guy Lambert seeks earlier access to parole from jury

'I'm not the same guy now,' man convicted of murder for hire testifies