Follows complaint from individuals backed by environmental groups of 'greenwashing'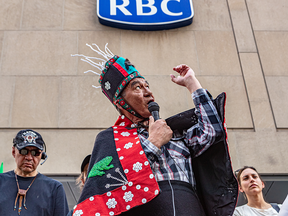 Article content
The Competition Bureau has opened an inquiry into Royal Bank of Canada's environmental representations and marketing following a complaint last summer that the bank's claims to be a climate leader were misleading because of its continued financing of fossil fuel projects.
Article content
A group of six individuals backed by environmental groups including Ecojustice and Stand.earth accused Canada's largest bank of "greenwashing" by making bold claims about taking action on climate change while funding projects such as the Coastal GasLink natural gas pipeline in British Columbia.
Article content
On Wednesday, those behind the complaint published a letter dated Sept. 29 from a Competition Bureau official saying that the commissioner "has commenced an inquiry."
The letter said the inquiry "seeks to determine the facts relating to allegations that RBC has contravened the Act by making false or misleading environmental representations."
No timeline or further details were provided.
Marie-Christine Vézina, a senior communications adviser at the Competition Bureau, confirmed Wednesday afternoon that the bureau launched an investigation "into the Royal Bank of Canada's alleged deceptive marketing practices" following receipt of the application sent by the six individuals.
Article content
"As the Bureau is obligated by law to conduct its work confidentially, I'm unable provide further details related to this matter," she said in an email.
Ecojustice suggested that if the Competition Bureau's inquiry finds that RBC's statements are misleading and false, the bank could be forced to stop advertising itself as supporting the principles of the Paris Agreement and aiming to achieve net-zero emissions targets by 2050.
But the bank rejected the accusations in a statement Wednesday.
"RBC strongly disagrees with the allegations in the complaint, and believes the complaint to be unfounded and not in line with Canada's climate plan," a spokesperson said in an email.
He said the bank has been engaging with clients, partners and other stakeholders and "working towards solutions to help Canada meet its net-zero commitments."
Article content
There is growing pressure from outside forces including regulators, shareholders, and international organizations to manage risks related to climate change. Canada's largest banks find themselves in a unique position when it comes to environmental commitments, given that companies in the oilpatch have been longstanding and lucrative clients.
The largest lenders have reduced their exposure to oil and gas as a percentage of their loan books since 2015 — from two per cent to 0.8 per cent by the second quarter of this year, according to tracking by Canadian Imperial Bank of Commerce. And that decline wasn't solely pegged to a shifting mix in loans. The actual total loan size also declined from an average of just shy of $8 billion to a shade over $5 billion.
Article content
However, that's just direct loans. The banks have deep capital markets ties to the oil and gas sector, and have largely stood by the oilsands even as some European banks have pulled back.
Richard Brooks, climate finance director at Stand.earth, said RBC's decision to continue to bankroll fossil fuel projects such as Coastal GasLink while publicly professing to be a climate leader "is disingenuous greenwashing at best, and unlawful at worst."
He called on the banks to end financing to companies building new pipelines, drill sites, mines and gas-power plants.
But such calls have not gained widespread traction. At RBC's annual shareholders' meeting in April, a resolution that called on Canada's largest bank to update its criteria for sustainable finance to "preclude fossil fuel activity and projects" that face significant opposition from Indigenous peoples received only single-digit support, failing to pass.
Article content
Canada's pension system holds steady in global ranking as retirement risks rise

Big Six banks' price targets slashed by Bay Street analyst

Higher interest rates threaten the buy now, pay later bubble
RBC chief executive Dave McKay has rejected calls for outright divestiture from oil and gas projects, and has urged governments to step up with tax policies and incentives to spur private investment in the energy transition.
"It's critically important that we get the transition to net-zero right in order to address climate change and we have taken a measured, thoughtful, and deliberate approach in our climate strategy," the RBC spokesperson said Wednesday.
The bank is planning to release targets for reducing emissions in its lending portfolio in the coming weeks. Environmental groups will be watching closely to see whether total emissions reductions are targeted, or simply reductions in intensity, which can be achieved even if overall emissions increase.
• Email: [email protected] | Twitter: BatPost
_____________________________________________________________
If you liked this story, sign up for more in the FP Energy newsletter.

_____________________________________________________________