Colton was 18 years old when he went missing after leaving a house party in the Abbeydale area on July 4, 2014
Article content
For nearly eight years, people who know more about the death of Colton Crowshoe have stayed silent, said Calgary police on Thursday as they and Colton's family called for someone to come forward with information about the 2014 homicide.
Article content
Colton was 18 years old when he went missing after leaving a house party in the Abbeydale area on July 4, 2014. His body was found three weeks later on July 24 in a water retention pond near Stoney Trail and 16th Avenue N.E.
His death was ruled a homicide and over the last eight years, the family has asked the community for their help in finding out what happened.
"Through this time we have remained committed to seeking answers for Colton's family, however, we need the public's help to put the final pieces together," said Staff Sgt. Sean Gregson on Thursday.
Witnesses have been interviewed and tips followed by investigators but officers believe there are still people who haven't come forward with critical information, including other witnesses at the house party.
Article content
Colton's father, Jimmy Crowshoe, told reporters on Thursday there are still unresolved questions he hopes someone will come forward to answer.
"He would have been turning 26 this November," said Jimmy. "We want justice for Colton. It gets frustrating, it hurts … I didn't think this was ever going to happen."
Colton's family has been outspoken since 2014 in the pursuit of justice for the 18-year-old. A year after Colton's body was pulled from the retention pond, his family and friends gathered outside the Abbeydale Community Centre to pray in Blackfoot and plead with the community for answers.
The family called for police to undergo First Nations diversity training after Calgary police waited to put out a missing person's report until July 22, 2014, only two days before his body was found and weeks after he had been reported missing.
Article content
Jimmy said they hope for justice so the family can have some form of closure. Colton's mother passed away this year, Jimmy said, which makes it harder for the family to wait for justice, as she will never know what happened to her son.
"I keep hoping that one day, somebody will stand up and tell the truth. If somebody knows the truth, they must at least want to say something so we can close things," Jimmy said.
Anne Crowshoe, Colton's aunt and Jimmy's sister, said through tears that Colton was raised in a close-knit, traditional Indigenous family, and they live through the pain of his death every day.
"I know somebody out there knows — somebody knows something. You've seen us suffer every day, you've watched us do everything and anything we can to find Colton's killer," she said.
"Help us bring justice for my brother and his family, and the rest of us who loved Colton dearly. He was loved by his family and friends."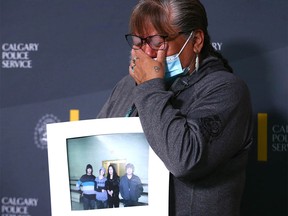 Anyone with information about Crowshoe's death — even if they may not think the information they have is relevant — is encouraged to call the Calgary police non-emergency line at 403-266-1234, or submit a tip anonymously through Crime Stoppers at 1-800-222-8477 or calgarycrimestoppers.org.
[email protected]
Twitter: @BabychStephanie