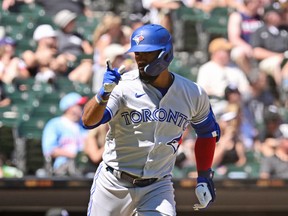 Article content
CHICAGO — It's not like hockey, where a big early hit can set the tone for a game and release frustration from a lingering tough loss.
But mother-bleeping an umpire by a disgruntled coach before the first pitch? Why not?
Prior to Wednesday's 9-5 win over the White Sox here at Guaranteed Rate Field, Blue Jays hitting coach Guillermo Martinez took one for the team — and a group of hitters still frustrated from a loss the previous night.
Article content
Martinez went to home plate under the guise of submitting the lineup card and instead gave the umpiring crew — and especially Tuesday's home plate ump, Doug Eddings — an earful.
Article content
Martinez got tossed for his antics and anger but the fired-up Jays bats took over from there, with pent-up anger unleashed in an impressive victory that would have been a legit blowout until a late rally by the Sox made things somewhat interesting.
"I know some guys were a little bit fired-up," said Jays shortstop Bo Bichette, who might have been among them, given his grand slam that broken open the game in the fourth inning. "It was unexpected. for sure."
And apparently it worked.
Thanks to the Bichette bomb — an inning after a solo shot from Alejandro Kirk got the fun started — the Jays avoided a sweep at the hands of the White Sox. And it was especially gratifying for Bichette, who the previous night had repeatedly slammed his helmet in frustration in the Jays dugout.
Article content
"That used to be who I was when I was younger," Bichette said of the outburst. "Sometimes you have to let it out.
"(Wednesday was) huge. Proud of the guys to come out here after a tough night and (short) turnaround. To come out here and score quick and score a lot was good to see."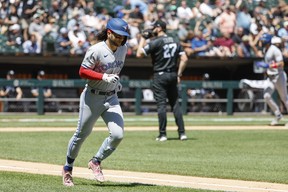 The power on display in Wednesday's matinee — which also included a massive two-run shot from Teoscar Hernandez in the seventh inning — was welcome, especially for a Jays team that had lost six of its previous eight, a slip that had erased some of its stranglehold on top spot in the AL wild-card race.
The Jays belted out 13 hits in total, regaining the offensive form that had been on display in recent weeks. It was also perfect timing for an outburst to support a pitching staff that was run through the wringer the previous night.
Article content
It certainly helped that the Jays got just what they needed from starter Ross Stripling, who allowed five hits over six innings and only one run. The right-hander had five strikeouts while throwing a season-high 87 pitches.
"Playing with urgency," Stripling said when asked to explain his team's response to the tough loss on Tuesday. "Forgetting the one the night before, even if it is tough … try to flush it and come out with good energy the next day. I felt we were able to do that.
"The offence was pretty relentless and I was able to go out and throw zeros and keep the momentum in our dugout."
Aside from the Martinez histrionics — which were well-received in all corners of the clubhouse — manager Charlie Montoyo said it was another strong show of resiliency by his team, which will enjoy an off-night in Chicago before travelling to Milwaukee to face the Brewers in a three-game series beginning Friday.
Article content
"Bo and everyone else … it was great to see the mindset this morning," Montoyo said. "Everyone said let's go and turn the page. That's not easy to do for young guys but we do a good job of that."
SPRINGER SITS
After leaving Tuesday's game with what the team called forearm discomfort, centre fielder George Springer was held out of the lineup on Wednesday.
No official word on his return as the team was evaluating imaging taken on Springer's arm prior to Wednesday's game, though there is clearly some concern In his place, Raimel Tapia started in centre.
"There's always concern whenever anyone goes for an MRI," Montoyo said. "Hopefully, it's not that bad."
More injury news after the game came when it was revealed that reliever Yimi Garcia was unavailable due to let side discomfort.
Article content
AROUND THE BASES
The Jays could have made life far easier on themselves in this one, but instead, with a 9-1 lead, let the home side get much too close for comfort. It was a rough eighth inning for reliever Adam Cimber, who allowed three runs across and exited with the bases loaded, just one out and the Sox within four. But Trent Thornton came in to induce a couple of outs to squelch the rally … It was another big game for Kirk, the darling of all-star game voting. After an RBI single in the first, the catcher blasted his seventh homer of the season in the third … There is still some concern with the Jays pitching staff, of course. The weary group allowed double-digit hits for the third consecutive contest.
MVP VLAD?
Though he's yet to flash his top form, the Jays first baseman Vlad Guerrero Jr. nabbed his first AL player of the week of the season on Tuesday
Guerrero hit .407 on the week with three homers and seven RBIs over seven games to capture the weekly honour for the fourth time in his career.
But what about the MVP talk? It's considerably more muted than it was last year. In fact, sports book bodog.ca has Guerrero listed at odds of 25-1, the seventh choice. Aaron Judge, who is having a stellar season with the Yankees, leads at minus-135 followed by Angels' Mike Trout and Shohei Ohtani, each at 5-1.