Drivers could see delays on these routes any time between now and October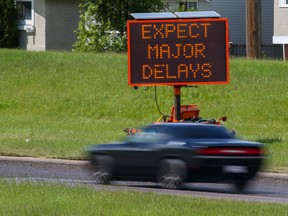 Article content
The City of Calgary has released its summer paving plans, with 149 locations and enough asphalt to pave a single lane from Calgary to Edmonton.
Article content
The total investment this summer will be nearly $48 million.
This year the city says it will be using environmentally resilient strategies which have the goal of reducing energy consumption and the carbon footprint involved with paving. The city also plans to use low-carbon concrete for sidewalk rehabilitation and curb and gutter repair.
Although routes are planned, exact timing of when the paving will take place is not released, as it's dependent on weather and the timing of other projects. Drivers could see delays on these routes any time between now and October.
"Keeping our roads in good condition is a priority for the city and the focus of our pavement rehabilitation program," said roads' manager of construction Barry Poon. "This will ensure our roads are safe for all users — pedestrians, cyclists, transit users, motorists and goods movement which is vital for the economy."
Article content
Drivers are reminded that construction zones are workplaces and the city wants to keep workers safe as they do their job.
Obey speed limits in construction zones, and cooperate with other drivers to keep traffic flowing by leaving gaps for others to merge.
The city may ask residents in some residential areas to avoid on-street parking as they pave in those areas. Communities expected to see major residential roadwork this summer include Rundle, Temple, Coach Hill, Mayland Heights, Parkhill and Cedarbrea.
Below are some major routes slated for work that could affect your daily commute.
Crowchild Trail South — 2 locations
If you're regularly travelling on Crowchild, then you're no stranger to the ongoing upgrades. This summer, watch for paving on the south side of the Bow River, from Bow Trail to 24 Street S.W., and then between 50 and 54 Avenue S.W.
Article content
McKnight Boulevard and Temple
If your commute has you on McKnight Boulevard, be prepared for delays close to the Ring Road, between 52 and 68 Street N.E. The city indicates that it will be paving lanes in both directions along this stretch this summer.
Also watch for the stretch of 68 Street N.E. along the east side of Temple, between McKnight Boulevard and 32 Ave. N.E. If you happen to live in Temple, watch for a lot of residential street paving in the northeast corner of the community.
Richmond Road near Signal Hill and West Hills
This section of road is normally humming with drivers trying to access the shopping district or make their way between the community of Signal Hill and Sarcee Trail. This summer the city will pave from 51 St. S.W. just east of Sarcee Trail, west to Sierra Morena Boulevard S.W.
Article content
There are also plans to pave all of Sierra Morena Boulevard, which loops around Sienna Hills in the community of Signal Hill.
Shaganappi Trail near Crowchild Trail
A shortish section at the south end of Shaganappi Trail could see delays this summer. Watch for paving on Shaganappi Trail between 40 Avenue N.W. and Northland Drive N.W. Also in these general areas, look for paving along Varsity Drive N.W. between 53 Street N.W. and 37 Street N.W.
14 Street S.W.
Fresh off the work that was recently done between the Rockyview Hospital and Southland Drive, the city will be picking up in that area again. This year look for paving on the section of 14 Street S.W. from Southland Drive south to Anderson Road.
For a map of planned paving projects, visit the city's roadway activities map at maps.calgary.ca/roadwayactivities.