Residents can have their say as to where future infrastructure projects go in the city during information sessions being held at Mosaic Stadium next week.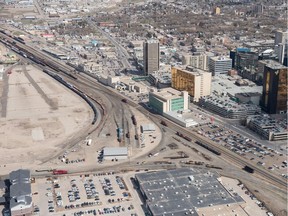 Article content
The City of Regina wants residents' feedback and participation in crafting the future of the city's downtown.
Article content
Labelled "a once-in-a-generation opportunity to shape the revitalization of Regina's city centre" by the city, a public consultation process is being led by the newly formed catalyst committee, which looks to coordinate and expedite the construction of major projects planned or proposed for Regina's core.
Article content
The projects are a proposed new multi-purpose event centre, an indoor aquatic centre, a multi-purpose outdoor baseball field and synthetic outdoor field as well as the "modernization" of the Central Library branch. Consultation on these projects will run during daily sessions at the AGT Lounge in Mosaic Stadium from Oct. 17 to Oct. 20 at 11 a.m. until 1 p.m. and then again at 5 p.m. to 7 p.m. each day.
In addition to the information sessions, an online survey launches on Oct. 17 and will be available at beheard.regina.ca. The web page will also be updated to include presentations from the information sessions.
Article content
"The projects proposed represent opportunities to grow local sport, recreation and culture, attract large-scale events to our community, as well as activate our downtown and contribute to Regina's economic prosperity," Coun. Bob Hawkins (Ward 2), co-chair of the catalyst committee, said in a news release issued Wednesday.
"Our goal as a committee is to thoughtfully explore potential synergies between the projects and determine preferences for location and sequencing to achieve the best overall benefit for our city."
Council approves catalyst committee, CSWB plan and water plant funds

Project co-ordinating 'catalyst committee' approved unanimously at executive committee
The catalyst committee is an infrastructure project co-ordinating group, which will look to facilitate the building of the four major projects in the city centre. City council approved the creation of the committee on Aug. 17 as a way to get the ball rolling on the projects and help coordinate resources and municipal focus.
Article content
The committee is not intended to be a long-standing entity as council documents say the plan is to disband it "no later than March 31, 2023."
By the end of this year the committee is meant to bring to council a report outlining recommended next steps to take on the three projects and the modernization of the Central Branch library location.