Saskatoon city council will discuss a delay in revealing potential downtown arena sites, solutions for a wellness centre and masks on buses.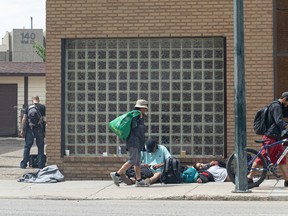 Article content
It looks like we'll be waiting another month for public discussion to really kick off on potential sites for a downtown arena and convention centre, but city council still has plenty to work on at this month's meeting.
Article content
We're expecting  to hear discussion on creating some sort of outdoor space for people staying at the Saskatoon Tribal Council's wellness centre on First Avenue, and an update on the COVID-19 situation in Saskatoon will give councillors an opportunity to decide whether to continue with mandatory masking on city buses.
ARENA SITES DELAY
City staff say they need another month before a list of possible locations for the downtown event and entertainment district is made public. The city has been negotiating conditional deals with the owners of multiple potential sites.
A report to council states these talks have "progressed well," but one owner needs a bit more time. While officials had earlier told council they expected to have the list ready to go public this month, they're now saying they hope to have it available for council's July meeting.
The city will also delay the start of public engagement on the potential sites. This had been meant to run through July and early August, and is now anticipated to run from August through early September.
WELLNESS CENTRE PATIO
A report heading to council outlines options for setting up some sort of outdoor gathering space for people staying at the Saskatoon Tribal Council's wellness centre.
The tribal council earlier this month secured a lease extension to operate an emergency shelter at 145 First Avenue North until the end of April 2023, and got provincial funding to support the operation.
Article content
Neighbouring businesses and residents have raised concerns about safety and cleanliness issues since the tribal council facility moved into the area, including complaints about people loitering in the area out front of the wellness centre.
The report by city staff discusses options including trying to get Midtown Plaza to allow access to some space in a nearby parking lot, or finding an offsite location to transport people to.
It also notes that a policy allowing businesses to create patios in the roadway parking stalls out front of their properties could be tweaked to allow for something similar outside the wellness centre.
The report notes there would need to be consideration for who would be allowed to access the space, what times it could be available and how it would be monitored.
TRANSIT MASKING 
A COVID-19 update set to be presented Monday includes data showing the virus's spread has slowed in Saskatoon.
The city already dropped mandatory masking in city-run facilities, but has maintained a mandatory masking requirement on transit busses.
The update notes cities in Alberta, Ontario and Quebec have all cancelled mandatory masking on their bus services, with Vancouver maintaining the practice only on its HandyDart service for people with disabilities.
Regina moved to end its transit mask mandate in late February, while Winnipeg also no longer requires masks, but does "strongly encourage" them. Council has the option to remove the transit mask mandate, or keep it in place for another month.
Saskatoon city council grants extension for downtown wellness centre

Province commits funds for Saskatoon Tribal Council shelter
The news seems to be flying at us faster all the time. From COVID-19 updates to politics and crime and everything in between, it can be hard to keep up. With that in mind, the Saskatoon StarPhoenix has created an Afternoon Headlines newsletter that can be delivered daily to your inbox to help make sure you are up to date with the most vital news of the day. Click here to subscribe.