The motion was carried 6-2; the bylaw change will now go to council for final approval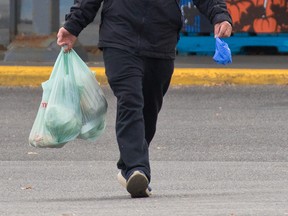 Article content
The city's plan to address single-use plastic containers such as shopping bags got lukewarm approval at council committee on Tuesday, but councillors feel the plan is lacking in more ways than one.
Article content
Plastic shopping bags and other single-use items are already set to be banned by the federal government, but the city's proposed bylaw change would require Calgary businesses to charge a minimum fee of $0.15 for paper shopping bags and $1 for new reusable shopping bags. That price would jump to $0.25 for paper bags and $2 for new reusable bags after the first year.
Article content
The proposed move is an effort to limit all waste going to landfills.
A study completed in Calgary in 2019 found that approximately 3.5 million plastic shopping bags, 6.4 million plastic utensils, 2.4 million takeout containers and 2.4 million disposable cups are thrown away in residential and commercial garbage every week.
In its presentation to the community development committee, administration stressed the bylaw change is not a ban on single-use plastics, although the federal government has brought in its own ban set to take effect at the end of this year.
Article content
John MacInnes of Earthware spoke during the public hearing portion of the meeting. He told councillors about his company's reusable plastic takeout containers that will soon be accepted at provincial bottle depots for a redeemable deposit.
He said they have 50 partners on board, including restaurants and grocery stores.
"We caution council that bans on certain single-use items can just replace these items with new, sometimes worse, single-use items," said MacInnes. "The objective is to reduce waste going to landfills and Earthware is good at it, but we could use some help."
Coun. Jennifer Wyness questioned the logic of using more petroleum-based products to solve the problem of plastic in landfills.
"What is the root cause of the problem that we're dealing with?" she asked. "Is it that bags are a petroleum product? Or is it that bags are going in and blowing around our communities?"
Article content
Wyness voted against the proposal, calling it a regressive tax.
"Those that can least afford it are going to be charged. I don't agree with that. And it's not even helping the climate."
Administration is looking at providing alternative solutions for low-income Calgarians.
City looks to increase shopping bag fees and reduce single-use items

Loblaw to eliminate single-use plastic shopping bags from stores by early 2023

Alberta joins court challenge against feds listing plastics as toxic
Wyness said she would like to see more compostable bags as part of the solution, but she also doesn't want people to have to pay for them at the till, since they're also paying for it in their green bin fees.
Other councillors wondered if the bylaw has enough teeth to address the problem. Coun. Gian-Carlo Carra said it seems more like a carrot approach and wanted to know if sticks will be used in the future.
Article content
Administration told him that the proposed plan tries to balance the needs of businesses with the desire to reduce waste. Other cities such as Edmonton are already more strict about using paper cups while dining in. The city recognizes that not every business has the dishwashing equipment available for a sudden switch.
Coun. Kourtney Penner was supportive of the proposed change, but said the city has a long way to go internally on single-use plastics, from what she has seen.
"As many people have done, we've opted sometimes for convenience, right, over sustainability, and so we have Keurig machines, we have plastic utensils in some of our spots if lunches or meals are delivered."
She said the city needs to work out strategies on waste and recycling and become a leader in showing how changes can be made.
The motion was carried 6-2, with councillors Andre Chabot joining Wyness in opposition. The matter will now go to council for final approval.
— With files from Stephanie Babych
[email protected]
Twitter: @brodie_thomas