The social and legal gains of second-wave feminism were legion, but they are not guaranteed to continue in future.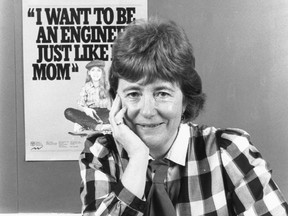 Article content
October marks the 30th anniversary of Women's History Month and is a golden opportunity to delve into the stories of the bold, brave and largely unsung heroines of what's known as the "second wave" of the women's movement in Canada.
Article content
During the second half of the last century, these women — many of whose archives are preserved in an extraordinary collection at the University of Ottawa Library — not only dared to enter, but thrived in, the male-dominated fields of law, science, technology, engineering, mathematics and the trades. And despite the effort and energy their own careers demanded, they went to great effort to ensure that other women could follow in their footsteps.
Article content
Monique Frize, for example, was the first woman to graduate with an engineering degree from the University of Ottawa in 1966. Although the dean there initially tried to dissuade her from embarking on her chosen path, Frize managed not only to graduate, but to earn two Masters degrees and a PhD at other institutions. She went on to work as a clinical engineer in the biomedical field, developing a software program to predict complications in premature babies and perfecting a technique to detect arthritis using infrared cameras.
Article content
In 1989, Frize was named to the newly created position of National Nortel-NSERC Chair for Women in Engineering at the University of New Brunswick. On what should have been her first day on that job, Frize was required to attend a memorial service for the 14 women murdered at the Université de Montréal's engineering school, the Polytechnique. That day, Frize vowed to do all she could over the next decade to ensure there would be 1,000 more female engineers in Canada for every woman murdered. That goal was exceeded.
Another pioneer, Valerie Overend, became the first woman to attain Red Seal Carpenter certification in Saskatchewan. Troubled by the fact that she met no other women on construction sites, Overend co-founded the Women's Work Training Program in her hometown of Regina in 1995. Over the next 25 years, Overend sat on countless boards, mentored at summer camps and created various programs to encourage girls and women to join the trades or try their hands at other non-traditional careers.
Article content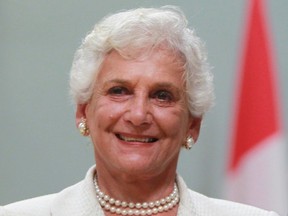 And a final example is the late Shirley E. Greenberg, a lawyer and philanthropist, who established an all-women law firm in Ottawa in the late 1970s, where hundreds of young female lawyers got their start. Greenberg also helped found the Ottawa Women's Centre, the Women's Career Counselling Centre, and Interval House, a refuge for women experiencing intimate partner violence. But her longtime friend Constance Backhouse, a professor at uOttawa's Faculty of Law, said it was Greenberg's talent for networking and bringing women together behind causes that constituted her greatest contribution to the women's movement.
"Shirley hosted, she organized, she volunteered to pull women together to talk about important issues, and activism and plans and strategies … She was at the pivotal inside of so many of those grassroots feminist groups across Ottawa. She was just the heart, the heartbeat of Ottawa feminism."
Article content
It is easy to forget that as recently as the last century, women had to fight hard to be accepted into science and engineering programs, had to network and organize tirelessly to fight sexual violence and demand respect for their reproductive rights, and had to prove themselves on job sites where sexism was rampant. The social and legal gains of second-wave feminism were legion, but they are not guaranteed, here in Canada or anywhere. If we don't remember the struggles behind us, we not only stop moving forward, but we can slip backwards. That's why the stories of these pioneers must be gathered, told and remembered.
Talia Chung is University Librarian and Vice-Provost (Knowledge Systems), at uOttawa.