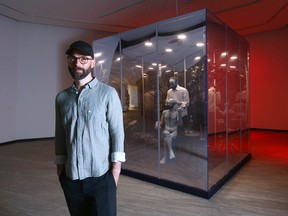 Reviews and recommendations are unbiased and products are independently selected. Postmedia may earn an affiliate commission from purchases made through links on this page.
Article content
Chris Curreri's new exhibit at Contemporary Calgary features a brooding figure who appears to be sulking in the corner. Named Christopher, he is a self-portrait of the artist and a life-sized hand puppet standing with his head bowed up against the wall.
Article content
When asked why Christopher is facing away from the viewer, Curreri seems reluctant at first to answer.
"I suppose he is … being punished a little bit," says the Toronto-based artist. "But don't make me talk too much about that."
In fact, Curreri seems a bit reluctant in general to discuss the sexual undertones of That, There, It, a multidisciplinary exhibit that mixes photography and figural sculpture and covers more than a decade of the artist's work. Some of the pieces are meant to represent a "way of talking about power and vulnerability."
The first piece a visitor to Contemporary Calgary's Ring Gallery is likely to encounter is The Thing, a collaboration with Curreri's partner and fellow artist Luis Jacob. The silicone sculpture is based on a photograph the two created of a man on his hands and knees. In the life-sized sculpture, every part of the figure's body is hermetically sealed under a skin-tight black covering that looks like BDSM fetish gear. The large-scale installation, Self Portrait with Luis Jacob, was just completed this year and features two life-sized figures encased in a mirrored cube lit from the inside. It is based on a 1973 photograph by Toronto artist Rodney Werden titled Self-Portrait with Jorge Zontal. Both Werden and Zontal were fixtures in the underground Toronto art scene in the 1970s. The image featured the photographer sitting in a chair and Zontal covering his eyes while standing behind him next to a vintage camera. Curreri again used himself and Jacob as models for the piece, with him taking on the role of Werden. Bloom, the photograph being used as the main visual to market That, There, Is, depicts a man's face (Curreri again, presumably) being obscured or perhaps consumed by a burst chewing-gum bubble.
Article content
"The porousness of bodies as a metaphor (is) a theme that runs through all the work and also the absence of porousness: What does it mean to encounter a body that can't see you or that you can't touch or that can't talk, even?" he asks.
"I think all the pieces are related in some way," he adds. "For me, most of the works have something to do with using this idea of bodily porousness as a way of talking about or pointing to ways that we are in relation to each other. These include states of power and vulnerability. For instance, I made a puppet of myself. It's the idea that you manifest yourself in the world, you make yourself present in the world, through speaking. But also the world impinges on you when you're here. The idea of the hand puppet waiting to be animated talks about that. Alternately, (Bloom), the image that is being used for the show, shows another state where something from inside the body is captured through the bubble gum. The bubble enters the outside space of the body."
Article content
Curreri studied art and photography at Ryerson University and the Ontario College of Art and Design before receiving his Master of Fine Arts in photography from Bard College in New York. In 2015, he was shortlisted for the Sobey Art Award, which is Canada's pre-eminent prize for emerging artists. He has participated in several international group exhibitions and produced solo exhibitions across Canada, including last year's Thick Skull, Thin Skin at Calgary's Esker Foundation.
Whatever the thematic threads, it's safe to say that one of the hallmarks of Curreri's work is that it is provocative. His Kiss Portfolio, for instance, is a series of close-up photographs of two men kissing. However, this is not obvious by looking at them and, as the accompanying text suggests, "viewers are tempted" to see much more intimate poses and body parts than the ones that are actually shown. In another series of photographs named August 17, 2021 are closeups of an old bicycle fused with or slowly consumed by a tree.
Article content
"I shot it at night with a flash," Curreri says. "I wanted that sort of forensic feel to it. I think what the flash does is give it a sort of freezing of the incomprehensible, or an absorption."
Perhaps the most provocative pieces in the exhibit are entitled Insomniac, which are colour photos that feature the innards of animals draped over mundane objects or artfully hung. They seem to safely enter both the realm of David Cronenberg-esque body-horror movies and acquired-taste territory, but Curreri insists there is a beauty to them as well.
"The palette is so beautiful," he says. "They almost look like blown glass. But I think there is this tension where people are attracted to the palette or the form and there is something complicated about objectifying this death. There is sort of an attraction, repulsion."
Chris Curreri: That, There, It runs until Sept. 18 at Contemporary Calgary.