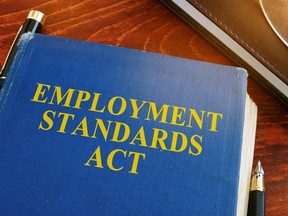 Article content
The Hudson's Bay Company, like many retailers, suffered a long and gruelling business slow down during the pandemic that changed the way most consumers shopped.
Article content
Naturally, HBC proceeded to lay off and/or terminate many of its retail employees. Such was the case of Darren Pohl, a 53-year-old sales manager who worked for the retailer since 1992. Pohl was terminated in September 2020, and walked out of the store by his manager. His case, heard by Justice Robert Centa at the Superior Court of Justice, reminds us of how even the mightiest of institutions can fall in court when found to be unduly insensitive to a departing employee.
Article content
Pohl managed 30 sales associates in his role as sales manager. He was in charge of hiring, firing, training and coaching his team. He created the weekly schedules, monitored sales and worked to improve the stores numbers. He had a lot of responsibility in his role and performed well for 28 years.
Article content
At a motion for summary judgment, the court awarded Pohl 24 months of wrongful dismissal damages. But in a twist some may not have expected, Pohl was awarded an additional $45,000 in moral and aggravated damages and another $10,000 in punitive damages.
HBC was delinquent in providing Pohl with his Employment Standards Act minimum entitlements. HBC had a supervisor immediately walk Pohl out the door when he was terminated. HBC offered Pohl another job but required him to sign a contract that would vastly limit his rights on termination. When he didn't sign it he was terminated anyway.
None of these factors are of the sort one would naturally expect to attract serious scrutiny and sanctioning by the court. But sometimes it is the precise job of a court to reset expectations, to invoke legislation in its purest form, and to resist setting a precedent that strays too far from the foundations of the law.
Article content
While the decision contains great analysis and legal nuggets that cannot be reduced to a weekly column such as mine, below are a number of highlights and takeaways for employers to consider when terminating an employee:
The Employment Standards Act is not a reference guide: a termination triggers ESA payments and obligations that must be made to an employee within specific timelines. The ESA is not a guide book. Follow it to a tee.
Treat departing employees well: The court found that Pohl's immediate walk out following termination to be unduly insensitive, especially since he was never accused of wrongdoing and considering his years of service. Treating employees this way may attract damages in court and creates an early wedge in the post termination relationship.
Article content
Make a fair offer: Pohl was offered a new job that included limiting terms that would have vastly lessened his entitlements on termination. To boot, when he was terminated he was only offered 40 weeks despite his 28 years of service. Employees are most vulnerable when they are terminated. The conduct of employers around this time will be held to a hire standard.
Even large institutions can err when it comes to how to treat a departing employee. But what is most perplexing is allowing a case like this, warts and all, to be heard by the court. While there was no big accusation of misconduct or wrongdoing, a series of slights can can sink an employer in court.
CHAUDHRI: Social media's takedown of a popular CEO

CHAUDHRI: Huge damage award to employee highlights problems in legal system

CHAUDHRI: Money talks? Freedom the hottest commodity to hit employment
Article content
On to this week's questions:
Q: I was terminated from my job and my employer withheld my ROE as well as monies owing to me when I was terminated. I was told I wouldn't get my unpaid wages, my vacation pay or any termination pay until I signed a release. I still haven't signed the release but I'm wondering if I have to sign it to get the outstanding money owed to me from the day I was terminated?
A: No, you are not required to sign a release to receive your unpaid wages, vacation pay or termination pay. In some cases you may be entitled to other monies from your employer including statutory severance pay. Provincial legislation requires that this is paid out to terminated employees on a mandatory basis. Your employer is not legally allowed to withhold these payments to you whatsoever. An employer may impose a release for amounts owing in addition to your minimum statutory entitlements only. It is a bad faith practice for your employer to have withheld these amounts and may result in additional damages should you decide to pursue wrongful damages.
Article content
Q. I started working for a company that has cash flow issues. My boss says it will be easier for him if I invoice him every month instead of being added to the payroll. I don't really have a problem with this but I'm wondering if there is a risk I am not seeing?
A: If you are truly an employee it is always safest for you, the worker, to create an employer-employee relationship. If you don't, you risk being excluded from protective employment legislation that places obligations on your employer including ensuring you take vacation and also protects you from unpaid wages or not being paid your overtime. If you decide to bill your employer as a contractor, you may nonetheless be deemed an employee by the CRA and may later be taxed at normal income rates that could be financially prohibitive. If the nature of your relationship is truly one of employer-employee I encourage you to get it right from the start.
Have a workplace issue? Maybe I can help!
Email me at [email protected] and your question may be featured in a future column.
The content of this article is general information only and is not legal advice.