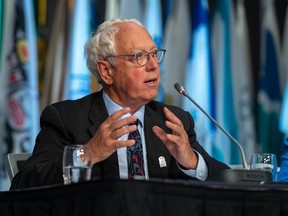 Article content
B.C.'s attorney general said a federal bail law meant to modernize the system has had "unintended consequences," which is why he's pressing Ottawa for reforms that would allow violent repeat offenders to be kept behind bars longer.
Article content
Critics, however, say the province is passing the buck to Ottawa instead of acting quickly to protect the public from random attacks.
Article content
Attorney General Murray Rankin and Public Safety Minister Mike Farnworth are in Dartmouth, Nova Scotia, at a national conference of provincial and territorial ministers responsible for justice and public safety Wednesday through Friday.
They're pressing federal Attorney General David Lametti and Public Safety Minister Marco Mendicino for reforms to the bail system and more resources for mental health and addiction services, which are often the underlying causes of crime.
In a phone interview from Halifax, Rankin said he asked Lametti if federal bail legislation could be amended "to perhaps make it less likely that these people would be required to be released on bail and could be held back on remand in custody. And he was certainly open to those ideas."
Article content
Bill C-75, passed in June 2019, updated the bail provisions in Canada's Criminal Code and instructed police and judges to use a "principle of restraint" when it comes to setting bail conditions. The Supreme Court of Canada has also ruled that people accused of crimes be released with the least onerous bail conditions.
Rankin acknowledged that Bill C-75 and the subsequent Supreme Court decision combined to create "the law of unintended consequences" by making it more difficult to keep violent offenders in custody while awaiting trial.
Every single province and territory is dealing with the problem of random violent attacks by repeat offenders, said Rankin, which is why the ministers will stress to Ottawa the "urgency" around finding a solution.
Article content
"I think the federal government ignores the provinces on these issues at its peril," Farnworth said in an interview. "We are a country of laws and if there's unintended consequences from a law that we want to try and change, then obviously we ought to do that."
B.C. Liberal leader Kevin Falcon said the NDP's pleas to the federal government will be just as unsuccessful as their calls for more health care transfers from Ottawa to shore up the crumbling health system.
"I think this latest trip is simply a smoke screen to pretend they're doing something when, every single day, people are being attacked by random strangers," Falcon said. "It angers me."
Falcon pointed to one recent case of a violent repeat offender who was released on bail as evidence the system is broken.
Article content
Mohammad Majidpour, 35, was charged with assault with a weapon for allegedly attacking a 19-year-old woman of Asian descent on Sept. 27. The woman was struck on the back of a head with a pole by a man who used a racial slur and offensive comments.
Majidpour, who has dozens of convictions dating back to 2015 according to court records, was also charged with criminal harassment in connection with a stalking incident in Vancouver last year which was caught on video by Jamie Coutts. That charge was stayed.
According to a prolific offender report by Doug LePard and Amanda Butler, stranger attacks in Vancouver in 2020-21 increased by 35 per cent compared to 2019, coinciding with the pandemic.
Falcon pointed out that Rankin, a federal NDP member of Parliament until 2019, "was actually one of the cheerleaders for the very piece of legislation that they're going to supposedly complain about now."
Article content
The attorney general is also considering issuing a directive to Crown prosecutors to oppose bail for repeat violent offenders but Rankin said the province must be careful that such a directive doesn't override the Criminal Code, case law or the Canadian Charter of Rights and Freedoms.
"It's not going to do us any good to have a directive that is simply struck down by the courts," Rankin said.
Sarah Leamon, a Vancouver-based criminal defence lawyer, said in criminal cases the courts have a general presumption in favour of release except in some circumstances such as where the person has a history of violating bail conditions, or where their release poses a risk to the public or would undermine confidence in the justice system.
Article content
All of these factors must be weighed, Leamon said, in the context of existing case law and Charter rights which "protects the right to reasonable bail and the right to be presumed innocent until proven guilty."
Leamon said in the 12 years she's been running her practice, the vast majority of her clients comply with conditions but a relatively small number of repeat offenders committing violent acts attracts media attention.
Rankin faced criticism last week for saying during question period that it's "futile" to arrest our way out of the problem.
"Obviously, I believe that there needs to be consequences for crime, particularly violent crime, but to suggest that the only thing that will make a difference here is arrests is simply inaccurate. We need to be tough on crime, but we also need to be tough on the causes of crime," Rankin said.
He said that is why the province will also ask Ottawa for more funding to boost mental health and addiction resources such as community transition teams for offenders released from jail, peer assisted care teams and complex care housing.