The Saskatchewan Roughriders and Toronto Argonauts are to meet Saturday in Wolfville, N.S., in Touchdown Atlantic.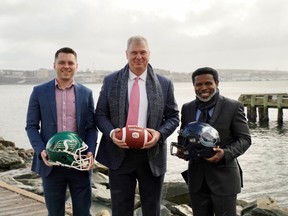 Article content
HALIFAX — Randy Ambrosie's enthusiasm for Touchdown Atlantic is catching.
Article content
"It's going to be special, and it's going to be something that, if you're there, you're going to remember for a long time," the CFL commissioner said in advance of Saturday's game between the Saskatchewan Roughriders and Toronto Argonauts (noon, TSN, CKRM 980).
"I've had this week marked on my calendar for some time because I really believed that this was going to be transformational for us in the effect that we'll have on the league and the effect it will have on this community. Hopefully, that's the beginning of a long-term march towards Canada's 10th CFL franchise."
Saturday's Touchdown Atlantic game is taking place in Wolfville, a community of approximately 4,000 people located 90 kilometres west of Halifax.
The town is the home to Acadia University. The school's stadium, which normally accommodates 3,000 spectators, has been expanded to 10,000 with temporary seats. Tickets for the event were originally $40 to $80, but prices have increased closer to kickoff.
There's no way Wolfville could be home to a CFL expansion franchise, but that's not the main reason for holding the Touchdown Atlantic game there.
"If we had the perfect facility to play the game we would already have a 10th CFL franchise, so you can't focus on that," Ambrosie said. "The reason we're having Touchdown Atlantic games rather than having a CFL franchise host its own games is because they don't have the perfect facility.
"What you do is you take the best facility that's available and then you build an event around it. They voted essentially with their pocketbooks to buy tickets so there isn't anything about that I can be negative about."
Article content
It took only an hour to sell out Acadia's Raymond Field when tickets were made available to the public on April 26 for what would otherwise have been an Argonauts home game.
"The exposure that we will get can only be good for Wolfville and for Acadia," Wolfville mayor Wendy Donovan said. "This is truly a beautiful part of the country. I've had the pleasure of working across Canada and living most of my life in Ontario. For me, there is no better place than this province and this part of this province."
The 2022 edition of Touchdown Atlantic will be the first CFL regular-season game played in Nova Scotia. Halifax was the site of the first Touchdown Atlantic game, a 2005 pre-season contest between the Argonauts and Hamilton Tiger-Cats at Saint Mary's University's Huskies Stadium.
Moncton, N.B., has been home to Touchdown Atlantic games in 2010, 2011, 2013 and 2019. The 2020 event, which was to feature the Riders and Argonauts, was cancelled due to the COVID-19 pandemic. Plans for a 2021 Touchdown Atlantic were also scuttled due to the truncated 14-game schedule and some of the COVID-19 protocols from 2020 remaining in place.
This year marks the Riders' first appearance in Touchdown Atlantic. The Argonauts have played in three previous events (2005, 2010 and 2019).
"It's one of those games that when they put us on the schedule back in 2020 that I circled because I'm a big lobster guy," Riders quarterback Cody Fajardo said. "I like lobster and I hear they have some of the best, so I'm excited about the food. I know that (Riders placekicker) Brett Lauther is going to take care of the guys and show us some of the best spots.
Article content
"They are treating it like a mini-Grey Cup. It will be a lot of fun for us just to interact with the fans out there and be in something that is so unique."
Lauther was born and raised in Truro, N.S., 90km north of Halifax. Lauther, Ambrosie and Argonauts general manager Michael (Pinball Clemons) were the main CFL representatives when it was announced March 29 that 2022 Touchdown Atlantic was to be shared by Wolfville and Halifax.
Lauther has emerged as an ambassador for Touchdown Atlantic.
"People love the local hero story and it's a great part of sports in general," Ambrosie said. "He's articulate, thoughtful, has obviously been incredibly successful, and he is a hometown product. I'm looking forward to seeing him here and all that he'll bring to the Touchdown Atlantic game."
Scott Annand is familiar with the passion for football in Saskatchewan and Nova Scotia. Annand, 60, grew up and lives in Truro. He also spent 2016 and 2017 with the Riders as an assistant coach and football operations co-ordinator.
"Having the Riders in Touchdown Atlantic is such a smart marketing move by Randy Ambrosie and the CFL," Annand said. "The Riders are Canada's team and they have set the precedent. They have the tradition, they have the history and they're winning right now."
Wolfville will be the centre for Saturday's game-day events. On-site parking is limited so more than 30 buses have been booked to shuttle fans from Halifax to the stadium. Once there, fans will be treated to a massive tailgate party featuring live music before and after the game.
Article content
Numerous events are scheduled for Halifax before Saturday's kickoff. They range from open practices for the Roughriders and Argonauts to youth-focused camps to live music.
The Riders will be represented with the Grey Cup 109 Headquarters, a connection to Regina serving as the host city for the 2022 Grey Cup game on Nov. 20. Similar to Riderville at past Grey Cup Festivals, the Headquarters will feature live music, refreshments and food.
There will also be sounds of Regina because 19 members of the Riders Pep Band have made the trip to Halifax. They will be playing numerous events in Halifax and Wolfville. The trip tied in nicely with the pep band's 30th anniversary.
"Our goal is to paint Halifax green through music," said trumpeter Rhonda Kerr-White, an original member of the pep band.
Despite the hype, there is a football game to be played. The Riders (4-1) head into the contest on a two-game winning streak. The Argonauts are 1-2.
Both teams were to arrive late Wednesday, leaving two days before kickoff to accommodate many of the events in which the players are involved and to deal with the time change.
"You have to embrace it," Fajardo said. "I told the guys it's a break from the routine that you get from the long, 18-game season. It's nice to get out, get away and do something new. I think the guys are going to respond well.
"We're going out early so there shouldn't be any jet-lag or any energy being down. It will be a high-energy game because it's sold out and I'm really looking forward to it.
"It's going to be something that the CFL can be very proud of. I know that I'm proud of being part of that game."
The sports world is ever-changing, as are the times. Supplement your steady diet of sports coverage by subscribing to the Regina Leader-Post's 306 Sports Fix newsletter. Each week, sports editor Rob Vanstone will provide additional commentary on the Roughriders, Pats and other teams/sports of interest, along with a peek behind the curtain. Click here to subscribe.