"We have the quality, we have the most wins in the East and we showed we're a top team in the league," says Djordje Mihailovic.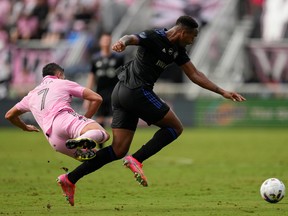 Postmedia may earn an affiliate commission from purchases made through our links on this page.
Article content
As Djordje Mihailovic prepares to move to the Netherlands next year, he can think of a no better going away present than an MLS championship.
Article content
"I remember my first interview with you guys and I said I wanted an MLS Cup and I think that we can do that," Mihailovic said Sunday after he scored a goal and added an assist to lead CF Montréal to a 3-1 win over Inter Miami FC at DRV PNK Stadium in Fort Lauderdale.
Article content
"We have the quality, we have the most wins in the East and we showed we're a top team in the league," Mihailovic said. "Winning the MLS Cup should be the goal of everyone on this team and it's a reachable goal."
Coach Wilfried Nancy's road warriors set one MLS record and tied another as they wrapped up the regular season. Playing against a team that had lost only three home games, CFM took a 2-0 lead in the first eight minutes and went on to win an MLS record 11th road game. Montreal also tied an MLS record with its seventh consecutive road win.
Article content
CFM extended its current unbeaten string to six games and has momentum going into the playoffs. Montreal will be at home for a quarter-final game next weekend against Orlando City, which grabbed the final playoff spot in the Eastern Conference with a 2-1 comeback win over the Columbus Crew.
There was hope CF Montréal would finish first in the MLS Eastern Conference and earn a bye in the first round of the playoffs. CFM did its part with the win, but didn't get the necessary help from Toronto FC, which lost 4-0 to the Philadelphia Union. Philadelphia finished atop the conference with 67 points, two more than Montreal.
CFM took control of the game early. Miami goalkeeper Drake Callender hesitated to clear the ball and had his pocket picked by Ismaël Koné, who passed the ball to Mihailovic for what had to be the easiest of his nine goals this season.
Article content
Mihailovic found Lassi Lappalainen with a cross in the eighth minute and 38-year-old Kei Kamara belied his age when he took a pass from Victor Wanyama and made a strong run from midfield and left several defenders in his wake before beating Callender in the 36th minute. It was the ninth goal of the season for Kamara, who is the No. 2 all-time goal scorer in MLS with 136.
Lappalainen came close to a second goal in the 34th minute when his shot from the left side to the far post was headed away by  defender Aimé Mabika along the goal line. Lappalainen limped off the field in the 64th minute, but there was no immediate update on the severity of his injury.
CFM was playing without striker Romell Quioto, who was inured while playing for Honduras. Nancy said Quioto has made progress over the past week, but it's too early to tell whether he will be ready for the playoffs.
Mihailovic, who missed time with an injury earlier this season, said one of CFM's strengths this season has been its depth and ability of other players to step up.
James Pantemis, who has won the year-long battle for the No. 1 goalkeeping job with Sebastian Breza, lost his clean sheet when Joel Waterman scored an own goal in the 85th minute.
CF Montreal watching TFC regular-season finale in Philadelphia with interest

CF Montréal's Victor Wanyama expects to depart at end of season

Own goal allows CF Montréal to creep past D.C. United