"We supplement the food banks because the need has never been greater," David Lisbona says. "It's all financial engineering and extreme couponing."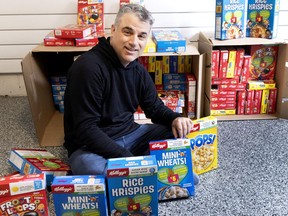 Article content
Some people garden or knit or birdwatch. Montreal investment adviser David Lisbona's hobby is perhaps more unusual: finding ways to help people by drawing on his considerable skills as "a numbers guy," as he calls himself.
Article content
Lately, that has meant buying breakfast cereal at a deep discount using coupons and other promotional offers — and then donating it to food banks.
Call it cereal philanthropy.
Kellogg's Canada, for instance, has a promotional campaign in which customers who buy two boxes of specially marked cereal receive a gift card worth $5. If he finds the cereal on special for $2.97 per box — $5.94 for two — and gets a gift card worth $5 for every two boxes purchased, each box will have cost just 47 cents.
"With inflation hurting vulnerable families, this is just what the doctor ordered. If I can pay 47 cents for a box of cereal, it's a no-brainer for me," said Lisbona, who has practised as a tax attorney and been an entrepreneur.
"We supplement the food banks because the need has never been greater," he said. "For me, it's all about financial engineering and extreme couponing."
Article content
Extreme couponing is less common in Canada than it is in the United States, where stores work hard to increase market share by offering coupons and other deals yielding huge savings on grocery orders. But Lisbona, 52, is making it work here.
The $5 Kellogg's coupon is valid on cereal purchases made on or before June 2 and coupons must be redeemed by June 30. (Customers also have the option of allowing Kellogg's to donate the $5 directly to organizations fighting hunger.) There is a limit of five gift cards per household and, although Lisbona does most of the purchasing, he has enlisted dozens of friends to receive the cards.
In a promotional campaign last summer, he made money buying cereal.
It worked like this: Family-sized boxes of Special K Vanilla Almond were on special at $4.44 apiece, for a total of $26.64 for six boxes. Customers were entitled to a $5 gift card for every two boxes of cereal purchased ($15 for six). In addition, a $1 coupon per box was available in-store ($6).
Article content
At the time, IGA was offering 60 Air Miles for every three boxes of cereal purchased; another Air Miles promotion meant Lisbona could redeem Air Miles at a discounted rate of $10 for every 75 miles: 60 Air Miles, then, were worth $7.06: $15 plus $6 plus $7.06, for a total of total $28.06. Having spent $26.64, he was $1.42 ahead on six boxes of cereal — or nearly 24 cents a box.
For the duration of the promotion, Lisbona would regularly drive up from Montreal to the Laurentians as part of his summer routine — he and his family have a home in Ivry-sur-le-Lac, where he is in his ninth year as a councillor for the municipality — and clear IGA grocery store shelves of Special K Vanilla Almond as far north as Mont-Tremblant, then store it in his garage. Ultimately, he purchased more than 1,200 boxes of cereal, which he donated to Moisson Laurentides, Moisson Montréal and two Ottawa food banks.
Article content
Moisson Laurentides, which helps nearly 20,000 people every month, has about 200 regular suppliers but also relies on the public, said event manager Eve Massicotte, and community volunteers like Lisbona are invaluable.
The gift cards were donated to two Montreal-area high schools to help students purchase ingredients for sandwiches and other food for organizations helping people who are unhoused or in other vulnerable situations.
At Walmart, he said, he is known as "the cereal guy."
In another promotion last summer, the Super C grocery chain was accepting more than one coupon per box for Quaker oatmeal, "so I was able to get it for less than a dollar a box," Lisbona said.
"I give it all away. If I can use my powers for good, why not?
Article content
"I'm a math guy." During the workday, "I deal in finding the right holdings for my clients. I especially like financial options and, as soon as the market closes, my mind is racing.
"Philanthropy is my release in my free time."
And his philanthropy goes beyond cereal.
In 2017, the cause was jockstraps. Lisbona founded an organization that ships hockey gear to Metula, a town in Israel near the northern border with Lebanon and the location of the Hockey Academy of Israel, which gathers Jews and Christians, Druze and Muslim Arabs players to try, through hockey, to build bridges.
Players needed more than 300 athletic supporters, an essential piece of hockey equipment. Although they normally retail for $15 to $20 each, they were on special in Canada for $3 at Dollarama. Lisbona sent word out via Facebook contacts across Canada to buy up every jockstrap they could find.
Article content
And at the outset of the COVID-19 pandemic in 2020, he was one of four residents who initiated an emergency food-delivery network for seniors in Côte-St-Luc. The community has the highest proportion of seniors in the province and they'd been told to stay home. Many were isolated, with no one to shop for them.
It was part of an all-volunteer project of the Nellie Philanthropy Foundation, which Lisbona had founded a couple of decades earlier. Lisbona, with city councillor Mitch Kujavsky, Pam Kujavsky and Melissa Margles, organized 250 volunteers who worked tirelessly between March and June to have the groceries delivered.
"No one — not the government or the delivery services of the grocery stores themselves — was ready for the shutdown. We kicked into gear and had such a wonderful outpouring of support," recalled Lisbona, who took home one of six D'Arcy McGee National Assembly Citizenship Medals that year.
And with a database of 250 volunteers, "If we were ever locked down again, we are ready."
Shopping for their groceries so seniors can stay home, where Quebec wants them

Demand for emergency food baskets is on the rise — again