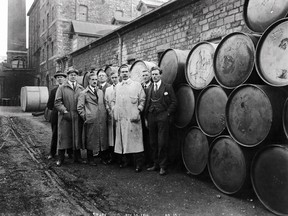 Reviews and recommendations are unbiased and products are independently selected. Postmedia may earn an affiliate commission from purchases made through links on this page.
Article content
Canada marked July 1 this year as its 155th Confederation anniversary – yet there are today companies and institutions older than the country.
Article content
Two come to mind – one being the iconic Labatt Breweries, already 20 years old when Canada first celebrated its Confederation. Founded in 1847 in London, Ont., by the Irish-born John Kinder Labatt, in partnership with Samuel Eccles, the company produced 1,000 bottles of beer in its first year. By 1855 John Labatt became the brewery's sole proprietor and, although it's a given much has changed since the company's founding, one thing remains the same: its commitment to making great beer.
Article content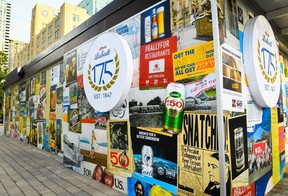 The Labatt story is rich in Canadian history: It weathered a depression while donating badly-needed grains to help the poor during that time. When the First World War broke out, as was the case for many families, members of the Labatt family enlisted in the Canadian forces, with two of John Labatt's nephews, Dalzell Browne and John Chilton Mewburn, seeing action on the western front.
Article content
Dalzell Browne's younger brother, George Sackville, was in the Royal Canadian Artillery, while John Labatt's grandson, Verschoyle Cronyn, ended the war as a Canadian flying ace.
When the Second World War broke out, Labatt stepped in and supplied "cold comfort" to soldiers fighting in Europe, North Africa and East Asia. They did the same during the Korean War, when Labatt sent its Anniversary Ale – which was subsequently renamed "50" – to the Canadian troops fighting for the UN.
Labatt has successfully weathered many a storm, including the pandemic, and today, celebrates its 175th anniversary as a company that has grown to include six key breweries from coast-to-coast, four craft breweries, 70 brands and more than 3,600 skilled craftspeople and professionals.
Article content
To help celebrate this monumental event, Labatt is partnering with Toronto Harbourfront Centre to deliver a special exhibition – A Brewing Affair – open until October 23 to showcase its illustrious history.
Another institution that recently observed a milestone date is the historical wonder known as the Distillery Historic District, designated a National Historic Site of Canada, and celebrating its 190th anniversary with parties and events, including a special photo exhibit, (thedistillerydistrict.com/190)
The Distillery District is considered to have one of the richest histories in Canada, attracting visitors from all over the globe. It has the most detailed 13-acre unique collection of intact, Victorian-era industrial architecture – considered the largest collection of buildings like this in all of North America.
Article content
It truly is an inspiring piece of pure Canadian history, and walking its cobbled streets is like walking through time.
And, from its industrial past, it is widely regarded as one of Canada's premier destinations, famous for its vibrancy, colour and dazzling character, not to mention one of the most dramatic tree-lighting events during the Christmas holiday season.
RECOMMENDED VIDEO
The Guardian called The Distillery as "one of the world's coolest shopping destinations," and it's certainly one of the most recognizable tourist hotspots, as well as home to a number of the finest, award-winning international and local dining experiences, stellar entertainment spots and dedicated art community. It's also home to one of the biggest patio villages in Canada.
Article content
Located near Lake Ontario in Toronto's eastern downtown core, the "Distillery" as many refer to it came about back in 1832, when James Worts and his brother-in-law William Gooderham (hence the official name Gooderham & Worts distillery company) emigrated to Upper Canada from the U.K. to establish a flour milling business on the city's shore. They put into place a business plan that would define the city's waterfront. They erected a 70-foot tall windmill (considered the CN Tower of its time) which became a symbol of the new City of Toronto and, according to recent media material, their business grew to become an economic powerhouse and the largest distillery, "not to mention the largest exporter and producer of spirits in the world," providing millions of gallons of whisky for export on the world market.
Article content
And – it remained a distillery until 1990 before shuttering and reopening a few years later to its current success. The iconic district is huge in the entertainment industry: It's done double-duty as a movie set for more than 800 films to date – including such Hollywood blockbusters as Chicago and Cinderella Man. It's where many television series were filmed not to mention hundreds of commercials and music videos.
According to distilleryheritage.com the "quintessentially Canadian industrial site masqueraded as Antebellum Virginia, Victorian London, turn-of-the-century P.E.I., Prohibition-era Chicago, Jazz-era Harlem, Depression-era New York, Nazi concentration camps, post-war Montreal, and futuristic X-mania."
Article content
"When we submitted our proposal to purchase the venue to the City of Toronto back in 2001, we made a promise," said John Berman, principal, The Distillery Historic District, in a recent media release. "Our vision was that (the Distillery) would be a centre for arts, culture, dining and entertainment; a space for independent business owners to be supported and succeed. We committed to building community over profit. Twenty years later, we are very proud to say, we've kept that promise."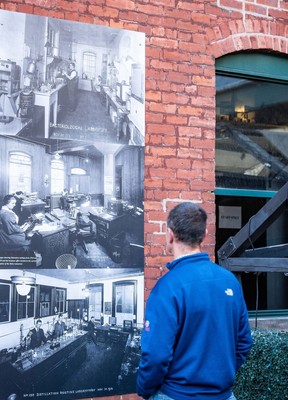 To celebrate this momentous anniversary, the founders have curated 25 sets of archival photographs to visually tell the story of this famed slice of Canadiana and the incredible transformation of the vision of two brave men by the last names of Gooderham and Worts, back in 1832.
"This is such an exciting time not only for the city, but all of Canada," said Rik Ocvirk, vice-president of The Distillery Restaurant Corp, and director of experiences and events, during a recent tour of the grounds. "As much as this we're marking a milestone, more importantly, Distillery 190 is our way of saying thank you to the people of Toronto," and all of Canada, he added.