"At the end of the day, I just love being a hockey player," says 22-year-old who will earn an average of US$95,732 per game for eight years.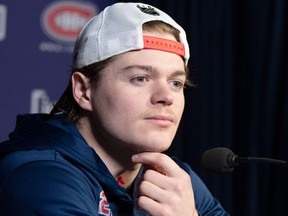 Article content
Cole Caufield doesn't mind making less money than Canadiens captain Nick Suzuki.
Article content
"I think that's kind of understood on both sides, too," Caufield said during a video conference Monday after agreeing to an eight-year, US$62.8-million contract with the Canadiens. "That's our guy (Suzuki), that's our leader. I think everyone around knows that. It's still a heck of a lot of money … I'm not complaining about anything like that. I'm excited and I'm proud to be a part of this and to do it with him will be pretty special as well."
Article content
Suzuki just completed the first season of his eight-year, US$63-million contract that has an annual salary-cap hit of $7.875 million. Caufield's salary-cap hit will be $7.85 million.
Canadiens GM Kent Hughes wanted to keep his salary-cap structure in place with Suzuki as the highest-paid player and he also wanted to sign Caufield long-term.
Article content
Mission accomplished.
Moving forward, Caufield said he wants to take more of a leadership role beside Suzuki.
"I think looking up to a guy like Nick, who handles himself the right way, everybody kind of looks at him and with him doing all those things — everybody just wants to be like that," Caufield said. "I think the culture that we have, the positivity for the game that we have is kind of contagious throughout the room. Every part of the organization these days is headed in the right direction."
Caufield scored 26 goals in 46 games this season before suffering a shoulder injury that required surgery. Caufield said Monday from his offseason home in Michigan that he was given clearance from doctors 10 days ago to resume full activity. He has been skating two or three times a week for a few months and has now started shooting pucks again. He played his last game on Jan. 19.
"I'm really looking forward to having this full summer to make sure I'm back to 100 per cent," Caufield said. "The way things are going right now I'm not too worried at all."
Caufield, who could have become a restricted free agent on July 1, also wasn't worried about getting a new contract done, putting his trust in agents Pat Brisson and Matt Williams to negotiate with Hughes.
"On my side, their side, it's all been handled very well, very professional," Caufield said. "With the injury, I didn't really expect anything to happen right away. We just knew both sides wanted to be there and long-term, too. So I couldn't be more excited and I think it all worked out in the end."
Article content
Caufield's contract is front-loaded. He will earn US$9.975 million in each of the first two seasons, according to CapFriendly.com, and has a US$5-million signing bonus in each of the first two years. Suzuki earns US$10 million in the first three seasons of his contract and had a signing bonus of $4,000,014 last year with the last $14 matching his sweater number.
"I'm excited to be here long-term," Caufield said. "I think it puts my family in a good place as well. All those things that kind of went into this final number and years I'm very excited and very lucky to be part of the Montreal Canadiens for a long time.
"I love the way this organization is going, the mindset, the group of guys that we got, the younger players," he added. "Everywhere's just going in the right direction. I put myself in a huge part of this team building forward and I think there's a lot of things that are growing inside. I think we're headed in the right direction, so I couldn't be more excited and proud. I think, at the end of the day, both sides kind of got what we wanted and I couldn't be more proud. … I'm a team player and I want what's best for us."
Article content
The 22-year-old Caufield admitted the figures in his contract can be mind-boggling. He will earn an average of US$95,732 per game (more than $128,000 Canadian) over the next eight seasons.
"To be honest with you, it really doesn't make sense to me," Caufield said about the US$62.8 million he will earn. "It's something that I could have just dreamed about as a kid, but even this number probably wouldn't have even popped into my head.
"Honestly, it's not going to change anything about who I am, anything like that," he added. "Just coming to the rink every day … I'd do it for free. My passion for the game, it's never going to change. I'm really excited. The money, it's really special for me and my family. But, at the end of the day, I just love being a hockey player."
What kind of celebration plans did Caufield have for Monday night?
"I haven't really made too many plans," he said. "I had a workout and a skate this morning, so I may just take a nap later."
Stu Cowan: Signing Cole Caufield long-term worth risk for Canadiens

Jack Todd: Hughes did it right with Caufield deal