Though still a small proportion of the population, the numbers of Muslims, Sikhs and Hindus in Quebec have jumped significantly since 2011.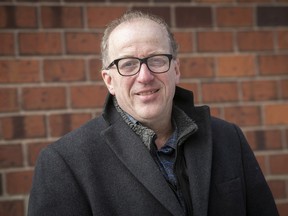 Article content
Quebec is still Canada's most-Catholic province, but people are increasingly stepping away from the faith, with a growing number saying they have no religious affiliation.
Article content
At the same time, there has been a big increase in Quebec's Muslim population, who now makes up five per cent of the population, two percentage points more than a decade ago.
Article content
Those are among the findings of the 2021 census. Statistics Canada released data on religious diversity this week.
Some key numbers:
In 2021, 4.8 million Quebecers (54 per cent of the population) declared themselves Catholic, compared with 5.8 million (75 per cent) in 2011.
There are now 421,710 Muslims in the province, up from 243,430 a decade ago, a 73-per-cent jump.
The number of Hindus and Sikhs also grew. Hindus now number 47,390 (a 41-per-cent increase), and there are now 23,345 Sikhs (an increase of 152 per cent).
The number of Jews in Quebec remained stable, seeing a drop of 570 for a new total of 84,535.
Article content
Jack Jedwab, a researcher and president of the Association for Canadian Studies, said the 22-per-cent drop in the number of Catholics between 2011 and 2021 represents "a massive shift."
During part of that period, Quebec was in the grips of a debate over the place of religion in society — from the Parti Québécois' "charter of values" to the Coalition Avenir Québec's secularism law (Bill 21)
The move away from identifying as Catholic may reflect "extensive messaging about secularism — messaging which pounds away at how we're secular, that wearing visible crosses is not something (Quebec society) values," Jedwab said.
"Those types of things will have an impact on people's own perception of where this identification fits into how they define themselves and who they are."
Article content
Quebec has long been a paradox.
In terms of religious institutional expression such as church attendance and marriage, Quebecers have long been one of North America's least religious populations, Jedwab noted.
Yet a majority of Quebecers still identify as Catholic.
Jedwab said many Quebecers "see being Catholic as a cultural marker as opposed to a religious one."
Immigration is fuelling the increase in adherents of Islam, Hinduism and Sikhism, Jedwab said.
Speculation that Quebec's drive toward secularism would discourage people from minority religions from coming to the province may be unfounded, he added. Bill 21 forbids the wearing of religious symbols such as the Muslim hijab and the Sikh turban in some government jobs.
Article content
Will the growing number of Muslims boost that community's political clout in Quebec?
"Not necessarily," Jedwab said.
"I don't think we can necessarily align the demographic growth of a particular group with increasing political importance. We risk making assumptions about the priorities of those communities, which are not monolithic."
The 2021 census also found growth in religions with tiny followings. There are now 810 Satanists in Quebec (a 423-per-cent increase) and 1,445 Wiccans (a jump of 158 per cent).
The rest of Canada is also seeing a decline in the number of people who say they are Christian, the census showed.
In 2021, 53 per cent of Canadians reported a Christian religion, down from 67.3 per cent in 2011 and 77.1 per cent in 2001.
Nationally, the proportion of the population who reported being Muslim, Hindu or Sikh has more than doubled in 20 years, the federal agency said.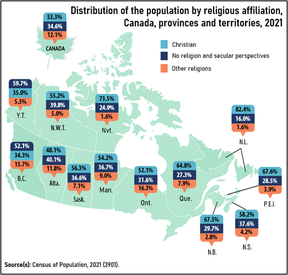 Religion in Quebec: A look at the evolution of faiths – and controversies

Religion in Quebec: The debate about religion's place in Quebec society rages

Poll suggests cracks in Quebec's consensus around Bill 21

Editorial: Bill 21 undermines Quebec's efforts to be inclusive