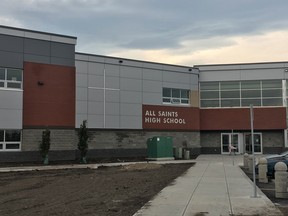 Article content
With eight of its 12 high schools more than 85 per cent full, and others nearly half empty, the Calgary Catholic School District has embarked on a year-long project to balance high-school enrolment.
Article content
After collecting feedback over the past year, the board is analyzing several options, including capping registration at overcrowded high schools, moving alternative programs, or reducing defined attendance areas and redirecting students to feeder schools.
Article content
But Catholic parents say the board is not being innovative enough in providing school spaces where families are, especially in high needs areas like the southwest which has been lobbying for a high school for decades.
"We have a problem, it's a huge capacity problem in our high schools. Yet we are not seeing a lot of creative solutions from our board," said Krista Li, a Catholic parent with the West Calgary High School Advocacy Group.
Stephanie Doucet, also with the same group, added, "many of our parents are saying now, 'don't even put your child into the Catholic system, because there won't be a high school, they will end up in the public system anyway.'"
Article content
CCSD's high school restructuring comes a year after the Calgary Board of Education also made changes to balance crowding in suburban high schools with reduced capacity at inner-city high schools.
As a result, this fall saw several CBE high schools lose alternative programs like Spanish bilingual, French immersion and fine arts.
School boards are also facing increased pressure to ensure buildings are as close as possible to 85 per cent capacity, mandated by the UCP government as a requirement to receive maximum operating funding.
But CCSD is seeing high utilization rates in both suburban and inner-city schools. For instance, Notre Dame High School in Coventry Hills and All Saints High School in Legacy are both well over 100 per cent capacity. At the same time, St. Mary's, downtown, is also quite full at over 85 per cent capacity.
Article content
"We are definitely seeing continued growth, especially now after the pandemic and restrictions being lifted," said Bryan Szumlas, chief superintendent for CCSD, adding that many new students are coming from overseas as refugees and new Canadians.
This fall, 58,881 students have registered with CCSD, 2,154 more than the 2021-22 school year.
"If that trend continues, we have to be careful in our way of thinking, and ensure we have enough high-school spaces for all of those students in the future," Szumlas said.
"We have schools that are at 100 per cent capacity, but also schools that are shrinking as some communities start to age out. So we are considering a lot of options."
Szumlas explained that students in the boundary of a school like Notre Dame in Coventry Hills, which he said is "bursting at the seams," may also be able to register at Bishop McNally in Falconridge, only 20 minutes away, or St. Francis in Collingwood, also 20 minutes away.
Article content
But Li argues not all students have the luxury of driving to another school, and that the school board also needs to consider providing direct transit buses from catchment areas to inner-city schools.
After the West Calgary High School Advocacy Group proposed a direct bus route for southwest students to St. Mary's High School, Li said, "we were just simply told that was not an option."
Szumlas said he, too, wants to see a high school in the southwest, adding the CCSD will still consider transit options as part of this year's sustainability project. But he added one bus can cost nearly $70,000 annually, so the board has to ensure it will be full.
At the same time, CCSD is facing unpredictable funding for new schools after receiving only a sliver of capital grants in the UCP government's Budget 2022.
Article content
The district received money for only one new elementary-junior high this year after receiving no new schools the previous year, pushing it behind meeting several urgent needs for new infrastructure and modernizations.
"We continue to be put further and further behind for new schools, and the new high school we need in southwest Calgary gets pushed further back too," Li said.
Two middle schools and an elementary are at the top of CCSD's capital wish list for next year, with a renovation adding 300 new student spaces to Bishop McNally High School sitting at No. 4.
The new Range View High School in the deep south has been moved to No. 5 since the spring, and West Calgary High School is now at No. 8.