"The board felt a real and sincere motivation to continue on the right track, it warns you, however, that this process will take a long time and that you must not rush anything."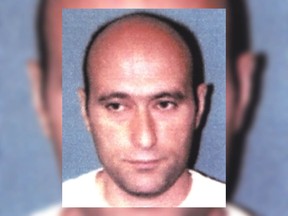 Article content
A career criminal who shot a bank client in the spine during a robbery at a Caisse Populaire in Montreal has been granted day parole for the first time since his life sentence began two decades ago.
Article content
Michael (Crazy Mike) Fidanoglou, 59, was convicted in 2002 of having carried out seven bank robberies between 1996 and 1998. He was also convicted of the attempted murder of Claude Mailhot, who was left paralyzed for life when Fidanoglou shot him on April 17, 1998.
During the robbery, Fidanoglou warned the Caisse employees that if they did not open a door that would provide him with access to cash he'd start shooting customers. He turned toward Mailhot and fired a bullet into his back from just a half a metre away. Fidanoglou then pointed the gun at Mailhot's head and told the Caisse employees three times: "If you don't open the door, I'll shoot another."
Mailhot sued the Caisse Populaire de Saint-Simon-Apôtre and its insurance company for $6 million and the case was settled out of court in 2003.
Article content
One of the conditions imposed on Fidanoglou's release prohibits him from communicating with Mailhot or members of Mailhot's family.
Fidanoglou has been turned down for parole several times since 2010. The last time he was rejected was in 2020 when the Parole Board of Canada turned down his request even though his case management team, the people who prepare an offender for a release, recommended he was ready to begin day parole.
The most recent hearing was held on Monday and the parole board agreed that Fidanoglou is ready to be released to a halfway house for the next six months.
"The Board is of the opinion that the day parole release plan you submitted is realistic and adapted to your intervention and structural needs, which will allow you to return to the community in a very gradual and supervised way," the parole board wrote in a summary of its decision. "The board felt a real and sincere motivation to continue on the right track, it warns you, however, that this process will take a long time and that you must not rush anything."
Article content
The parole board was reluctant to release Fidanoglou in the past because some of the bank robberies he carried out during the latter half of the 1990s occurred while he was out on a statutory release from a previous sentence. In 1986, he received a 12-year sentence for having robbed 11 banks.
"According to the information on file, you had a childhood marked by instability and where your emotional needs were not adequately met. You were physically and psychologically abused on the part of your father, while your mother is described as having been negligent and rejecting," the parole board noted while describing Fidanoglou's upbringing in its decision. "In a desire for recognition, you teamed up with deviant peers from an early age."
During the parole hearing held earlier this week, Fidanoglou told the parole board that he doesn't know if his parents are still alive.
Fidanoglou has been investigated in the past as a suspect in at least three homicides, but he was never charged. The firearm he used to shoot Mailhot provided a ballistics match to a firearm that was used to kill Richard Chabot, a 34-year-old father of two who was working at a halfway house in Parc-Extension on March 14, 1998, when someone walked up to the security desk and shot him.