The Canucks have added another burly Russian to their stable.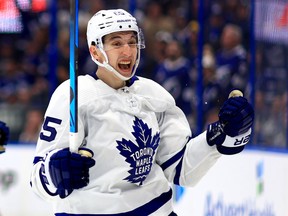 Article content
The Vancouver Canucks have been busy on the opening day of 2022 free agency, adding a couple of depth wingers to their mix, in addition to B.C. native Curtis Lazar.
Article content
The team dipped further into the Russian player pool as they confirmed the signing of Andrei Kuzmenko (they agreed terms last month, but couldn't officially sign the deal until Wednesday) and then also inked free agent winger Ilya Mikheyev to a four-year deal worth US$4.75 million per season.
The 27-year-old Russian scored 21 goals in 53 games for the Toronto Maple Leafs last season, his third in Toronto after joining the Leafs from Omsk Avangard of the KHL in 2019.
He's incredibly fast, with some scouts even comparing him to Conor McDavid, and if he's deployed as an aggressive penalty killer is incredibly effective. (That would make him an interesting PK partner for Elias Pettersson, for instance.)
Article content
And despite his success scoring this year, there are issues with his shooting, so whether he'll continue to score at the rate he did last season is questionable.
The Canucks clearly think he'll be more than a one-trick pony.
Article content
"His versatility and ability to do so many different things will be a huge boost. Solid at both ends of the ice, Ilya's speed is a real difference-maker. Not only does he kill penalties, but he also can create offensively as well," Canucks general manager Patrik Allvin said in a statement.
More to come …