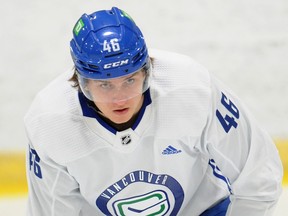 Article content
It's the latest edition of the weekly tracker, where we tally up the efforts of the Vancouver Canucks' highest-profile prospects:
Article content
Danila Klimovich
Every player has a different path to the pros.
Very few, however, had their hockey future hinge on one showcase event.
Just two years ago, Danila Klimovich was dominating a development league in Belarus, but unsure if the hockey world was taking note.
Then came his chance — at the 2021 IIHF World U18 Championship in Latvia — where the 6-foot-2, 205-pound right-shot winger sniped six goals and shot his way up the NHL draft pecking order en route to being selected 41st overall by the Canucks.
"If I didn't go to the World's, I think I'm not drafted," Klimovich told Postmedia from Abbotsford Canucks training camp on Friday, where the 19-year-old talked about how far he's come — and where he believes he's headed.
Article content
"I don't want to say nothing bad (about) Belarus, but the league there was weak. I didn't play in the pro league … I played in the junior league in Belarus and they call me up to the National Team U18," Klimovich recalled. "Then I go to Dallas and show myself to the scouts. They saw me and I go to the World's in Riga. After that, I been drafted."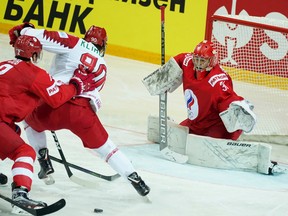 It's a conversation that couldn't have taken place just a few months ago. Last season, the Canucks kept the talented teenager under wraps, helping him find his way in a new league in a new country with a new language to learn. The transition wasn't easy, but Klimovich managed eighteen points (8G, 10A) in 62 games as one of the youngest players in the AHL.
He also showed that he's no pushover, playing with a swagger and physicality that was true to the game that got him here.
Article content
"I've always played like that, back home and here," he said. "Here more, because North American hockey is hard, you need to use the body. Yeah, that's my style."
Article content
Head coach Jeremy Colliton, in his first year behind the Abbotsford bench after coaching the Chicago Blackhawks for three years, said Klimovich may still have some ups-and-downs this season, but has a year of experience under his belt he should be able to draw upon.
"He's got to build on it now. He's not a rookie. His habits away from the puck, in particular. His work ethic away from the puck, making sure when the puck turns over he's reacting, he's tracking back and helping us get it back," Colliton said.
"Obviously, he's got that big shot, a very good skater and (has) skill and size. So it's (time) to put himself in situations to use those things to impact a game."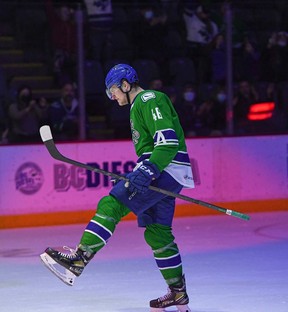 Colliton says going from coaching in the NHL to the AHL hasn't changed his philosophy too much. The 37-year-old stressed the importance of teaching the details of the game to younger players, while creating a winning environment.
Article content
That can only be achieved through a merit-based system.
"Guys are going to get what they earn and that's the way it has to be. At the next level, the margin for error is so small so we've gotta build those habits now," Colliton said.
When asked about whether Klimovich will see some power play time this season, Colliton said the coaching staff is talking about it, "but again, you get what you earn."
Said Klimovich: "If the coach gives me a chance on the power play, I'd be glad."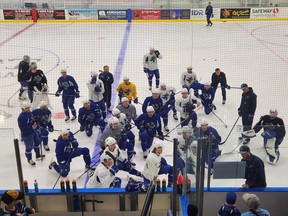 At training camp in Port Coquitlam this past week, Abbotsford was a bit short up front, with 11 forwards participating. Ten defencemen also took part, guided through their drills by the coaching staff and the Sedin twins in their player development roles for the organization.
Article content
Abbotsford expects to add one or two more Vancouver cast-offs ahead of their season opener at the Ontario Reign on Friday night, but after development camp earlier in the summer and main camp in Whistler last month, "this is really our team," said Colliton.
"I like the energy and the work ethic and the mentality we have. We've had some really good days here."
On Saturday, Vancouver placed a trio of players on waivers, including defenceman Christian Wolanin — who had a standout pre-season with the big club — as well as forwards Justin Dowling and Sheldon Dries, both solid offensive contributors in Abbotsford last season.
All three players cleared waivers on Sunday and have been sent to Abbotsford.
Klimovich says he's way more comfortable here now. He spent the summer in the Lower Mainland working on his game and sharpening his English-language skills. It also helps that Abbotsford reminds of his hometown of Pinsk, a small city in southwest Belarus with "beautiful old buildings" and a similar population of close to 150,000 people.
Article content
"Of course I miss it, but my plan was to play hockey here. Live here. I like Canada. I like North America."
And his hard work this past summer appears to be paying off. Klimovich has been on a man on a mission since development camp, standing out at the Young Stars tournament — where he was engaged defensively, showed some scoring prowess and put his improved playmaking ability on display.
He has also developed some chemistry with forward Tristen Nielsen, a duo who may see some time together on the same line, Colliton said.
Article content
Abbotsford's camp wrapped up on Saturday with a scrimmage, where Klimovich scored a couple goals.
Article content
As for his goals this season?
"Yes I have goals. My goal is to play good and up to NHL."
---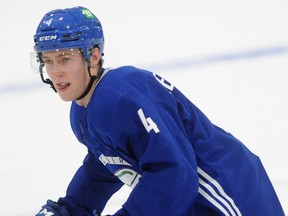 Jonathan Lekkerimaki
And we have liftoff.
After starting the season scoreless in two games, blue-chip prospect Jonathan Lekkerimaki was back in the Djurgårdens IF lineup — and back on track.
The 2022 first-rounder scored his first of the season and added an assist in three games played this past week in the Allsvenskan, Sweden's second-tier professional league.
The 18-year-old's assist came in a 1-0 win over Kristianstads IK on Tuesday. On the play, Lekkerimaki found some open space in the high slot, took a pass and whipped a hard shot on net. The goaltender was unable to control the rebound and teammate John Norman popped in a loose puck for the game's lone goal with just over three minutes left in the third period.
Article content
Lekkerimaki scored his first of the season in a 5-4 win over Södertälje SK on Friday. The 5-foot-11, 172-pound right-shot winger took a feed from fellow 2022 first-rounder Liam Öhgren on an odd-man rush and made no mistake, using his speed to create an open passing lane and depositing the puck past the outstretched glove of the goaltender.
Article content
Lekkerimaki finished the game with a plus-1 rating and three shots on net. The Huddinge product had one shot on net and an even rating in a 2-1 shootout loss to Almtuna IS on Saturday.
Lekkerimaki, who has started the season playing with Öhgren on the third line, has one goal, one assist and a minus-2 rating in five games this season.
---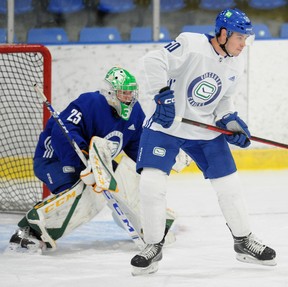 Aidan McDonough
By not signing with the Canucks this past offseason, Aidan McDonough bet on himself heading into his senior season at Northeastern University.
With four points in his first game this NCAA season, it appears the power forward has made the right call.
McDonough scored two goals and added two assists in a 5-2 victory over the Vermont Catamounts on Saturday night, leading from the front as the No. 8-ranked Huskies' new captain.
Article content
McDonough's first goal came late in the first period, with the 22-year-old taking a pass at the right faceoff circle and slinging a heavy shot far-side past the Vermont goaltender.
Article content
The 6-foot-2, 201-pound left-shot winger scored his second goal early in the third period, getting behind the defence after a faceoff and deking past the goalie with a move to the backhand.
Article content
McDonough finished the game with four points, four shots on goal and a plus-4 rating.
Northeastern is expected to be a contender for the national title this season, with Hockey East Coach of the Year Jerry Keefe entering his second season behind the bench, and a well-rounded roster featuring standout goaltender Devon Levi and McDonough.
McDonough scored 25 goals last season, second in the country behind Western Michigan's Ethen Frank (26).
---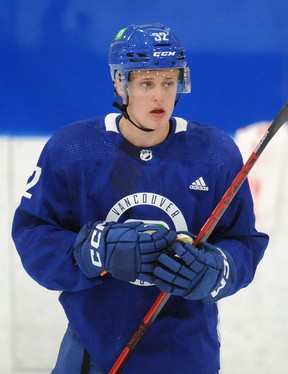 Elias Pettersson
One goal, two assists and a plus-1 rating in a 3-2 win on Sunday.
A look at that stat line suggests a solid outing by the Vancouver star.
But do not be mistaken — this is the work of the other Elias Pettersson, the defenceman drafted in the third round this past summer, who appears to be too good to be playing in Sweden's junior-level J20 Nationell.
Article content
In six games this season with Örebro HK, the 6-foot-2, 185-pound D-man has three goals, six assists and a plus-2 rating.
Pettersson's dominance of the junior circuit has landed him some game action in the top-tier Swedish Hockey League, with the 18-year-old logging close to five minutes and an even rating in a 3-0 win for Örebro HK over HV71 on Thursday. Pettersson also had a shot on goal in the win.
The Västerås product is a well-rounded blueliner, combining good skating ability and confidence with the puck with heads-up defensive play.
---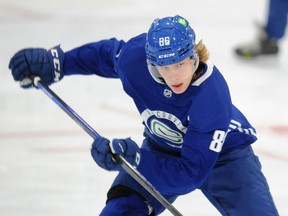 Joni Jurmo
One game, one assist for the fleet-footed defenceman this past week.
Joni Jurmo, 20, notched the helper in the third period for Mikkelin Jukurit on Saturday, dishing the puck across the blue-line for a slap shot goal to tie the game at 3-3.
Article content
Jukurit would go on to lose the game 4-3 to Oulun Kärpät. The Canucks' 2020 third-round pick had the assist, two shots on goal and a plus-1 rating in the loss.
Notable from the game was head coach Olli Jokinen lining up the 6-foot-4, 198-pound left-shot D-man on the right side, where Jurmo logged nearly 22 minutes of ice time.
In seven games in the top-flight Finnish Liiga this season, Jurmo has one goal, two assists and a plus-3 rating.
Elsewhere: Defensive prospect Jacob Truscott's third season with the University of Michigan got under way this past weekend, with the 20-year-old notching one assist and a plus-1 rating in two games against Lindenwood University. The Wolverines won both contests. Truscott (2020, Rd. 5) is an alternate captain this season.
Canucks prospects tracker: Jurmo starts strong, Lekkerimaki yet to lift off

Five things to know about Danila Klimovich, the Canucks' newest top prospect