'If they're good enough, they'll make it tough on anybody that returns,' coach Bruce Boudreau says of the third-year Swedish winger. 'What a great opportunity'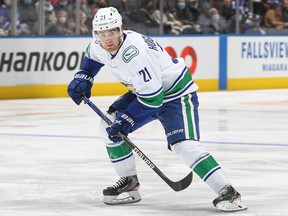 Article content
Nils Hoglander had already moved the motivation meter at the Vancouver Canucks' training camp in Whistler when fate came calling this week.
Article content
Brock Boeser required hand surgery Monday to repair a camp ailment and could be sidelined up to a month. Combine that shocker with Ilya Mikheyev now out week-to-week with a lower-body injury suffered in a sideboards collision Sunday in a pre-season loss to the Calgary Flames, and the sudden loss of two right-wingers left Hoglander with one thought: This is his shot at redemption.
Article content
A sour 2021-22 season ended with just 10 goals and 18 points in 60 games because of a March groin surgery and subsequent surgery. And then there was the uncertainty of just where he would fit in the National Hockey League roster this season.
Hoglander skated on a practice line Tuesday at the University of B.C. with Elias Pettersson and Andrei Kuzmenko and was also on the second power-play unit. Conor Garland took Boeser's spot with J.T. Miller and Tanner Pearson, but the story was Hoglander's ascension.
Article content
After all, when you're aligned with Swedish countrymen Nils Aman and Linus Karlsson to commence camp, it's not a vote of confidence.
However, Hoglander was lauded by Canucks coach Bruce Boudreau in Whistler as "the best player on the ice so far," and topping fitness testing opened a lot of eyes. 
"I'm always happy when the coach says that," said Hoglander.
Article content
The efforts and injury absences also earned Hoglander a bumper-spot look on the power play Tuesday.
"I like to play there," added the 21-year-old Swede. "I've played there before and I feel comfortable and I'll just take the puck to the net and use my skills.
"I know what I can do and I want to show them (coaching staff) because I didn't play the whole season last year and came to this camp ready to go."
That might be an understatement. Learning to be as good without the puck as he can be with it meant putting in the off-season work, something that really resonated with Boudreau.
---
NEXT GAME
Thursday
Seattle Kraken vs. Vancouver Canucks
6:30 p.m., Rogers Arena. TV: Sportsnet. Radio: 650 AM.
---
"I didn't really change anything," said Hoglander. "I work hard every summer and maybe I was skating more because I had a lot of (surgery) rehab."
Article content
What has changed is opportunity, and it's up to Hoglander to run with it.
"Injuries are going to happen and that's the nature of the beast," said Boudreau. "If they're good enough, they'll make it tough on anybody that returns. That's how I would look at it if I was a player — what a great opportunity.
"And that's the way I would look at it for him (Hoglander) and a lot of guys who were sort of on the bubble of being top-six or top-nine forwards. We'll see what everybody is made of."
That's not a surprising statement because Boudreau wasn't quite sure what to make of Hoglander last season.
"He's still a young kid, quite frankly, and I don't know, someday he might score 40 goals, but if you're going to hover around the 20-goal mark, you better learn to play both ends of the ice," Boudreau said in the second half of 2021-22.
Article content
"As a guy that played overseas, he's still learning that game. There's a lot of things that he could do better, but his natural talent is definitely there."
Article content
Tanner Pearson found out that Hoglander was able to instantly transition his game from the Swedish Hockey League.
From the first day of his first NHL camp, the right-winger was aligned with Pearson and Horvat and the trio developed some instant chemistry. Hoglander already had a leg up from playing the first part of the 2020-21 season in the SHL and would finish with 27 rookie NHL points (13-14) in 56 games of the shortened season.
"He has to just keeping working hard and he obviously did the right things to come to camp with the shape he's in," said Pearson. "That already puts him in a better situation and when you get this kind of an opportunity, you obviously want to run with it.
"We were all that type of guy and learning what you're good at and battling, and he has the fire to learn through video and actually do it on the ice."
Article content
As for Boeser, he has had a history of wrist injuries, soreness and a surgery, and you wonder if he took a slash on the wrist at camp.
"Nobody knows how it happened, but he'll start skating with us in a couple of days or maybe even as close as tomorrow (Wednesday)," said Boudreau. "Part of his body got sore (in Saturday's group) and he went out and found out he had to have surgery.
"We were watching and wondering 'what happened there?' He was shaking his hand."
OVERTIME — Defenceman Travis Dermott left practice in some distress Tuesday and had to be helped to the locker room by club athletic trainers. "He looked like he got hit and was feeling a little woozy and we told him to just take the rest of the day off," said Boudreau. "We don't need somebody else getting hurt." The other lines had Horvat between Vasily Podkolzin and Curtis Lazar with Karlsson taking rush turns. Jason Dickinson was between Phil Di Giuseppe and Dakota Joshua, with Aman taking rush turns. Tyler Myers is sick (non COVID-19) and missed practice.
Canucks' Brock Boeser could be sidelined for a month following hand surgery

Canucks' Conor Garland's value on upswing as winger injuries mount

Canucks' Dakota Joshua brings size, grit and wit to The Reconstruction Line

Canucks vs Flames Recap: Who moved the roster meter in a 3-2 OT loss
---
More news, fewer ads, faster load time: Get unlimited, ad-lite access to the Vancouver Sun, the Province, National Post and 13 other Canadian news sites for just $14/month or $140/year. Subscribe now through the Vancouver Sun or The Province.