'We like J.T. There's no panic to move him until probably a month before the trading deadline — if he wasn't re-signed.' — Canucks president of hockey operations Jim Rutherford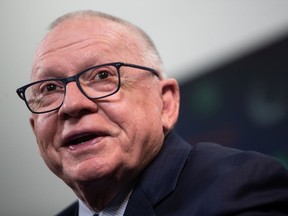 Article content
The Vancouver Canucks haven't created enough salary-cap space to suggest significant roster flexibility options.
Article content
And they haven't reached a contract extension or trade consensus with the elephant in the room that is J.T. Miller.
When free agency opens Wednesday at 9 a.m. PDT, the Canucks won't have the financial means to swing for the fences. They might only connect for a single or double because they have US$3.76 million in cap space that will be bolstered by keeping Michael Ferland on long term injury at US$3.5 million. According to Puck Pedia, that's a total of US$7.26 million.
The Canucks' reality is patience knowing that sometimes the best swing is the one you don't take. Sometimes, you just have to wait for a better pitch, but that doesn't mean president of hockey operations Jim Rutherford will keep the bat on his shoulder.
Article content
"Do we have enough cap space to pick up a player? Yes. Are we going to get a bottom-six forward? That's a possibility," he told Postmedia on Tuesday. "The intent going in is to improve and balance out our lines and that's probably in the bottom six."
The need for speed, skill, youth, and bite is apparent — especially by not qualifying Juho Lammikko and Matthew Highmore — and that may include acquiring an affordable veteran player. Or, maybe someone who needs a change to fill a current but not long-term role.
The bottom six is going to look different. The departed Tyler Motte, Lammikko and Highmore formed an effective shutdown line. But depending on what happens in free agency, Rutherford said the Canucks could circle back on Lammikko and Highmore.
Article content
"We're trying to keep our options open," he added. "We like Lammikko and Highmore and certainly recognize what they've done here. You start signing everybody and it cuts you off as you get closer to 50 contracts. You have to be a little bit careful.
"I suspect one of two of those guys may be signed, but if they don't, and we know where we're at, we'd still have a conversation. But we want to change it up and have a little bit of a different look."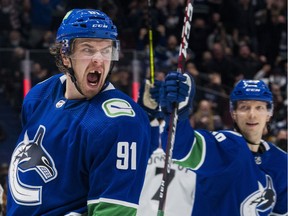 Danton Heinen has had a hit-and-miss NHL career. The Langley native wasn't qualified by the Pittsburgh Penguins and it was the same story last year. The Anaheim Ducks took a pass on tendering a qualifying offer after the 6-foot-1, 188 pound winger had but seven goals and 14 points in 43 games.
Article content
However, the Penguins rolled the dice on Heinen this season and got 18 goals and 33 points in 76 games for a one-year, US$1.1 million commitment. He can probably be had for less to stay in the game and come home.
At one point, a swap of struggling wingers could have shipped Jake Virtanen to Anaheim in February of 2021 for Heinen, but it was scrapped because the Canucks would have had to retain salary.
"You always look for players like that, but they don't necessarily go on Day 1 of free agency, more the first two weeks," said Rutherford. "He had a good year, but some players get caught in the shuffle with the cap more than once. It's not an indication of what kind of player you are, it's just the way the system works."
Creating cap space is like playing snooker. It's not what you make, it's what you leave. There may be varying degrees of trade interest in Tanner Pearson, Conor Garland and Tylers Myers, but replacing the trio isn't easy.
Article content
"That's a great point and we talk about it every day and those three guys have been good players here," stressed Rutherford. "They're in the rumour mill a heck of a lot more than we talk about it."
As for Miller, it could be a wait-and-see scenario.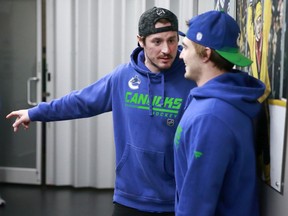 The Canucks would like to extend the club's difference-maker, but the math doesn't add up. He has all the extension leverage after a career 99-point season (32-67). He finished ninth in league scoring and was tied for third overall in power play points with 38 (8-30). He has superior comparable numbers to demand at least US$8 million annually at a long term.
Miller also led the Canucks in faceoff efficiency at 54.1 per cent and those key performances have led to endless trade speculation. It's hard to imagine Miller returning next fall to play out the US$5.25 million cap hit and pocket US$4.5 million in total salary.
Article content
That would promote a circus-like atmosphere, invite the prospect of indifferent play and injury and a reduced value at the trade deadline.
The wolves are always at the door for a player of Miller's calibre and Rutherford doused reported interest from the New York Islanders during the NHL draft.
"We did not have any conversations with the Islanders about any players and we haven't had any requests from teams to talk about what his (Miller's) future contract would look like," stressed Rutherford.
"If there's a trade that works for each side, we may consider doing that. But we like J.T. There's no panic from our point of view to move him until probably a month before the trading deadline — if he wasn't re-signed. We don't want to end up not getting anything for him if he doesn't stay."