'I feel more comfortable and understand almost all. Last year, I try to not be sad and just be positive, but sometimes the stress was very tough.' — Canucks prospect winger Danila Klimovich.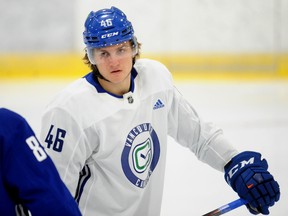 Article content
PENTICTON — During a recent stroll in Vancouver, former Abbotsford Canucks head coach Trent Cull crossed paths with prize pupil Danila Klimovich.
Article content
"He had a big smile and it was good to see him," Cull recalled Friday during the Young Stars Classic tournament. "His English is getting better and he and his wife are taking lessons."
Article content
The meeting and warm greetings were encouraging because the parent Canucks, who now employ Cull as an assistant coach, consider the right-winger an intriguing prospect.
It's part of the reason he stayed in Vancouver in the off-season to train and gain a better feel for his surroundings. And once the Belarusian gets accustomed to the American Hockey League, a new language which he studied three times a week in the summer, and new Abbotsford head coach Jeremy Colliton, his progress should excel.
---
Young Stars Classic
all games at the South Okanagan Events Centre in Penticton
Article content
Sunday: Vancouver vs. Winnipeg, 2 p.m.
Monday: Vancouver vs. Edmonton, 2:30 p.m.
---
"I feel more comfortable and understand almost all," Klimovich, 19, said Saturday in his first media address to test new language skills. "Last year, I try to not be sad and just be positive, but sometimes the stress was very tough. But, of course, I was happy because I was playing pro last year and before that junior in Belarus. It was a big step for me.
"I very much appreciate him (Cull) and he helped me. I'm very glad that last year was with that coach.
"It was a very nice summer and Vancouver is a very nice city — I love it. I drove around and went to Tofino. It was my best summer. I like hiking and I did the Grouse Grind in 43 or 44 minutes and it's not too easy."
Article content
Klimovich advanced his learning curve Friday. In a 3-0 victory over the Calgary Flames, he was asked to forecheck aggressively and use his big 6-foot-2, 202 pound frame. He started slowly and gained momentum and checked most of the boxes.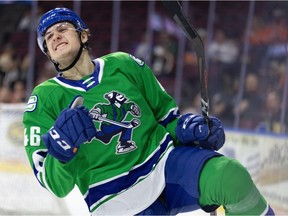 In the first period, he wheeled down right side with his head down and whipped a shot high and wide. He should have taken a better look because it could have turned into a 2-on-1 situation. However, he would get more involved physically and caused a turnover that led to scoring chance.
"It was a nice start," said Klimovich. "The first period was good forechecking, but in the third I lost my energy a little bit because we didn't play for a long time and it was the first game. I improved my shot in the summer and the coach sent me some D-zone plays and I tried to watch video."
Article content
Much like Russian rookie Vasily Podkolzin, who developed a comfort level in the second half of last season as he acclimated to the National Hockey League game and the English language, the progress path for Klimovich is now more of straight-line trajectory. It's a stark departure from a year ago when he started as an 18-year-old rookie and expectedly endured growing pains on and off the ice.
He managed 18 points (8-10) in 62 games that included spectacular goals, benchings and even fighting in an attempt to reward the Canucks for making the raw talent a second-round pick (41st) overall in the 2021 draft.
"Sometimes, it's just about surviving," admitted Cull. "What more of a challenge does a young man have at such a young age? He has to learn a complete new language, gets married and had never played pro before last year. There's a war going on (Ukraine) and we'd look on a map to see where his parents live (Pinsk, Belarus).
Article content
"When you're that young, it's not about hockey and taking a league by storm. It's just making it through and being OK. I didn't want to take away from his skill set.
"I felt more like a parent and I was OK with that. There were days when we had conversations and it was great. We did as much as we could. I was on Google translator a lot and sometimes it wasn't a good translation and he would move on."
Tough love comes with the coaching territory and Cull had his moments with Klimovich, but the intent was to help the player reduce mistakes. In a January loss, he took a hooking penalty in the second period and was then caught flat-footed in the neutral zone and didn't hustle back in defensive support. It allowed the visitors to score and Klimovich didn't play the rest of that game.
Article content
"I hope it (tough love) was good because the next day it was treating the player with respect and knowing there would be more conversations and we went from there," added Cull. "I don't think we could have done a better job together. Hopefully he's set up to have a great year."
Abbotsford general manager Ryan Johnson has put the onus on Klimovich to advance his game after an off-season of growth on and off the ice.
"He did an incredible amount of work this summer with our group and he's in a great spot and that will help his confidence," said Johnson. "Wall play is huge in pro and he has to improve on that and trusting that he can move pucks to teammates and be in position to get it back."
twitter.com/@benkuzma