'It hurts that much more when you know you're capable. A tough period but a great period in my life and it's what I needed to get to where I am today.' — Canucks forward Dakota Joshua on his tough road to NHL.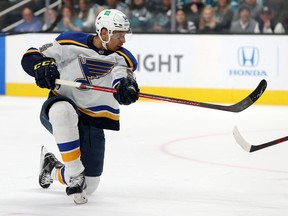 Article content
Dakota Joshua has the right rugged resume for The Reconstruction Line.
Article content
Part grinder, checker, fighter and imposing presence, the Vancouver Canucks' newcomer brings needed sandpaper and pushback to the rebuilt fourth line. And whether or not the versatile forward stays on the left side with Jason Dickinson and Curtis Lazar at right wing when the club starts playing for keeps Oct. 12 in Edmonton, one constant should play out this National Hockey League season.
Article content
Joshua, 26, has been on the Canucks' radar for some time and his arrival in a two-year, US$1.65 million free-agent contract has quickened pulses of those who see the right stuff in the 6-foot-3, 206 pound Dearborn, MI. native.
"Guys like that take a while to get there and appreciate it when they are there," Canucks coach Bruce Boudreau said Sunday before his split-squad lineup hosted the Calgary Flames in an afternoon test. "He's getting a chance to be on a team from the start of a season and for him, the games are going to be the difference-maker.
Article content
"I thought he treaded lightly in Whistler because he doesn't know a lot of the guys and arrived the day before camp. You'll get to see his strength and speed and his work ethic will be very important for us."
---
NEXT GAME
Thursday
Seattle Kraken vs. Vancouver Canucks
6:30 p.m., Rogers Arena. Radio: 650 AM
---
When the St. Louis Blues and Canucks shared an American Hockey League affiliation in Utica, N.Y., Joshua had two goals and three points in a six-game cameo in the 2020-21 season that piqued Vancouver's interest. It carried over to the new hockey operations department.
The acquisition of Joshua is another sign of a playoffs-or-bust mantra that must be more than talk to get to another level. The somewhat confusing 'Unfinished Business' slogan is usually reserved for teams that go deep into the post-season.
Article content
However, no matter how the Canucks get there, the message from ownership has never wavered. Get to the playoffs. It's Job 1.
"I just really like the direction and my style of play can really help this team get to where they want to be," said Joshua, who played in Calgary on Sunday. "It was very enticing to come here and I'm grateful for the opportunity. He (Boudreau) is a happy-go-lucky guy and likes to keep it loose.
"That's good for a head coach. He knows how to read the room and say the right things. I don't know if I've played for anybody like Bruce."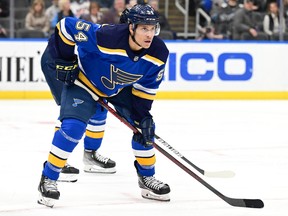 Joshua did play 30 games for demanding Blues bench boss Craig Berube last season and that in itself is rite of passage. He would collect eight points (3-5) and 77 hits to go with the 20 points (9-11) amassed in 35 games with the American Hockey League affiliate in Springfield, Mass.
Article content
The Canucks are now removed from a myriad of fourth-liners that included Tyler Motte, Juho Lammikko, Matthew Highmore, Justin Dowling, Alex Chiasson, Nic Petan, Dickinson and cameos by prospect Will Lockwood. And by spreading out offence through the top three lines, the fourth can be that complementary piece that's hard to play against while chipping in offensively.
"We can make it very tough for opponents to help our guys succeed and that will be our job if we are together," said Joshua. "Anticipation gets you a long way in the NHL and it helps when you can be a step ahead of things."
Joshua knows better than most that the road to The Show is seldom a straight line.
He has hit bumps but not the ditch to keep the NHL dream alive. He was limited to one playoff game last spring when the Blues deployed 11 forwards and seven defencemen, but he can still taste that cup of post-season coffee. There's nothing like it.
Article content
"It's how you have to be at the highest standard and be consistent every night," recalled Joshua. "Playing for him (Berube) was great and to see how he goes about his business was good to learn how to be a good pro that he could get the most out of."
It helped Joshua focus on the future and not the past.
He wasn't invited to the NHL Draft Combine, but still became a fifth-round pick of the Toronto Maple Leafs in 2014. However, after three development camps there was no contract. There was also a tough demotion from the AHL to the East Coast Hockey League in 2019-20, and being so deep on the depth chart, that he wasn't afforded an invitation to the Blues' main camp in 2020-21.
"It hurts that much more when you know you're capable," admitted Joshua. "A tough period but a great period in my life and it's what I needed to get to where I am today. That makes me appreciate it even more."
Article content
But it's not the whole story. There is unwavering support on the home front from his brothers and mom.
Jagger, 23, is in his senior year with the Michigan State hockey team and there's also Bishop, 20, who's a retired beer-leaguer. However, the best part is his mother, Jullee, a former women's hockey player for the Michigan Polar Bears. Her impact is massive.
"She has been very inspirational, just from getting me started in hockey and it's been a foundation in my life to this point," said Joshua. "She's a great mom and we have great memories of watching her play and messing around at the rink a bit.
"She did what she could to keep us out of trouble. I would probably not play hockey if it wasn't for her."