'Our last 56 games, we were 10th in the league and it still didn't get us anywhere. The start of the season, if you have that little cushion, it makes life a lot easier.' — Bruce Boudreau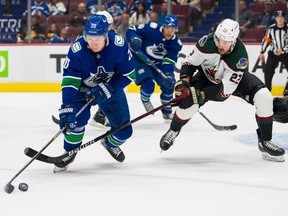 Article content
EDMONTON — The optimism of a new season for the Vancouver Canucks has often been derailed by drama.
Article content
Regardless to what degree the playoff-starved club pumps up its annual NHL potential, something always seems to send them off-course and into the ditch. Injuries, indifferent play and even indecision.
Article content
Last year, it was the Travis Hamonic vaccination drama for COVID-19 protection that played out like a soap opera before it was overshadowed by a historically porous penalty kill. It surrendered goals at an alarming rate and would contribute to a hockey operations' department housecleaning in early December.
It didn't start that way.
A year ago, the Canucks deserved a better fate in their season-opener here. They outshot the Edmonton Oilers 38-34, kept Connor McDavid and Leon Draisaitl from scoring, got six shots and eight attempts from Elias Pettersson and a late regulation goal from Quinn Hughes, but would lose 3-2 in a shootout.
Article content
---
NEXT GAME
Saturday
Vancouver Canucks vs. Philadelphia Flyers
1 p.m., Wells Fargo Centre. TV: Sportsnet. Radio: AM650
---
Kyle Turris, who now works for the Coquitlam Express of the BCHL as a special adviser and development coach, delivered the dagger.
The optimism of a game that should have gone there way was carried over to an encouraging 3-2-1 road trip. However, the club would lose three-straight, one goal games at Rogers Arena and a 2-4-2 homestand started the downward spiral to three blowout road losses and an 8-15-2 start to signal significant change.
"They definitely know what happened when they didn't have a good start last year," Canucks coach Bruce Boudreau said Wednesday morning. "Our last 56 games, we were 10th in the league and it still didn't get us anywhere. The start of the season, if you have that little cushion, it makes life a lot easier."
Article content
It's a warning shot across the bow that stumbling out of the gate once again would be a disaster. It could affect the coaching status of Boudreau, contract extensions for Bo Horvat and free agent Andrei Kuzmenko, and even pull the trade trigger on J.T. Miller, if the season really goes south.
According to BetOnLine, the Canucks project for 92.5 points, a slight bump over the 92 they amassed in a remarkable 32-15-10 run that left them six points shy to snap a tie and earn a wild-card spot. Simple math means the Canucks will likely need at least 98 points to get to the post-season. But there is hope that the "unfinished business" rallying cry may have legs.
The Canucks are better despite missing Tyler Myers, Travis Dermott and Ilya Mikheyev in Wednesday's opener at Rogers Place in Edmonton. They're deeper, faster and tougher. And with a ninth-ranked power play and a penalty kill that ran at an 80 per cent success rate down the stretch last season, it should keep them in games that got away from them with poor starts and a lack of discipline.
Article content
Curtis Lazar is a newcomer to the Canucks but has been around long enough to know how a season can quickly slip and away, and how competitive teams find that balance to stay in the hunt.
He re-established his gritty game with the Boston Bruins and was acquired in free agency in the off-season. He'll add stiffness to the bottom-six mix, make the Canucks harder to play against and play a key role on the penalty kill.
And he applauds using top talent on the PK to keep them engaged.
"They're elite for a reason because of the way they think the game — they're a step ahead of everybody," said Lazar. "Watch (Quinn) Hughes out there. He's not the biggest guy, but he jumps up and you can tell he wants to win. Those pressure reads are big.
Article content
"When the power play isn't going well, that's when the work ethic drops and that's when you can pounce on teams. I'm a firm believer you have to block shots because that's what it takes to win. It's pressure and mindset."
Elias Pettersson welcomed the call from Boudreau last December to add a penalty-kill element to help round out his improving overall game.
"I like playing it," he said. "It brings another element to my game and I just like to think what the power play wants to do and I'm always trying to read the play. And if I do, I can clear the puck 200 feet and we can get the change.
"I just enjoy it because I want to play all the time."
Meanwhile, Brock Boeser will need time to get up to speed and accuracy after missing the pre-season with a training-camp hand injury that required surgery. And Hughes might feel the effects of flu-like symptoms that knocked him to the sidelines last weekend. But Thatcher Demko has Vezina Trophy potential and Miller, Pettersson and Horvat put up career numbers in 2021-22.
Article content
As for Boeser, he has been down the early-adversity-road before, so he knows how to manage it.
"It was kind of a weird, fluky injury," Boeser said of the Sept. 24 setback. "I had the puck and was trying to cycle it to Millsy (Miller) and someone hit my arm and wrist in a weird direction and I felt it snap or pop. It was pretty frustrating.
"I had the same injury on my right hand in college (North Dakota), so I knew what to do and how fast I could be back. This one was on my good hand, so that's probably a plus. It doesn't hurt when I take one-timers."
The elephant in the room is Horvat's extension status. Postmedia News was told Wednesday that the sides haven't talked in a month. There's a considerable salary gap between what both parties believe is prudent. Put it this way: It's a long way from his expiring US$5.5 million salary cap hit to US$7 million that Horvat's camp could see as a floor for talks.
However, the Canucks aren't in a hurry and may want a salary concession from the captain, who keeps singing a familiar refrain.
"I've put it completely aside," he said on the eve of camp. "I'm just focusing on how I can make this team better and winning. Eventually, things are going to come to fruition.
"And for me, it's being the best leader and captain."