Brisebois scores first career NHL goal, Boeser collects three assists in impressive victory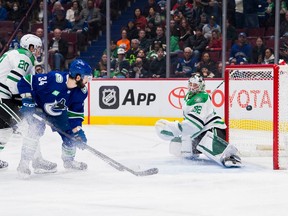 Article content
Imitation is the highest form of flattery.
Article content
When Rick Tocchet looks at the Dallas Stars, he sees what he hopes his club can eventually become.
Article content
"They have an identity," the Vancouver Canucks coach said before puck drop Tuesday at Rogers Arena. "They play the no-nonsense, north-south game. They're built for a playoff series, they play it simple and they don't change for anybody."
That's everything Tocchet has been teaching and preaching in the long process to become a contender and not a pretender. It took another encouraging step in a 5-2 victory to stretch the club's win streak to a season-high five games and improve their recent run to 8-2-1. 
---
NEXT GAME
Thursday
Vancouver Canucks vs. Arizona Coyotes
7 p.m., Mullett Arena. TV: Sportsnet. Radio: AM650
---
The Canucks scored two goals on their first three shots to get a jump on the Stars, who won 5-2 the previous night in Seattle and had won six of their previous seven games.
Article content
However, good clubs bend but don't break and the Stars showed the type of mettle that you expect. They made adjustments to make breakouts harder and transitions through the neutral zone tougher.
And when Jamie Benn snapped a power play wrist shot past Thatcher Demko with five seconds remaining in the second period to cut the Canucks' lead to 3-2, they knew they were in for a third-period test against the Central Division leaders.
That's when the Canucks delivered in spectacular fashion. 
Nils Aman fed Guillaume Brisebois with a backhanded pass in the offensive zone and the charging defenceman ripped it home short side for his first National Hockey League goal in 22 career games to seal the deal. J.T. Miller then took a Brock Boeser feed and struck for his 25th goal. It was Boeser's third goal of the nigh.
Article content
Here's what we learned as Phil Di Giuseppe, Andrei Kuzmenko and Anthony Beauvillier also scored for the Canucks while Wyatt Johnston had the other Stars goal:
---
Drawing up those goals
Playing with pace, presence and pressure has been drilled home daily.
It was evident on the first three goals and that's something to savour.
It started with Di Giuseppe establishing position at the top of the crease and deflecting a J.T. Miller cross-ice feed, after Brock Boeser rang a shot off the far post.
Kuzmenko, who's just as adept at finding open ice as the net, then took a cross-ice dish from Conor Garland to snap home a power play effort for this 33rd goal of the season.
When Noah Juulsen dropped Luke Glendening with a heavy check and had to then answer a challenge from Radek Faska, it woke up the Stars.
Article content
They struck 48 seconds into the second period when Johnston was left open at the back door. But Beauvillier worked his way into the high slot, established position and executed a deft deflection off a Christian Wolanin point shot to make it 3-1 and end a five-game goal drought.
---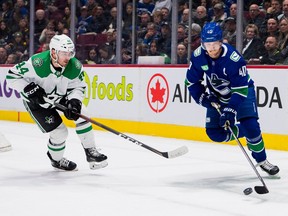 More power in their play
Miller knows the penalty kill is improving and the power play is slipping.
He had three short-handed goals in his previous four games — and four in his last eight outings before Tuesday's test — and also has nine power-play goals. But the centre hasn't potted one man-advantage goal in 12 games for the league's 11th-ranked unit.
It's why Boeser was promote to the first formation Tuesday and Beauvillier was dropped to the second. For all the cycling and slick passing and shot opportunities, there hasn't been enough finish.
Article content
The power play went 1-for-6 on Saturday in a 5-2 win over the Ottawa Senators and was blanked four times in the last 13 games. It's now 5-for-28 in the last nine, including back-to-back blanks and hasn't scored two power-play goals in 15 outings.
It struck Tuesday, but going 1-for-3 with just two shots means more work needs to be done.
"I don't think we're all that sharp right now," said Miller. "It seems like there have been a couple of guys in and out and a spot to be won. We seemed to be better as a five-man unit, no matter who's on the ice.
"And not necessarily scoring, but creating momentum even when the puck wasn't going in. 
"We've kind of got away from that the last couple of weeks."
Said Tocchet: "We want to throw different looks at different teams and it also keeps guys on their toes. And you want competition in those positions, too."
Article content
---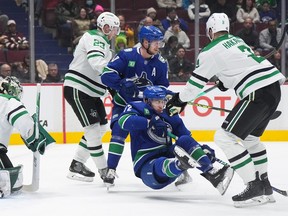 Game-day skate adventures
Players are often creatures of habit — especially on game day.
Whether it's prepping sticks in a particular matter, or donning equipment in a select sequence, there's usually a morning twirl to set the tone. Not in Tocchet's world.
He didn't like them as a player and doesn't as a coach. He'd rather have players save energy for the game than expend it in the morning.
"I like to go on," said Miller. "Rick and I have talked about it and he told me to find a new way to warm up. So, I'm trying to. I've always skated and it's not like I'm going out there and bag-skating myself. I just like the feel of the puck and get a little sweat going.
"And I know a lot of guys feel that way. We had a rough game-day skate about two weeks ago and that was all he (Tocchet) needed to see. I just walk around and literally don't do a lot. There are meetings, getting treatment, eating twice in three hours and going home. It's pretty boring."
Article content
Said Quinn Hughes: "I just go with the wind. I need to figure what works for me in the morning to get my legs moving, so I'm not sluggish in the first period."
OVERTIME — Defenceman Filip Hronek is progressing from a shoulder ailment and is expected to skate soon.
Canucks notebook: Aidan McDonough has a valuable confidant in Jack Rathbone

Canucks Q-and-A: Brock Boeser's revealing journey of pain, healing, hope

Canucks by the numbers: Quinn Hughes' offence is astounding
---
Support our journalism: Our in-depth journalism is possible thanks to the support of our subscribers. For just $3.50 per week, you can get unlimited, ad-lite access to The Vancouver Sun, The Province, National Post and 13 other Canadian news sites. Support us by subscribing today: The Vancouver Sun | The Province.