"He's a skilled player and not afraid to get his nose dirty and he's got some swagger to his game — he wants the puck.' Abbotsford coach Jeremy Colliton on Tristen Nielsen.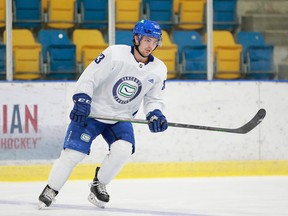 Article content
PENTICTON — A general manager will tell you about the process.
Article content
A coach will tell you about the importance of winning.
Article content
One of the interesting dynamics in the return of the Young Stars Classic after a three-year hiatus is how Abbotsford Canucks general manager Ryan Johnson and new head coach Jeremy Colliton approach a prospects tournament with three games in four days.
A 4-1 victory by the Vancouver Canucks prospects over the Winnipeg Jets' on Sunday will obviously satisfy both, but in different ways. And there was a lot to like.
Danila Klimovich stood out in the second period by spotting a racing Tristen Nielsen at the side of the net for the two-foot tap-in. Klimovich then hustled to the side of the net to deposit a Nielsen rebound.
"He took a step forward today," Colliton said of Klimovich. "Little harder and stronger on pucks and when he does that with a heavy shot and vision, he makes good plays to generate offence for us. If he can raise his pace with and without the puck, you can see the tools that are there."
Article content
Nielsen has two tourney goals and is opening a lot of eyes. He had another second-period shift where he took a big hit in the slot, gathered himself, stood his ground and whipped a shot over the net.
"Watching his shifts, he's involved in a lot of stuff," said Colliton. "Something is going on around him and he brings energy to the team because of it. He gives himself some space because he's willing to battle for loose pucks. He made a lot of plays."
Marc Gatcomb also scored twice for the Canucks, while Tyler Boland replied for the Jets on the power play. The Canucks outshot the Jets 32-28.
"It was a solid game and we did little things away from the puck that put us in a situation to control a lot of the game — especially the second period," added Colliton.
"We got pucks in, got a forecheck going and out-changed them and manufactured a few things. It's a lot easier to play when you're fresh and they're tired.
Article content
Nielsen's skill and will also resonated with the coach.
"He's a skilled player and not afraid to get his nose dirty and he's got some swagger to his game — he wants the puck and wants that responsibility. He's got a real good compete level that goes with it and finds himself in good situations because of it."
Nielsen had 11 points (7-4) as a rookie in 41 AHL games last season and is making an early statement that he could get a top-six look this season in Abbotsford.
"We're all playing with everything we've got and everybody has something to prove," said Nielsen. It's nice to contribute after last year. You don't get a lot of points in the AHL, especially when you're on the fourth line and not on special teams."
The pass from Klimovich on his goal was sublime and spoke of untapped pro potential.
Article content
"I was shocked and you couldn't ask for a better one," said Nielsen. "He does that sometimes. He's so deceptive and has the hardest wrist shot I've ever seen. The goalie thinks he's shooting and he just slides it (puck) over. Getting confidence from this tournament is really going to show in camp."
Stability in the hockey operations should also help ease Nielsen's mind after a tumultuous housecleaning last year. It had a trickle-down effect on the players, who were right to wonder where they stood.
"It's kind of nerve-racking," admitted Nielsen. "Last year, it seemed that every month two or three new people were coming in and over the summer, we get a whole new training staff. You just try to be yourself and not hide who you are."
Article content
Meanwhile, for Johnson, it's still about constant evaluation and patience and having a vision for the present and the future. Western Hockey League products in defencemen Quinn Schmiemann of the Kamloops Blazers and Chad Nychuk of the Brandon Wheat Kings are intriguing to him.
They looked comfortable again and Nychuk laid out a heavy hit in the opening period Sunday to announce his arrival on the American Hockey League scene. Both have AHL deals and this is a big year in their development.
Johnson said he wouldn't be surprised if the pair showed the kind of poise that got them to the next level and the bumps that come along the way are expected and accepted.
"They move pucks and both play a real passionate game," said Johnson. "It's something to watch."
Article content
Which, of course, gets us back to the bigger tourney picture for the GM.
"It's not a format where we're trying to win a tournament," Johnson added. "We want to play well and put our players in good situations to learn from this experience. Do we want to compete? Absolutely. But the goal isn't winning a certain amount of games."
Colliton counters in the belief that winning is a culture and it's never too early to develop the right habits and eliminate bad mistakes. 
He wouldn't have liked a needless first-period penalty that Arshdeep Baines took Sunday, but he would have liked the pressure that Jett Woo and Gatcomb provided to open scoring.
"We play to win and the little things are going to help you play at a higher level and you've got to show them now."
[email protected]
twitter.com/benkuzma
Canucks live-blog: Jeremy Colliton putting emphasis on winning now, not later

Canucks: Danila Klimovich has better grip on English language, growing his game