Nomination papers show at least 17 mayoral and council candidates listed home addresses that are outside where they are running for office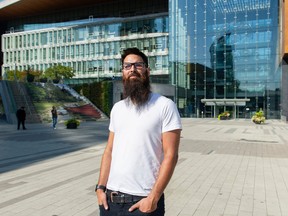 Article content
Nomination papers for next month's municipal elections show there are more than just a handful of candidates across Metro Vancouver who live outside the jurisdiction they are seeking to represent.
Article content
Postmedia spoke to two candidates in Richmond earlier this week. A scan of nomination papers filed in other jurisdictions found at least 15 additional mayoral and council candidates who also have listed home addresses that are outside where they are running for office.
Article content
Candidates told Postmedia that rising housing costs were keeping them from residing in the cities where they are running, and that they wanted to be part of discussions that might help them return or improve access for others in the future. While they may not be living in the communities where they are running, some have long-established work or business ties.
Stewart Prest, a Quest University political scientist, said it was an interesting dilemma.
Article content
"There's definitely a debate worth having there, whether we are missing out on crucial voices in our municipal politics simply because people can't afford to stick around and continue to belong to the community that they feel attached to but are suddenly being priced out of," he said.
Among the examples identified by Postmedia: Port Moody council candidate Eric Davis lists his home address in nomination papers as being in Vancouver. West Vancouver council candidate Tyler Blair notes his address is in Maple Ridge. Philip Aguirre, who is running for councillor in Surrey, lists an address in Vancouver. In Port Coquitlam, council candidate Jamie Watson gave a Langley address.
Some candidates listed addresses that fall within a surrounding area, such as the Tri-Cities. Brian Misera, who is running for city councillor in Coquitlam, lists an address in Port Coquitlam, and Zoe Royer, who is also running in Coquitlam, gave a Port Moody address. Justin Smith, who is running in Port Coquitlam, listed a Coquitlam address. White Rock council candidates Lindsay Manning and Carolyn Latzen both live in Surrey. Gordie Hogg lives in White Rock and is running for mayor of Surrey.
Article content
Langley city council candidate David Stingl lives in Abbotsford, while Margarett Lange is running for Surrey city council and lives in Langley.
Compared to provincial and federal elections, it is less common for municipal candidates to live outside the jurisdiction they are running in because of the emphasis on being close to a community in order to speak for its issues, Prest said. But there have always been exceptions and personal reasons why some do, he added.
Some candidates said they have deep ties in the cities where they are running, but that high housing costs prevent them from living there.
Ben Arcand is running as an independent for city councillor in Surrey. He grew up in Cloverdale and then the Clayton Heights area of Surrey. He now lives in Langley, about three blocks from its border with Surrey.
Article content
"I've always lived around Surrey, and I want to be able to move back into Clayton Heights," he said. "It's just stupid expensive right now. So, I just happen to live where I do because of the price. I rent, so I am confined to whatever the market has available when I need it.
"I can see it being a little different if, say, I lived in Vancouver and was trying to run for mayor of Grand Forks. I can see that being questionable. But in my case, I don't see it being outrageous."
Brian Montague is running for city councillor in Vancouver with ABC Vancouver and lives in North Vancouver. He said his wife is from the North Shore, but his connection to Vancouver is "undeniable" as he was born and raised there and worked for the Vancouver Police Department for over 28 years.
Article content
"We couldn't afford to live in Vancouver," said Montague, adding that it is an issue faced by many other first responders, nurses and police officers.
"Everyone's situation is different, but it is about asking politicians and future politicians, 'What is your connection to Vancouver? What have you done? Or have you just helicoptered into the experience?'"
Tyler Blair's nomination papers list an address in Maple Ridge, but on his website, he answers a question about living in West Vancouver and for how long with: "Yes, part time in Cedardale 2022. Full-time resident from 1983 to 2017."
The site says he is running to bring new perspectives to council, especially when it comes to transit and transportation issues. In an email to Postmedia, Blair noted he has the support of ATU Local 134 and Blue Bus workers.
Some candidates mentioned the pull of family considerations.
Becky Zhou, who is running for city council in Surrey with United Surrey, said she moved to White Rock after her husband passed away and her mother-in-law asked her to move.
"I actually have a lot of ties in Surrey. I have rental houses. I have family and friends. I used to live in Surrey," said Zhou.
— with a file from Carolyn Soltau
Does it matter if municipal candidates live in the same riding they are seeking election in?

Municipal Election 2022: The 15 people running for mayor in Vancouver