Forward confirms that the "upper-body injury" that had sidelined him since the start of training camp was a bug bite on his finger.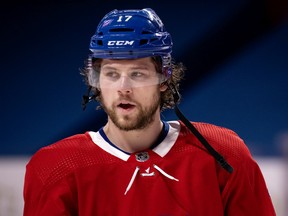 Article content
The Canadiens already had Batman and Robin at training camp.
Article content
Now they also have Spider-Man.
Article content
At the beginning of camp, defenceman Chris Wideman compared Juraj Slafkovsky and Filip Mesar — the Canadiens' two first-round picks at this year's NHL Draft — to Batman and Robin.
"It's been fun getting to get to know (Slafkovsky, the No. 1 overall pick at the draft)," Wideman said. "Him and his little buddy Mesar (the No. 26 pick), they're like Batman and Robin. Every time I turn around they're right next to each other. So if I ever see one, the other one's not too far away."
On Friday, Josh Anderson confirmed that the "upper-body injury" that had sidelined him since the start of training camp was a bug bite on his finger.
"To be honest with you guys, I don't know what I got bit by," Anderson said after taking part in practice at the Bell Sports Complex in Brossard. "They're saying it's a spider bite that got infected. I just came in one morning and my hand was really swollen and it blew up. Couldn't really move it for a couple of days and then they had me on antibiotics. It was just a weird incident. The body feels great and it was unfortunate that I couldn't skate with the group (earlier), them grinding through camp like that. It's only a finger, but there are precautions in what needs to be going on. I was just trying to stay in shape as much as I could. It's nice to be back with the group."
Article content
When asked if it was scary after his hand started to swell, Anderson said: "The scariest part was not knowing what happened, to be honest with you. Just waking up in excruciating pain. Hand looking like it's broken. And then after three days the swelling went down. It just looked like nothing I've ever seen before, so that was the scariest part, then letting the antibiotics kick in and doing its job."
The spider bite didn't leave Anderson with any super powers like the ones that turned Peter Parker into Spider-Man.
"I've tried," he said. "I've teased around the guys trying the old Spider-Man move on them. Nothing's coming out."
Anderson won't be in the lineup Saturday when the Canadiens play the Senators in Ottawa (7 p.m., TSN5, RDS, TSN 690 Radio, 98.5 FM). The Canadiens will be looking for their first preseason win after three straight losses.
Article content
"I feel great right now, to be honest with you," Anderson said. "If they wanted to stick me in a game tomorrow I'd be able to play, absolutely. Probably one more practice and then good to go after that."
Suzuki starts practising
Captain Nick Suzuki, who had been sidelined since suffering a lower-body injury before the start of training camp, took part in Friday's practice while wearing a blue non-contact sweater.
Suzuki suffered the injury during a scrimmage two days before the start of training camp when he collided with teammate Joel Edmundson, who also suffered a lower-body injury and remains sidelined for an undetermined amount of time.
Suzuki said the collision happened shortly after they got on the ice and that both he and Edmundson were able to complete the hour-long practice session. It was the next day that they both really felt the injuries.
Article content
"He's doing a lot better now, so it's good to see," Suzuki said about Edmundson.
Suzuki won't be in the lineup Saturday against the Senators, but said he could play if it was a regular-season game.
Suzuki was the only member of the Canadiens to play in all 82 games last season and he led the team in scoring with 21-40-61 totals. Edmundson missed the first 58 games last season with a back injury.
Suzuki said the team's medical staff is being extra careful with him but that he hopes to be wearing a contact jersey for practice on Saturday.
Drouin will play in Ottawa
Jonathan Drouin will make his preseason debut Saturday in Ottawa.
Drouin was supposed to make his debut in Wednesday night's 3-0 loss to the Maple Leafs in Toronto, but was sidelined with an illness.
Article content
Drouin was limited to 34 games last season, posting 6-14-20 totals, before having wrist surgery in April. He said his goal this season is to stay healthy so he can produce in the final season of his six-year, US$33-million contract with a $5.5 million salary-cap hit.
When Drouin first joined the Canadiens five years ago in the trade that sent defenceman Mikhail Sergachev to the Tampa Bay Lightning he was pushed into playing centre because of a lack of depth at that position.
"We don't have that issue anymore," Drouin said with a grin now that the Canadiens finally have depth at centre. "I think we have so many centremen and so many good ones, too — young and veteran ones. Bringing a guy like Kirby Dach's very good. I think he's got so much potential with his size and his skill. Five years ago it was a little different than now. Centre position is really looking good."
Article content
On the same page
Canadiens head coach Martin St. Louis says he's aligned with Adam Nicholas when it comes to how they see the game and player development.
Nicholas was hired last March as the director of hockey development and he designs many of the drills St. Louis uses in practice.
"We're very aligned," St. Louis said. "It wouldn't work if we weren't. I can't be selling something here and him selling something there that's completely different. So I think our thoughts of the game are very aligned.
"What I like with Adam is based on how we feel the game should be played he's got a great mind in developing stuff on the ice to help our guys develop the certain things they need to play inside our concepts," St. Louis added. "That's why we try to recreate a lot of scenarios in practice that happen in a game so that when they happen they're ready for it. They've trained for it. Him and (Scott Pellerin, hired as a hockey development consultant), they're a great addition, a great extension of us coaches."
Article content
St. Louis said it's nice to have Nicholas run some of the practices so he can observe more closely what's happening on the ice and also have time to speak with players one-on-one instead of having to worry about blowing the whistle all the time.
St. Louis was asked if it would have been nice to have someone like Nicholas to work with when he was a player.
"I don't think I would have had that because I don't think the old-school way would tolerate that," the Hall of Famer said. "But I would have loved that. But I don't know when I was playing if the game had evolved to that yet. I felt my game had evolved to that. But the game was not played that way and I think maybe that's why I was able to have a long career because I was ahead of the game in my mind. That's what I feel."
Stu Cowan: Canadiens' analytics dept. opens door to 'neuro pathways'

Canadiens GM says No. 1 pick Juraj Slafkovsky has been underwhelming