Four of the defencemen in Habs' opening-night lineup against the Toronto Maple Leafs have only 14 games of NHL experience combined.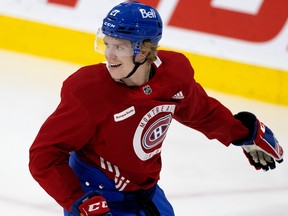 Article content
The Canadiens knew they were going to be young on defence this season — but not this young.
Article content
With Joel Edmundson sidelined since the start of training camp with a back injury and Mike Matheson having an MRI on his lower-body injury Wednesday, two of the veteran defencemen the Canadiens were planning to rely heavily on weren't in the lineup for Wednesday night's season opener against the Toronto Maple Leafs at the Bell Centre (7 p.m., SN, TVA Sports, TSN 690 Radio, 98.5 FM).
Article content
As a result, four of the defencemen in the Canadiens' lineup had 14 games of NHL experience combined: Jordan Harris (10 games), Johnathan Kovacevic (4), Kaiden Guhle (0) and Arber Xhekaj (0).
The other two defenceman in the Canadiens' opening-night lineup are veterans David Savard and Chris Wideman.
"Yeah, we have a lot of new guys," Harris, who made his NHL debut late last season after graduating from Northeastern University, said after the morning skate at the Bell Centre. "But everyone's been playing great and I feel like they're here for a reason. There's a lot of trust within the D core and excitement that we can get the job done."
Article content
Harris will be paired with Kovacevic, who was claimed off waivers from the Winnipeg Jets last weekend. The Jets selected the 6-foot-4, 208-pounder in the third round (74th overall) of the 2017 draft and the 25-year-old made his NHL debut last season, playing in four games.
"He's a very good player and nice guy," Harris said about Kovacevic, who went to Merrimack College. "We played against each other in college for a year and we have some similar friends, so it's nice to be able to catch up. I didn't know him before, but great kid and a good player and I'm looking forward to it."
Article content
Kovacevic said he feels comfortable playing with Harris.
"I actually just feel like I kind of connected with him right away and this team is very welcoming," Kovacevic said. "Right from when the waiver deadline happened I had guys reach out texting me and I just feel very welcomed. It's been a smooth transition so far. Obviously, there's a lot of new faces, a lot of stuff to learn systems-wise, personnel and all that. But I think it's been a pretty good transition so far."
When asked to describe his style of play, Kovacevic said: "I focus on my D zone first. I think I can shut guys down, use my reach, use my body and shut guys down and then move pucks up to my forward. Try and be involved in the offence with some more calm, smart plays."
Article content
Kovacevic also feels he has something to prove to the Jets.
"I'd be lying if I said I didn't have a chip on my shoulder with Winnipeg," he said. "I feel like they knew what kind of player they had and there were guys that did believe in me and there's guys that are very close to me as well. So I want to kind of prove them right and prove some other people wrong."
Article content
Help coming on the blue line?
GM Kent Hughes met with the media after the morning skate and was asked about the situation on the blue line after the injuries to Edmundson and Matheson.
"In a healthy environment, we're comfortable with what we have," Hughes said. "We believe we have some depth. Corey Schueneman (now with the AHL's Laval Rocket) played a number of games last year in the NHL and he was, I think, a very good member of the group. He's capable of playing NHL games.
"We think we have more (players) that can do that," the GM added. "But I think if we see a chance to improve our team in the long run (through a trade) we'll make that move. If it's a short-term situation, a placeholder of sorts, that's an evaluation that we make as we see how the team goes."
Article content
Justin Barron was acquired from the Colorado Avalanche at the NHL trade deadline last season in exchange for Artturi Lehkonen and played five games with the Canadiens before suffering an ankle injury. Barron was selected by the Avalanche in the first round (25th overall) at the 2020 NHL draft, but was among the final cuts at training camp this season and was sent to Laval.
"There's a lot of things that Justin did really, really well in the camp," Hughes said. "There's other areas where we thought he needed to improve and we felt that he was in a better situation in Laval for the time being to do that. But it could very well be that in two months time Justin Barron's up and somebody else is down doing that."
Article content
Slafkovsky's father will be at game
Juraj Slafkovsky's father will be at the Bell Bell Centre to attend Wednesday night's game after flying in from Slovakia.
Slafkovsky's mother stayed back home with his sister, who is in school. His father was planning to watch the game with Slafkovsky's childhood friend Filip Mesar.
The Canadiens selected Slafkovsky with the No. 1 overall pick at this year's NHL draft and took Mesar with the their second pick in the first round (26th overall). Mesar is now with the AHL's Laval Rocket.
"It feels like a dream life," Slafkovsky said after the morning skate. "Get drafted by Montreal, first night — opening night — against Toronto in Montreal. It's like a dream and I'm just happy that I'm part of it."
Article content
Would he be able to sleep for his pregame nap?
"Tough question," Slafkovsky said with a big smile. "I take long naps, but I don't think today will be that long."
Article content
Guhle's parents arrive
Guhle's parents arrived in Montreal Tuesday night from Edmonton and he was able to have dinner with his mother before making his NHL debut.
"It was nice to see her," said Guhle, selected in the first round (16th overall) at the 2020 NHL draft. "I haven't seen her in a couple of months, so good to see her and good to catch up with her.
"She's probably nervous," the calm and cool Guhle added. "She's probably more nervous than I am. It's good for them to be here and make the flight down. It's very special."
Article content
Becoming buddies
Xhekaj, Guhle and Slafkovsky all arrived in Montreal early this summer to get ready for training camp.
"Me, Guhle and Slafkovsky we became really good friends in the summer," said Xhekaj, who was never selected at the NHL draft. "We came early here and spent some time together. I didn't think we were going to get as close as we were, but we ended up being good friends so it means a lot to us (to make their NHL debuts together). We're going to be really excited."
Xhekaj's family is also excited.
His father and brother will be at the Bell Centre Wednesday night, while his mother is visiting family members in the Czech Republic along with his two sisters.
"We don't have family here," said Xhekaj, who was born and raised in Hamilton. "Just my mom and my dad — all their relatives and everything are overseas. They wanted to make a big family here, so four kids."
Article content
Xhekaj is the second-oldest of the four children.
"They're excited," Xhekaj said about his family. "It's amazing. It's special. The past two years have been crazy for me to see where I've come. It's awesome for the whole family and it's pretty special. … I don't know if two months ago I thought I was going to be here. I thought I'd definitely have to grind my way up and earn everything. I didn't think it would happen this quick. But I'm here now and I got to take it in and be the player I can be."
Article content
What about Mesar?
The Canadiens are going to have to make a decision on whether Mesar will play this season in Laval or with the OHL's Kitchener Rangers.
Hughes said he has had conversations with Mesar's agent and the GM believes it would be better for the young player to put up 80 points in the OHL than have 40 points in the AHL. Hughes added Mesar might have too much defensive responsbility in the AHL and less time to work on his offensive skills.
What's next?
The Canadiens have a practice scheduled for 11 a.m. Thursday at the Bell Sports Complex in Brossard before flying to Detroit, where they will face the Red Wings Friday night (7 p.m., TSN2, RDS, TSN 690 Radio, 98.5 FM). After the game in Detroit, the Canadiens will fly to Washington, where they will face the Capitals Saturday night (7 p.m., SNE, CITY, TVA Sports, TSN 690 Radio, 98.5 FM).
Next week, the Canadiens will play three games at the Bell Centre against the Pittsburgh Penguins on Monday night, the Arizona Coyotes on Thursday night and the Dallas Stars on Saturday night.
Stu Cowan: There's a new Sheriff in town for the Canadiens

Jonathan Drouin a healthy scratch for Canadiens' season opener