"There's not too many of us (from New Brunswick) in the league and it's a cool moment," he says about Kraft Hockeyville game in Bouctouche.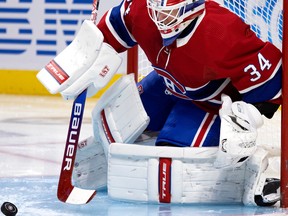 Article content
BOUCTOUCHE, N.B. — Jake Allen never thought he'd play an NHL game — even if it's only preseason — in his home province of New Brunswick.
Article content
"Very fortunate," Allen said after taking part in Saturday's morning skate at the J.K. Irving Centre ahead of a Kraft Hockeyville preseason game against the Ottawa Senators. "But it's not about me today. It's about the community here and what Kraft is doing for them."
Article content
The Elsipogtog First Nation won the 2021 Kraft Hockeyville contest and the right to host Saturday night's game, along with $250,000 to help repair the arena at its Chief Young Eagle Recreation Centre and $10,000 worth of youth hockey equipment from the NHLPA's Goals & Dreams fund. The arena at the Chief Young Eagle Recreation centre was severely damaged by a fire two years ago and is slated to reopen in the next 3-4 months after final repairs are completed on the refrigeration system for the ice.
Article content
Allen never played at the J.K. Irving Centre, which opened in 2012, but he did play at the old Bouctouche Forum.
"I played all my minor hockey here in New Brunswick, so I grew up playing at every level here," Allen said.
"It's special for me to be able to play in New Brunswick," he added about getting the start against the Senators. "There's not too many of us (from New Brunswick) in the league and it's a cool moment."
Article content
The goalie said family members and friends from his home town of Fredericton would be making the drive of more than two hours to Bouctouche to watch the game.
"They've been looking forward to this since it's been announced, I'm sure," Allen said about the Kraft Hockeyville game that was postponed for a year because of COVID-19. "It will be good to see them after the game."
The Canadiens headed into their final preseason game with an 0-6-1 record and injuries have become a problem.
Forwards Nick Suzuki, Joel Armia and Emil Heineman didn't make this road trip — which included a 4-3 loss to the Senators in another Kraft Hockeyville game Thursday night in Gander, N.L. — because of upper-body injuries. Forwards Mike Hoffman and Christian Dvorak both suffered upper-body injuries in Thursday's game and have been listed as day-to-day by the Canadiens. Defenceman Mike Matheson didn't practise with the team Friday in Moncton, taking a therapy day, and won't be in the lineup Saturday night.
Article content
Allen had his own groin-injury problems last season that limited him to 35 games as he posted a 9-20-4 record with a 3.30 goals-against average and a .905 save percentage.
"Luck is a big part of health," said Allen, who was with the St. Louis Blues in 2019 when they won the Stanley Cup. "When you go on a Stanley Cup run — I look back with our Blues run — we didn't have any injuries. That's pure luck. You hit a rut in the ice … you do that. Most of the injuries are out of your control, but I think the things you control is preparation, knowing your body. Taking the time off the ice … you don't need to be on the ice 24/7.  You got to have confidence in yourself that you don't need that. I think it's just about preparing the right way and you need that luck on your side."
Article content
Allen added that he thinks the fact young hockey players are now on the ice 12 months a year doesn't help them when it comes to injuries.
"That's hockey … that's the way the game's played now," the 32-year-old goalie said. "You're seeing it more and more and more throughout the league. It's taking a toll. It's hockey and I think especially as you see younger guys coming in — I know I'm not that old, but I feel old on this team — the younger guys have been playing hockey 365 (days a year) their whole careers growing up and I think you're seeing it catch up more and more to guys in the league. I think that's almost the new normal."
Canadiens claim Kovacevi
The Canadiens claimed right-shot defenceman Jonathan Kovacevi off waivers Saturday from the Winnipeg Jets.
The 6-foot-4, 208-pounder was selected by Winnipeg in the third round (74th overall) of the 2017 NHL draft but has only played four games with the Jets — all last season — without collecting any points.
In 62 games last season with the AHL's Manitoba Moose, Kovacevi had 11-19-30 totals to go along with 45 penalty minutes and a plus/minus rating of plus-23.
Stu Cowan: Elsipogtog First Nation excited about seeing the Canadiens

Stu Cowan: Canadiens embrace small-town vibe on special day in Gander