"We got to do what's right for him," Kent Hughes says, adding it's possible the 18-year-old could start season with AHL's Laval Rocket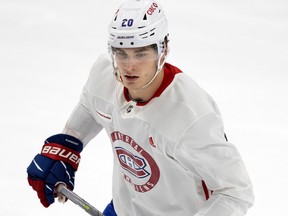 Article content
It's only the preseason — and it's still early — but Juraj Slafkovsky has yet to score in a Canadiens uniform after being the No. 1 overall pick at this year's NHL draft.
Article content
Slafkovsky failed to score in the two games he played at the Prospects Challenge in Buffalo. He hasn't scored in his first two NHL preseason games, either, registering five shots and four hits in those games.
Article content
The 6-foot-3, 238-pound left-winger hasn't been aggressive during his two preseason games and has looked very tentative at times. But Slafkovsky is only 18 and is facing a lot of adjustments coming to North America, including a smaller ice surface.
There are still five more preseason games for the Canadiens, starting Saturday in Ottawa against the Senators (7 p.m., TSN5, RDS, TSN 690 Radio, 98.5 FM) so there's still time for Slafkovsky to show that he's ready to open the regular season in the NHL. The Canadiens have an 0-3 record so far in preseason action.
Article content
Canadiens GM Kent Hughes was a guest on the the Ray & Dregs Hockey Podcast Thursday with Ray Ferraro and Darren Dreger.
Dreger noted that Slafkovsky has raw skill and power, but wondered if he has the game yet for the NHL and asked Hughes if there's a chance he could start the season with the AHL's Laval Rocket if the Canadiens think that would be best for his development.
"Yeah, 1,000 per cent," Hughes said. "We'll see how he progresses. I thought his two exhibition games were a little underwhelming for him. But the two rookie games in Buffalo he was great, the two scrimmages here with our team I think he led all our players in scoring chances by a pretty decent margin. So he's been very good in parts, but there's been inconsistency in terms of how it translates to the exhibition games.
Article content
"But we got to do what's right for him and if we do what we said when we drafted him, we weren't looking for the best 18-year-old — we were looking for the best NHL player down the road," Hughes added. "And I don't think we'd do that without making the right decision for him. Whether it's the popular decision or not, we're going to do what we believe is right."
Canadiens forward Josh Anderson was asked after practice Friday if he thought Slafkovsky looked like he was ready to play in the NHL.
"It's really tough," Anderson said. "Getting the first taste of an NHL training camp and it's still pretty early. I think you got to give him a couple of more games just to work on his game a little bit. You guys see what he can do. Big body, great stick, can skate like the wind. It's been a tough training camp mentally for these kids just to get through it, the grind of it. But I know each and every day they're feeling better and more conditioned."
Article content
Hughes announced late Friday afternoon that the Canadiens had cut 23 players from their training camp, including 13 forwards, eight defencemen and two goalies, with the Rocket slated to open training camp on Sunday. Slafkovsky was not among the cuts.
Players under NHL contracts who were loaned to the Rocket were Lucas Condotta, Gianni Fairbrother, Cam Hillis, Jan Mysak and Joël Teasdale.
Players released from camp but invited to Rocket training camp were: Peter Abbandonato, Anthony Beauregard, Gabriel Bourque, Santino Centorame, Tory Dello, Philippe Desrosiers, Ryan Francis, Olivier Galipeau, Alex Green, Danick Martel, Émile Poirier, Brennan Saulnier, Brett Stapley and Joe Vrbetic.
Players cut from camp and invited to try out with the Rocket were: Pierrick Dubé, John Parker-Jones, Miguël Tourigny and William Trudeau.
Stu Cowan: Canadiens' analytics dept. opens door to 'neuro pathways'

Canadiens' player development program gets a big boost