Habs want to play fast with skill and brains and that's what they're working on with prospects during practices in Brossard.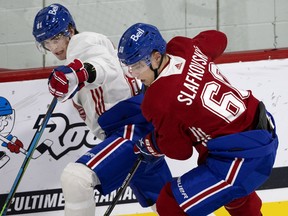 Article content
Fans who showed up at the Bell Sports Complex in Brossard Tuesday hoping to see a scrimmage at the Canadiens' development camp were out of luck.
Article content
What they got was actually much better.
It was an incredibly fast-paced and physical practice that lasted about an hour, consisting mainly of three-on-three and four-on-four drills.
There was a long three-on-three drill done on the full surface with players flying continuously up and down the ice. There was also three-on-three and four-on-four drills done in one offensive/defensive zone with players — including the goalies — changing quickly on the fly.
After about 30 minutes of chewing up one of the ice surfaces, the players were moved to the second surface and a fresh sheet while the fans — who were standing three or four deep behind the glass above the stands — also had to change locations.
It was entertaining as heck to watch with non-stop action and the players were left sucking wind, working much harder than they would have in a scrimmage.
Article content
The only thing louder than the sounds of skates cutting into the ice and pucks hitting sticks was the loud, barking voice of Adam Nicholas, the Canadiens' new director of hockey development who was running the practice while Canadiens head coach Martin St. Louis watched from the stands, along with GM Kent Hughes and Jeff Gorton, the executive director of hockey operations.
Things have definitely changed under this new management team and the usual scrimmages at Canadiens development camps might be a thing of the past.
"It's different than it used to be," said Francis Bouillon, a former defenceman with the Canadiens who is now a player-development coach. "Back in the day, it was different. People wanted to see some scrimmages, but today it's more about learning and teaching. The game changed, too. It's a small area — you need to win your battles. Positioning, too. Puck positioning. I think Adam, the new guy they just hired, does a great job."
Article content
Nicholas drew parallel black lines along the ice breaking it into three zones, wanting players to think and react differently depending on which zone they're in.
"It's totally different," Vincent Lecavalier, a former No. 1 overall draft pick of the Tampa Bay Lightning who played 17 seasons in the NHL and is now a special advisor to hockey operations with the Canadiens, said about the practice. "I think it's still different than probably 95 per cent of what the NHL is doing.
Article content
"I think Adam Nicholas is bringing another side to development," Lecavalier added. "I love it. I'm learning through him and all the meetings. I go to every meeting with Marty, with Adam, with the players and try to learn and see what the kids are doing now. Basically, what they're trying to work on is the brain. From what I've learned the last three or four months of watching all these 17-year-olds, there's a lot of skilled players but you're looking for guys that are very smart. Those are the guys you want to draft, but you want to keep them getting smarter and working on that part of the game. That's why they do all these games with restrictions and you can see the level. It's incredible and they're not just playing. They're learning and they're working their brains."
Article content
The Canadiens want to play fast with skill and brains and that's what they're focusing on at this camp.
Article content
Lecavalier had St. Louis as a teammate for 12 seasons with the Lightning, winning the Stanley Cup together in 2004. Lecavalier said St. Louis thinks the game a little different than anyone else he knows.
"So me going in the meetings with Marty and the little details of the game that the Montreal Canadiens players are getting, it's high-end," Lecavalier said. "I know he doesn't have the experience of a coach for 20 years in the league, but his knowledge is probably the best I've seen. I'm not just saying that. I see it now … I see it in the meetings.
"Same thing with Adam Nicholas," Lecavalier added. "I've heard Kent talking about him for a long time and I was like: 'OK, what can he really know that I don't know?' Well, he knows a lot and I'm learning. I'm like a student here this week. It's been a lot of fun."
This development camp has also been a lot of fun to watch.
It wraps up Wednesday in Brossard with a scrimmage scheduled for 11:30 a.m.
Don't be surprised if there isn't one.
Stu Cowan: Second chance begins for Canadiens prospect Logan Mailloux

Canadiens GM Kent Hughes goes big at NHL draft | HI/O Show