Canada gets set for friendly against Panama at home on Sunday at B.C. Place.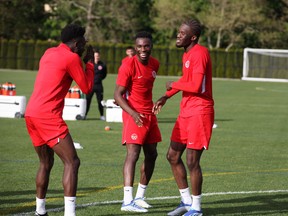 Reviews and recommendations are unbiased and products are independently selected. Postmedia may earn an affiliate commission from purchases made through links on this page.
Article content
Tajon Buchanan bolted between the two rows of his Team Canada teammates, covering his head as they soundly slapped his back. It was smiles, it was laughs, it was joyful, despite his 'punishment' for messing up the game of keep-up.
Article content
These were players who hadn't seen each other in months, but they reunited this week at UBC like they had never been apart.
"It's just a team that's been formed from a while ago," said striker Lucas Cavallini, who made his senior team debut in 2012 at the age of 19.
"We've been together since Day 1. It's been a long process, a lot of trips, a lot of hotel rooms together. You form that brotherhood. It's been great and it's only gonna get better."
The Canadian men's team has been working at the National Training Centre at UBC this week, preparing for the three games ahead, starting with Sunday's friendly against Panama at B.C. Place.
---
NEXT GAME
Sunday
Canada vs. Panama
4 p.m., B.C. Place Stadium. TV: OneSoccer, Telus channel 980.
Article content
---
Following that, it's a Nations Cup game against Curaçao under the Dome on Thursday night, then a trip to Honduras for another Cup game.
Canada has qualified for the World Cup in Qatar later this year by virtue of finishing atop the Concacaf qualification table, and is using this window to hone their squad for the November tournament.
"Club and country are completely two different things. It's always harder to play country football," said centre-back Doneil Henry. "What we've built here, we built a brotherhood. We have a style of play. We have an identity. Everybody's bought into a system and a way of playing whenever you put on this jersey. It's about passion. International football is all about passion. We take it serious here in Canada.
Article content
"That brotherhood, that will never change. But we're refreshing new ideas and ways where we'll build on building and beating opponents come November."
Canada had originally been slated to face Iran in a friendly on Sunday, but political opposition to the game forced it to be scrapped. In stepped Panama, a well-known Concacaf rival, to fill the void.
"We got the job done. But now it's a new mission," said Henry, who is back in MLS with LAFC after two seasons with Korea's Suwon Bluewings.
"We're trying to build towards this New Canada, we call it. Correct some things we need to work on, and you know, start bring our approach to a different level," added Cavallini. "We're happy to have any game in for this window. I mean, every game is going to be preparation for us. It doesn't matter the rival; we're going to be setting up the way we want to and preparing ourselves for the World Cup."
Article content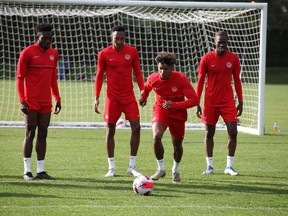 The practice fields at UBC were lined with young admirers peering through the fences, while players from the Vancouver Whitecaps youth teams trained alongside some of their soccer heroes. Stephen Eustáquio and Alphonso Davies took turns banging in 20 yard free kicks over, around and through tackling dummies.
There was a palpable buzz in the air as cheers and shouts rang out from the fans outside the training grounds and the youth players lining the ramps and staircases.
"I've seen that a lot, actually. Even outside the hotel, even walking around," said Cavallini. "I see the joy in everyone's faces. And the excitement there is for Canada soccer to be here in Vancouver and to play in front of everybody. I mean, we want to give them the best show possible, and hopefully we'll satisfy.
Article content
"We've been doing a hell of a job (with this team). This is what we've been hoping to do since Day 1. Represent our country, change the face of the country, and put Canada on the map."
"It's good to see that Canadians are here. I'm happy to be back here in Vancouver. So we soak it all up, but when it's time to do business, we're very focused on getting points in the National League and building towards the momentum leaving for the World Cup first game," said Henry. "We're just going to continue to keep growing, keep maturing. Like I said, every day we get closer and closer to the World Cup, and we're just looking forward to that."