Canada was perfect at the Concacaf W Championship thorough the group stage, winning all three games, scoring nine goals and not conceding any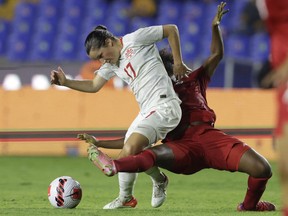 Reviews and recommendations are unbiased and products are independently selected. Postmedia may earn an affiliate commission from purchases made through links on this page.
Article content
It's a telling sign you're a good soccer team when criticized after wins.
Article content
Canada posted a perfect record at the Concacaf W Championship through the group stage, winning all three games, scoring nine goals, and not conceding any.
They dominated their first three opponents and head into the semifinal against Jamaica on Thursday (10 p.m. ET, OneSoccer) at the Universitario Stadium in San Nicolas De Los Garza, Mexico as heavy favourites to reach the final.
Article content
Yet for some fans, a 6-0 victory against Trinidad and Tobago, 1-0 win against Panama and 2-0 defeat of Costa Rica was not dominant enough for the reigning Olympic champions, leaving too many strokes out on the course.
"Three wins, nine goals, nine points; I think overall as a coach, you can't complain at that," said Canada head coach Bev Priestman. "Clean sheets win tournaments, and there were nine goals there and they've all come from different places.
Article content
"The pleasing thing in the Costa Rica game is that the chances were there, we were in the right places and we created the chances and that in that heat (37°C), against a team who don't concede, is enough for me as a team to stay stick to the process."
Since winning the Olympic title a year ago, Canada has seen a shift in the way opponents are approaching games against them.
All three group opponents at the Concacaf W Championship packed their back line and were content to defend for long stretches of the contest in order to keep from being embarrassed on the scoreboard.
Panama went as far as to begin time-wasting early in the contest in an effort to kill any flow or rhythm Canada might build.
"I think we've had a lot of opportunity in the group stage of trying to break down a solid (defensive) block and that's been a unique challenge for us and something that we haven't faced as much in our past international friendlies," said Canada midfielder Quinn. "I think it's a welcomed challenge and I think we've progressed over the matches to learn how we can do that as a team in order to penetrate good blocks and get some finishes on goal. That's been a learning curve for us, but I've been excited about how we've adapted as a team to those blocks."
Article content
Despite facing defensive walls of nine or 10 players at times, Canada still generated plenty of high-quality chances through its first three games, and the fact they didn't put away the majority of those opportunities sparked some criticism.
Yet, the team is just one win away from the final and a shot at earning a berth in the 2024 Olympics in Paris. They have already qualified for the 2023 FIFA Women's World Cup as one of the four semifinalists.
The United States and Costa Rica will meet in the other semifinal on Thursday.
"This Olympics means the world to this group and that's where we're heading," Priestman said. "We want to keep our standards high to where we're going. Overall, I thought it was a professional performance against Costa Rica; it wasn't perfect, but it was professional."
Article content
The Concacaf W Championship is doubling as both a World Cup and Olympic qualifier. The winner earns a berth in the Olympic tournament, while the second and third-place finishers will face in a playoff in September for another spot in Paris.
If Canada gets past Jamaica, it will likely fact the United States in the final, which will be an Olympic semifinal rematch. Canada defeated the United States 1-0 at the Tokyo Olympics en route to the final.
"I think the Jamaica that we played in 2020, is definitely not the Jamaica that we see now, I think everybody can see that," Priestman said. "They've recruited a lot of WSL players that play against top players week-in and week-out. So we'll go in and respect that as we do every opponent. They have attacking, quick threats that we have to take care of, but I do expect them to make it difficult and be compact."
Article content
GENERAL SECRETARY APPOINTED
Earl Cochrane was appointed the new general secretary for Canada Soccer on Wednesday.
The former Toronto FC executive and acting deputy general secretary of Canada Soccer has a laundry list of duties in front of him taking over the role, which had been vacant since the departure of Peter Montopoli, to the head post at Concacaf.
According to Soccer Canada, an extensive worldwide search was held for the vacant position and Cochrane was the best candidate.
"I think it's important to set the foundation with the organization early on," Cochrane said. "We are at a point in time where we're having some unprecedented success.
"Our women's team has been shouldering a lot of that success for the better part of a decade; and then what our men did over the last couple of years, going through a very challenging qualification process like no other, where we played 14 games last year to get to where we were."
Article content
Canada qualified for a men's World Cup for the first time since 1986 by earning a spot in the 2022 tournament in Qatar starting in November.
One of Cochrane's most pressing issues is to work out a new contract with both the men's and women's national teams. The Canadian men boycotted an international friendly scheduled against Panama in June in protest over the status of negotiations.
"Negotiations are ongoing, I'm pretty confident about where we are," Cochrane said. "We sent out a proposal on June 23 and it has been received. We haven't received any feedback from the players on the men's side yet, and we hope to receive something in the very near future, so we can get to work."
FRIENDLIES FOR MEN
The Canadian men's national team will be heading to Austria in September to face Qatar and Uruguay for a pair of exhibition games prior to the 2022 FIFA World Cup.
Canada will play Qatar on Sept. 23 in Vienna, and then take on Uruguay on Sept. 27, also in the Austrian capital.
Qatar as hosts, and Uruguay out of South America, have qualified for the World Cup. Uruguay has won the World Cup twice and made it to the semifinal of the tournament in 2010 in South Africa.
Email: [email protected]
On Twitter: @DerekVanDiest