Cameco partnering with Brookfield Renewables in $4.5 billion acquisition of one of the world's largest nuclear services businesses.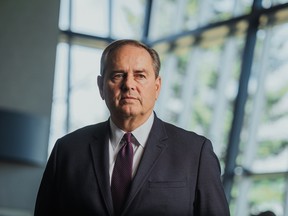 Article content
"Cameco is back!"
Article content
It seemed CEO Tim Gitzel had been longing to deliver those words for quite some time as he held a media conference on Wednesday at the company's Saskatoon headquarters.
Article content
Gitzel's jubilation came as Cameco announced its purchase of a 49 per cent stake in Westinghouse Electric Co., one of the world's largest nuclear services businesses. Cameco is joined in the transaction by Brookfield Renewable Partners, which will take on 51 per cent of Westinghouse.
"It really takes us down the nuclear food chain, if you like," Gitzel said of the deal, which he said complements Cameco's position as a uranium miner and refiner of nuclear fuel for heavy water reactors by adding Westinghouse's expertise in light reactor fuel, and in building and servicing reactors.
Article content
Westinghouse is involved in servicing more than half the nuclear reactors on Earth, including Canada's well-known CANDU heavy water reactors and the eVinci micro reactor, the latter of which is set to be tested for potential use in Saskatchewan by the Saskatchewan Research Council after an agreement was signed earlier this year. 
Cameco committed $2.2 billion in equity toward the Westinghouse acquisition. Brookfield Renewable's $2.3 billion equity stake will be funded by the Brookfield Global Transition Fund (BGTF), the company and the fund's limited partners. Co-headed by former Bank of Canada governor Mark Carney, BGTF is the world's largest private fund dedicated to investing in the move to net-zero carbon emissions, having raised $15 billion this summer. 
Article content
The Westinghouse deal is the kind of acquisition that would have been difficult to imagine for Cameco a few years ago, as the global nuclear industry was mired in a lost decade after the Fukushima nuclear disaster of 2011. The dismal market conditions culminated for Cameco in 2018, when Gitzel had to announce shutdowns of the company's Key Lake and MacArthur River operations in northern Saskatchewan, accompanied by hundreds of layoffs. 
The company announced earlier this year that it would reopen both facilities amid strengthening demand. Gitzel confirmed Wednesday that Cameco is firmly in hiring mode as it seeks to fill mining jobs in a tight Saskatchewan labour market. 
He credited a global push for emissions-free energy for the market turnaround, quoting Carney, who said "there's no transition (to net-zero) that works without nuclear, full stop," at an investors' conference late last month.

Although he said early stages of talks with Brookfield and Westinghouse were underway prior to Russia's invasion of Ukraine, Gitzel's tone turned from triumphant to sombre as he acknowledged the war in Europe has also "changed the landscape" of the global nuclear industry, pointing to a trip he took this year to Czechia where he said it became clear there is now a "bifurcation" of the market between countries willing to do business with Russia, and those that aren't.
Article content
"All of those Eastern European countries that relied on the Russians for their nuclear technology and their fuel are looking now and saying, 'Where can we go for help?' " Gitzel said. 
The deal to buy Westinghouse is expected to officially close in 2023, after the parties work their way through shareholder and regulatory approvals.
The Westinghouse Electric Co. nuclear business was split off from the wider Westinghouse Electric Corp. in 1999.
— With Canadian Press files
Cameco to resume uranium production at McArthur River, Key Lake facilities

Cameco optimistic about future as it reports turnaround performance
The news seems to be flying at us faster all the time. From COVID-19 updates to politics and crime and everything in between, it can be hard to keep up. With that in mind, the Saskatoon StarPhoenix has created an Afternoon Headlines newsletter that can be delivered daily to your inbox to help make sure you are up to date with the most vital news of the day. Click here to subscribe.