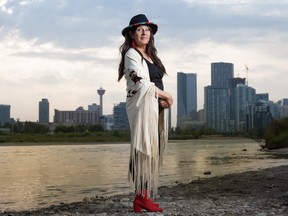 Reviews and recommendations are unbiased and products are independently selected. Postmedia may earn an affiliate commission from purchases made through links on this page.
Article content
Thirty years ago, Wendy Walker had her one and only conversation with her father about his experiences in residential schools. Understandably, it was not something he liked to talk about. Walker, a Calgary-based Cree, Métis and Mi'kmaq First Nations singer-songwriter, says her father attended a school in Nova Scotia in the 1940s. He told her that he had been sexually assaulted and starved during his time there. It shed light on the multi-generational impact the residential school system and its abuses brought to Indigenous families.
Article content
"In my entire life, I had one 20-minute conversation with him (about residential schools)," Walker says. "He talked for 20 minutes and never talked about it again. He said 'I'm not doing that again.' So between that and knowing that I grew up with all the symptoms as if I had gone through residential school because everything that happened to my father, happened to me."
Article content
Seven years ago, Walker heard similarly harrowing stories from a friend about his being sexually assaulted by a priest, which led to her first attempts to write something called And The Children. She was never satisfied with the results and put the song aside. But when she heard the news in May 2021 that 215 unmarked graves of children were discovered at the site of the former Kamloops Indian Residential School, it came flooding back.
Article content
"Right after the first 215 were found, it came back to me again: 'And the Children,' " she says. "I sat down and wrote it. Truly, I believe the Creator and the ancestors gifted it to me. There was no struggle and there has never been a rewrite. Most songs go through rewrites. This song had none of that. It was gifted whole, perfect and complete. I knew exactly the lyrics, I knew exactly the melody, I knew exactly the order."
Walker would eventually go on to record the song, which begins with drums emulating a heartbeat before turning into a powerful ballad about grief and healing. The song ends by suggesting the children have become part of their ancestors and are no longer silent. Recorded at Calgary producer Lorrie Matheson's studio under the name Walker and the Tribe, it will be released on all streaming platforms on Sept. 30, the National Day for Truth and Reconciliation.
Article content
"These are the things that we and the community as Indigenous people have been saying forever," Walker says. "We knew there were children, we knew it. So this verifies what we have been saying. Now there could possibly be more support for survivors to heal through this. I wouldn't have done this if it hadn't been for the survivors. I wouldn't have done this for me. I only recorded it because survivors kept asking for it. It allows them to access their grief and their trauma and work through it in a safer way. Music has that ability to cut through everything and go right to the heart of our emotions."
The production costs were covered by a GoFundMe campaign, which has so far exceeded its goal of $2,500 by raising $3,325. Walker admits she initially didn't plan on recording the song, but when she performed it live it had an immediate impact on the audience whether they were Indigenous or not.
Article content
In July, Walker and violinist Aleksandra Danicic, who is also among the musicians on the recording, performed the piece at Fort Calgary during an event that included the screening of Curt Young's documentary, They Found Us.
"I introduced the song because Curt had asked me to come play it," Walker says. "I got to almost the end of the song and I had so many of my own flashbacks and triggers. Tears were pouring down my face in front of a full audience. I had to say to the audience 'I'm so sorry, I'm just going to leave it there.' I turned around from the audience and was sobbing and apparently missed a standing ovation."
Walker played the song several times since then in front of various audiences.
"Every time I've played that song at live performances, I get through some of them and some of them I don't, however, there has always been a survivor or survivors who comes up to talk to me after the performance," Walker says. "They have asked me for the song. When enough people ask you, you finally get over yourself and find a way to make the recording."
Article content
Born in Manitoba, Walker has been living in Calgary for a number of years. She believes her first performance came when she was eight when visiting her father in Vancouver and was asked to perform You Are My Sunshine. As a young singer, she performed in jails, churches and "all over the place" before taking a lengthy break from music. She began performing again nearly 30 years ago, which included tours of Canada and the U.S. In 2018, she was among the artists asked to participate in an Alberta delegation at the Olympics in Pyeongchang, where she performed as part of an a capella duo called Reconciliation. She has released dozens of singles and two full-length albums. She is currently working on a third release that she has called The Legacy Project which she hopes to release later this year.
Article content
"Sometimes you get to a point in your life where you have to say 'What is my legacy, what am I leaving behind?' I'm working to set up an actual music award for contemporary female Indigenous singer-songwriters like myself because we don't normally get much support and recognition," she says.
"When I started out, I was told I could go play music in a bar, but I didn't want to do that. So the Legacy Project will support the Legacy Music Award. I know back in the day I would have benefitted from a mentor. I would have benefitted from voice lessons, just some very practical things that oftentimes in Indigenous communities we don't know about, we don't have access to those types of services."
And the Children is available on Sept. 30 on all streaming services.