After years of bad news, the CBRE is finally starting to see some progress made in filling Calgary's downtown towers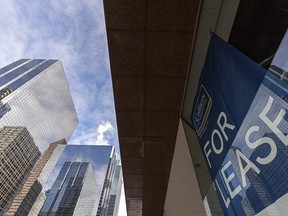 Article content
After years of bad news about downtown office vacancies, CBRE is finally starting to see some progress in filling Calgary's downtown towers.
Article content
The downtown office vacancy rate dropped 80 basis points in the third quarter to 32.9 per cent, the core's best quarter since Q3 of 2014.
Article content
Greg Kwong, executive vice-president and regional managing director for CBRE, is preaching caution, however.
"It may not be a trend, but we're seeing signs over the last year of the bleeding being stemmed," he said. "It's certainly good news from the last quarter, but I wouldn't be cracking the champagne out just yet."
Colliers had similar numbers, with the vacancy rate in Calgary's downtown dropping from 31.91 per cent to 31.36 per cent. AA properties continue to have stronger vacancy rates at 16.32 per cent, but it quickly drops off to 35.74 per cent for class A properties, 46.8 for B buildings and 42.59 for C buildings.
Article content
According to CBRE, the office vacancy rate across Canada in major metro areas has also dropped to 16.4 per cent.
The drop in Calgary is due in large part to a positive net absorption of 367,000 square feet, giving the city a positive year-to-date absorption of 51,018 square feet.
Some of the gains were mitigated by new sublease spaces coming to market, but there were major positive effects from the expiration of leases, rightsizing of available office space and new workplace strategies.
One of the efforts at rightsizing has been office conversions. The city completed the Noema project (formerly Sierra Place) at 706 7th Ave. S.W. on Sept. 29, creating 82 affordable housing units as well as administration space, an emergency family shelter, offices, transitional shelter and wraparound supports for families facing a housing crisis.
Article content
Dealing with the towering problem of office vacancy rates

Tech giant Infosys opens downtown office with plans to hire 1,000 workers by 2024

CBRE calls on all levers to be pulled to address downtown vacancy

AIMCo opens new downtown office in Calgary with eye to access more talent
Office space in the core remains more affordable than suburban areas at $17.15 per square foot, compared to $19.06 outside the core.
There have been several announcements in recent weeks about new businesses moving into downtown offices, including Sidetrade, which opened its North American headquarters on Tuesday, following Infosys launching its operations downtown on Sept. 26 and AIMCo on Sept. 21.
The growth of the tech industry is helping, but it is slow progress, said Kwong.
"It's crept up to maybe five to six per cent from four to five per cent," he said, noting the Sidetrade announcement was for only about 6,000 square feet.
He added there is momentum for better days ahead for the downtown.
"Confidence is in the air again, that's the key thing. Whereas the rest of the country, they're starting to get worried about higher interest rates and things like that. So I think Alberta is going to be the bright star for Canada coming over the next 18 to 24 months."
Twitter: @JoshAldrich03