Calgary was tied for third with Zurich, Switzerland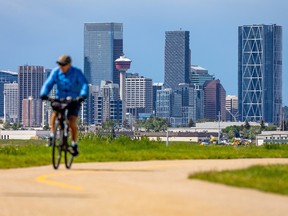 Article content
Calgary is the world's third-most-livable city, according to a report from the Economist Intelligence Unit.
Article content
The annual ranking was released by the EIU on Thursday, showing the Stampede City tied for third with Zurich, Switzerland. Calgary is routinely in the top 10, but this is the city's highest ranking in this survey. Vienna, Austria, topped the list, followed by Copenhagen, Denmark. Vancouver was ranked fifth.
Article content
"More Calgarians are telling the story of their city and people are taking notice," Mayor Jyoti Gondek said in a news release. "Our climb in the rankings for most livable city reflects the welcoming nature of our city, its affordability and the opportunity offered to entrepreneurs. We are exuding optimism and inviting people to join us in shaping our future."
Article content
Cities are rated in six categories, including stability, health care, culture, environment, education and infrastructure. Calgary received top marks for culture, environment and education.
Article content
The EIU is the research and analysis division of The Economist Group, the sister company to The Economist newspaper.
"An important aspect of the rankings is the focus on livability for all citizens given economic challenges, and it continues to be a focus for Calgary," Brad Parry, president and chief executive of Calgary Economic Development, said in a news release. "This ranking is an acknowledgment Calgary is a great city for people to make a living and a life as we help solve global challenges."
While the rankings do not specifically focus on cost of living or the economy, Calgary has shifted its focus in recent years to diversifying the economy and green energy. The startup sector has received record venture capital investment in the first quarter of the year.
The city is also currently focusing on reimagining the downtown to transform it into a 24-7 economic and residential heartbeat.
The Calgary Herald is taking an in-depth look at this issue this week through a series of stories.
Twitter: @JoshAldrich03