'When I first met Smokey, I didn't know him, but I got to know him better. Then I got to like him, I got to love him, and now I get to remember him'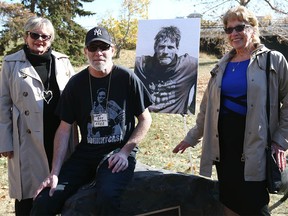 Article content
Paul 'Smokey' Wilkinson never would have expected to have a city park named after him, according to his friend Bryce Paton.
Article content
But that's now a reality, following a Sunday dedication ceremony for a central Calgary park off 14th Street and Memorial Drive N.W. in his honour.
Article content
Wilkinson was living in homelessness when he died in 2017 of a drug overdose. He was a long-time fixture in the Sunnyside area, with a reputation for his generous heart and mischievous spirit that earned the nickname of the "King of Kensington."
"Hopefully as time goes on, there will be those who remember him, the character he was and the impact he had on many, many people," said Paton, a congregant at the nearby Hillhurst United Church, where Wilkinson would often attend Sunday service and chat with churchgoers.
"He was a mixed bag. There were times I wanted to hug him and there were times I wanted to cuff him in the back of the head. There were times I went looking for him at night. I drove him to rehab many times. He was complex, and he had the behaviour that goes with living outdoors rough.
Article content
"When I first met Smokey, I didn't know him, but I got to know him better. Then I got to like him, I got to love him, and now I get to remember him."
Provincial investment 'huge' for Calgary homeless population: Gondek

Calgary social agencies prepare for head count of homeless population

Calgary park dedicated to Paul Wilkinson, the 'king of Kensington' who lived on the streets
Paton spearheaded an application for the city to consider dedicating a green space for Wilkinson in 2019, which city council approved in 2021. (He joked Wilkinson's unhoused friends originally suggested lobbying to rename the alley behind the church, where Wilkinson often spent time, after him.)
The dedication marks the first time a public space in Calgary has been named for someone experiencing homelessness.
Article content
That kind of visibility is something Calgary Mayor Jyoti Gondek said is vital as the city continues to contend with homelessness and addictions.
"He broke our hearts open and he made us see something that we haven't seen, and that is the fact that a person who is faced with homelessness is a person in a situation of vulnerability," Gondek told the crowd of about 50 at the park Sunday.
"Homeless doesn't mean nameless, and once you name the people that are in those situations, they become a part of your community. They become people you must care about."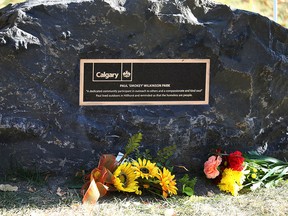 Among attendees Sunday were Wilkinson's sisters Carolyn Whitmee and Adrienne Read, who both travelled to Calgary from Oshawa, Ontario for the dedication event.
Wilkinson was the youngest of five siblings born in Ontario. While his older siblings were raised by family members, Wilkinson was raised directly by his mother, who also struggled with addiction.
Article content
Whitmee said she only learned of her brother's death — and his homelessness in Calgary — when she received a call from the Hillhurst Church after he passed away.
"It was pretty shocking and sad that he was doing what he was doing," Whitmee said. "I think he had a really good heart, and he reached out to people because he didn't have anybody."
Shawn Gaudry, a close friend of Wilkinson's on the streets, gave a brief but heartfelt tribute at the event: "I miss him a lot. He was a good friend."
Afterwards, he remembered good times with Smokey, keeping warm on cold nights burning wood pallets and drinking beers by the river.
"He was loved," Gaudry said.
— With files from Madeline Smith
Twitter: @jasonfherring