The city envisions Stephen Avenue becoming a walkable urban core that will be active day and night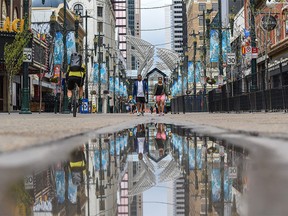 Article content
The City of Calgary has hired a European design firm to work with a local company on the redesign of Stephen Avenue.
Article content
Gehl Studio, which is the U.S. office of Copenhagen-based Gehl Architects, will work with Stantec Calgary on the redesign of the pedestrian-friendly avenue.
The redesign will stretch over a dozen blocks, from 11th Street S.W. in the downtown's west end to Olympic Plaza in the east.
In 2019 and 2020, Gehl worked on a survey and analysis of Stephen Avenue, but the pandemic put some of the work on hold, according to Gehl's website.
Sofie Kvist, project lead with Gehl, said she is excited for the next phase of the project.
"Now it is time to develop design for the entirety of Stephen Avenue, and with that make sure this important downtown Calgary public space continues to thrive in the future," she said in a news release.
Article content
Gehl has a long track record of public upgrade projects across the globe, including in Buenos Aires, Berlin, Philadelphia, Istanbul and Christchurch. Beyond simply doing architecture, the firm specializes in research, urban design, landscape architecture and city planning.
The city envisions Stephen Avenue becoming a walkable urban core that will be active day and night, and throughout the year.
"Stephen Avenue is a key cultural and economic hub for downtown Calgary and we have the opportunity to create a street experience that is more people focused, embraces all modes of transportation and helps support businesses in our downtown," Thom Mahler, director of the city's Downtown Strategy, said in a news release.
The redesign is part of the city's larger Downtown Strategy, which aims to breathe new life into the public realm and address problems such as office vacancies.
Engagement on the redesign is likely to come in the late fall or early winter, according to the city. A finalized design will be released in the summer of 2023.
Calgary still needs to come up with funding for construction of the redesign, but it is being considered in the city's Downtown Capital Projects Program, according to a news release from the city.
[email protected]
Twitter: @brodie_thomas