While the goal is to slow inflation in the long-term, the sudden hike is hitting those who can least afford it the hardest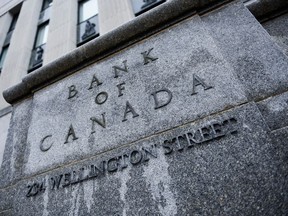 Article content
With the Bank of Canada set to raise interest rates again on Wednesday, Calgarians are bracing for the pain to their bottom line.
Article content
Many prognostications have the national bank raising the interest rate by 75 basis points to 2.25 per cent overnight, which would be the highest increase in 24 years, and would represent a 1.75 per cent increase since the new year.
While the goal is to slow inflation in the long-term, the sudden hike is hitting those who can least afford it the hardest.
Article content
According to MNP Ltd.'s Consumer Debt Index, 68 per cent of Albertans are feeling the impact of rising interest rates, an increase of 10 points and the highest mark in the country.
"Adding on that kind of an increased interest rate increase again, you can see why it's not surprising that people are saying that they're feeling nervous about it," said Donna Carson, a licensed insolvency trustee with MNP Ltd. in Calgary.
Article content
The second quarter CDI, released on Monday, showed one-third of Albertans are cutting back on essentials like food, utilities and housing and half are cutting back on non-essentials like travelling, dining out and entertainment.
Further, 31 per cent of Albertans say they are not financially prepared to deal with an interest rate increase of one percentage point, also the highest mark in Canada, while 54 per cent of Albertans say they are within $200 of insolvency at the end of the month — only Quebec had a higher mark at 59 per cent.
Article content
Meanwhile, 58 per cent of Alberta respondents said they'd be in for a rough year if interest rates go up any further while 45 per cent said it could drive them closer to bankruptcy.
Increase to interest rate adds to debt challenge for Calgarians

Rising interest rates pushing more Albertans toward bankruptcy
It is not make-or-break for everyone, but with inflation at a four-decade high most are having to make some adjustments and hard choices about their spending habits.
Article content
Roland and Brenda Kalisch, who were enjoying the Calgary Stampede on Tuesday afternoon, said they've been most impacted by the rising cost of groceries.
"I think it's a shame that groceries have taken such a hit," said Brenda, adding that she doesn't believe how much the price of food has increased.
They have modified their summer plans because of the price of fuel. Roland said they priced it out and decided to cancel their planned RV trip to British Columbia and have booked a cruise instead.
"Between the travel points we need to use up and travel vouchers, it'll be cheaper than a road trip to B.C.," said Roland. "It does make you look at other options that we normally wouldn't have."
The objective of raising interest rates is to slow discretionary spending by making it more expensive to borrow money and to service debt.
Article content
This has helped bring some balance to real estate markets like Toronto and Vancouver where they have seen a regression in prices. The process has been slower going in Calgary, though it has started to take effect.
"As rates have started to go up, we've definitely seen demand cool a little bit and we're starting to see our market stabilize," said Frances Dares, a real estate broker for Urban Upgrade & Newinfills in Calgary.
She said this shift is welcomed by homebuyers who have been through the wringer of a hyper-competitive seller's market the last year and a half. She said a few months ago a property would receive more than a dozen offers without conditions in the first weekend; now it might receive one or two with conditions.
Article content
"The pace of the craziness has subsided, but the market is still very strong," said Dares.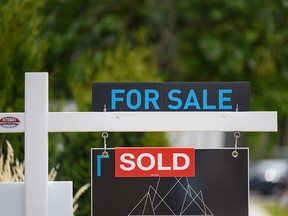 Corinne Lyall, owner and broker for Royal LePage Benchmark in Calgary, Cochrane and Strathmore, said there has been a marked difference in the ecosystem in the last few weeks. She had recently heard from another realtor who had written 30 offers for one client.
This process was exacerbated by people coming from out of province, like Toronto, where the average benchmark was around $1.3 million and then offering well above the asking price in Calgary.
"It's not happening so much now where people are overbidding to the degree that they were, but at some points for a $500,000 home there were people coming in and bidding somewhere close to $700,000," she said. "That's unheard of in our market since probably 2006, 2007."
Article content
Lyall was confident people will make the adjustment to the higher interest rates, but it will take time.
Inflation is also impacted by global forces like Russia's invasion of Ukraine which has pushed West Texas Intermediate above $110 per barrel for much of the year and exacerbated global food shortages.
Charles St-Arnaud, chief economist for Alberta Central, warned he expects interest rates to go up another full percentage point after Wednesday's increase by the end of the year. While the bank has had much higher interest rates in the past, the issue is the rate of increase after a pro-longed stagnation at record low levels during the pandemic which drove spending and personal debt levels. The last time the rate was above two per cent was December 2008 when it stood at 2.5 per cent.
Now the bank is walking a tight rope of trying to slow inflation without inducing a recession.
"What the Bank of Canada needs to do is to slow other sorts of inflation to compensate what is coming from the supply chain and higher commodity prices," he said. "Unfortunately that means slowing the domestic economy, creating some slack in the domestic economy. Whether it leads to recession, it will be a very fine line."
Twitter: @JoshAldrich03