As homes have become headquarters for school and work, formal layouts with separate rooms have surged in popularity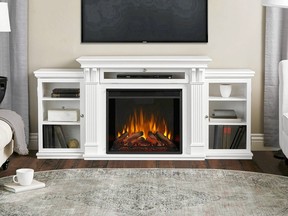 Article content
The open floor plan has left the building. Welcome back, walls!
Article content
For a long time, removing walls in traditional home layouts has been all the rage. Opening up kitchens to the dining room, foyers to living rooms and bedrooms to bathrooms made houses and condos feel more modern. But as our homes became headquarters for everything during the pandemic, the desire for a formal home layout with separate rooms surged in popularity.
Article content
Spending more time at home with others meant a need for more separation to work, study and relax in a bit of solitude. Hence, hello to rooms with four walls! Now, what do we do with them? Here are my designer tips on how to show your walls some design love.
Create a focal point
Many condos and open floor spaces have limited wall space (and too many windows), which has meant we've had less room for art and other wall-based focal points. Now that walls are going up again, we've got plenty of opportunity to make them beautiful. The easiest way to create good site lines within a room is to choose one wall and use it as your focal point.
Article content
In a bedroom, it's almost always the wall behind the head of the bed, and to direct attention to this natural focal point, employ elements such as a headboard, artwork, lamps and night tables. You can also put a punctuation mark on it with colour or wallpaper to ensure no one misses the point. Just ensure you blend the remaining three walls by painting them in a background colour picked from the wallpaper, or painting in a neutral tone that complements the focal wall paint.
In a living room, the wall with the television or fireplace — or both — is a natural focal point. The Calie Media Electric Fireplace ($1,609, Walmart) is a triple-threat focal point with an electric fireplace (no chimney or venting needed), display space for books and objets d'art, and on top, you can put your flat-screen TV. Now, how easy is that?
Article content
You'll want a focal point in the foyer, too. Place a bench on the wall that offers space for one, and install a large mirror above it. No room for a bench? Hang that mirror (which will visually widen a narrow foyer) and add a slim shelf for keys and mail.
Decorate the walls
Unless you're a minimalist, filling the walls with art and objects is a great way to make a room feel cosier. There are two extreme trends when filling walls with art: Choose either a very large piece of art or hang many small pieces to create a large collage.
When planning your art installation, look first at the shape of the wall space you need to fill. If there is a large wall behind your sofa, the space you need to fill is most likely a horizontal rectangle. In that case, a similarly shaped piece of art will work best. Do you have wall space between two windows or two doors? It's probably a vertical rectangle, so stack a collection of small artworks vertically in the space.
Article content
Not an art collector? Add floating wall shelves to show off objects and collections. Using plants, folding screens, bookshelves or tapestry fabric panels are additional ways to fill your walls without even hammering in a nail.
Colour choices
In open-concept spaces, we generally had to choose one colour to paint throughout, and then define spaces with a focal wall here and there. The benefit of having walled rooms is that we can individualize them with colours that suit the function of the rooms and the moods we want to evoke.
Right now, there's a big trend toward darker, richer colours. Navy blue, black, mustard yellow and emerald green are just a few of the emerging colours that will add drama and depth to rooms. And here's some big news in colour: the British heritage paint brand Farrow & Ball (farrow-ball.com) will introduce 11 new shades to its signature 132-colour palette this fall. Designers have always considered them daredevils in paint colours, so for those who love to add drama to their homes, keep your eyes open for what's to come!
Article content
The secret when working with darker tones is to paint all four walls, the mouldings, doors and even the ceiling in the same colour. This avoids jarring the eye with a stark contrast of white or light colours. Surprisingly, an all-dark room can even make a small space feel larger.
Love pattern? Try wallpapering all four walls of a room. Incorporating wallpaper in a kitchen can also be very charming. Choose a paint colour for the trims, doors and ceiling that blends into the background colour of the wallpaper for a completely co-ordinated look.
Do you have a decor dilemma or want to give feedback? You can follow and contact Karl Lohnes on Instagram @Karl_Lohnes.