City staff also suggest a program to have volunteers monitor streets for speeders wouldn't be worthwhile in Saskatoon.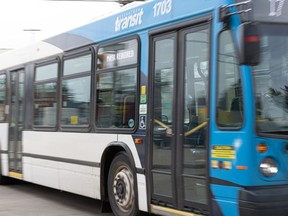 Article content
Saskatoon city council's transportation and environment committees will meet on Monday. Members will go over the proposed structure for an investigation into bus service failures over the winter. They're also expected to discuss an assessment of whether a volunteer speed watch program is a good fit for Saskatoon.
Article content
TRANSIT INVESTIGATION
Councillors on the transportation committee are being asked to set the guidelines for an investigation into repeated cancellations and delays of bus service over the winter.
The city's internal auditor will head up the probe. Proposed terms of reference include limiting the investigation to regular "fixed route" buses, not Access Transit. If approved, the terms would have the investigation look into Saskatoon Transit's preventative maintenance, repairs, sourcing of parts, internal and external communication and reporting, age of the bus fleet, availability and allocation of resources, staff overtime, process documentation and workplace culture.
Under the proposal, results of the investigation would be made public by Oct. 3.
'SPEED WATCH' PANNED
A report by city staff suggests it's not worth trying to set up a so-called "Speed Watch" program in Saskatoon. The programs typically involve volunteers set up with radar guns to monitor specific locations, in order to deter speeders and gather data, which can be used to send letters warning drivers to slow down.
Council asked in September for the report to be prepared for the transportation committee, as part of the city's speed-limit review. The report looked at Speed Watches used in Calgary and Edmonton, as well as B.C. and communities in the United Kingdom. The authors noted potential issues around funding, volunteer recruitment, data collection and program assessment.
Article content
"While a pilot program may be technically feasible with adequate funding, the Administration suggests that it may have minimal benefit," they wrote.
WASTE TARGET
Saskatoon remains a long way off from its stated goal of diverting 70 per cent of material that currently makes its way into the landfill. A report to the environment committee says the amount of waste diverted has decreased slightly, from 26 per cent in 2020 to just under 25 per cent. The drop is mainly attributed to drier weather in 2021, which reduces the amount of yard waste sent to the landfill. Rain also affects the tonnage calculations for things like cardboard and paper, which weigh more when wet.
The upcoming opening of the Recovery Park waste diversion centre in 2023, along with the rollout of a new curbside collection system for organic household waste, are expected to help increase that rate. The effort is partly intended to help delay the need for a costly new landfill.
Transportation committee calls for Saskatoon city auditor to look into transit problems

Council looks at a volunteer speed watch program
The news seems to be flying at us faster all the time. From COVID-19 updates to politics and crime and everything in between, it can be hard to keep up. With that in mind, the Saskatoon StarPhoenix has created an Afternoon Headlines newsletter that can be delivered daily to your inbox to help make sure you are up to date with the most vital news of the day. Click here to subscribe.